12 Best File Recovery Software Shortlist
After evaluating countless tools, I've handpicked the 12 best file recovery software to address your data retrieval woes.
Losing essential files, whether on an HDD, SSD, USB flash drive, or memory card, can be daunting. I've sifted through numerous options, from the renowned Disk Drill to the latest Windows 11-compatible tools, pinpointing the best data recovery software tailored for every platform including macOS, Android, and iOS.
Whether you've mistakenly emptied your recycle bin, dealt with malware, or want to delve into specific file formats, these software solutions are adept, with some even offering free overwritten data recovery options. It's crucial to have a reliable data recovery solution, especially when confronting data loss situations, and I'm here to ensure you find the right fit.
What Is a File Recovery Software?
File recovery software is a lifeline when confronting lost files or deleted files, whether due to an accidental overwrite, malware interference, or simply emptying the recycle bin on devices ranging from solid-state drives (SSDs), and hard disk drives (HDDs), to external hard drives. Through advanced algorithms, tools like Disk Drill and the Microsoft-backed Windows file recovery cater to various platforms, from macOS and Windows 10 or 11 to Android and iOS.
Leveraging these solutions, you can effortlessly retrieve audio files, precious photos, and documents across storage media, even if they're removed from memory cards or USB flash drives with free data recovery software. As someone who has navigated the maze of data recovery options, I understand the importance of ease of use, efficient scan results, and the assurance of recovering deleted data or important files, and I'm here to guide you to the best data recovery program tailored to your needs.
Overviews of the 12 Best File Recovery Software
1. Active@ File Recovery - Best for advanced disk imaging capabilities
File recovery isn't just about bringing back the lost; it's about ensuring a complete and comprehensive data rescue. Active@ File Recovery, a tool I've come to appreciate deeply, stands out as it dives deep into the realm of disk imaging, ensuring even the most complex recovery processes are feasible.
Why I Picked Active@ File Recovery:
Having sifted through countless tools, I selected Active@ File Recovery due to its prowess in the intricate sphere of advanced disk imaging. My judgment determined that when compared to others, this software's ability to create a precise copy of a physical storage medium gave it a distinct edge. This precise feature is what makes it best for those delving into advanced disk imaging capabilities, a must-have for professionals and passionate tech enthusiasts alike.
Standout Features & Integrations:
Active@ File Recovery boasts features like SuperScan which helps in recognizing files based on file signatures, even in the most challenging scenarios. Additionally, it supports a wide array of file systems – from FAT to NTFS, making it versatile for various recovery tasks. As for integrations, it pairs well with many popular disk tools, ensuring a smooth recovery process when used in tandem with other software solutions.
Pricing:
From $7.95/user/month (billed annually)
Pros:
Effective SuperScan functionality
Supports a diverse range of file systems
Reliable advanced disk imaging
Cons:
Interface can be technical for beginners
Lacks a real-time recovery preview
Advanced features might be overkill for a basic user interface
2. Ontrack Easyrecovery - Best for comprehensive device compatibility
In the digital age, we aren't limited to a single device, and neither should our recovery software. Ontrack Easyrecovery understands this, offering a solution that extends its capabilities across an impressive range of devices.
Why I Picked Ontrack Easyrecovery:
In my journey of comparing various tools, Ontrack Easyrecovery made its mark due to its vast device compatibility. My determination concluded that for those who juggle between devices, this software stands unparalleled. This broad spectrum of compatibility is why it's the prime choice for users looking for comprehensive device adaptability.
Standout Features & Integrations:
The software is renowned for its RAID recovery capabilities and the ability to handle even catastrophic data scenarios. It also offers a straightforward recovery process with a user-friendly interface. As for integrations, Ontrack Easyrecovery is versatile, smoothly cooperating with many popular operating systems and storage configurations.
Pricing:
From $9/user/month (billed annually)
Pros:
Broad device compatibility
Efficient RAID recovery
User-friendly interface
Cons:
Limited advanced features for the base plan
Some users might find recovery speed varying
Manual configuration needed for complex tasks
3. DiskGenius - Best for partition management and repair
The world of data isn't just about files; it's about the spaces they inhabit. DiskGenius is crafted with the precision to manage and mend these spaces, ensuring that your partitions remain as robust as the data they hold.
Why I Picked DiskGenius:
Choosing the right tools often comes down to recognizing specialized capabilities. In my assessment, DiskGenius shines brightly when it comes to partition management and repair. Its dedicated focus on maintaining partitions and ensuring their health is why I believe it's the optimal tool for those targeting partition-centric challenges.
Standout Features & Integrations:
DiskGenius offers features like rebuilding MBR, recovering lost partitions, and even cloning partitions. Its capabilities extend to handling both logical and physical drives. Regarding integrations, the tool works harmoniously with a wide range of file name systems and storage devices.
Pricing:
Pricing upon request
Pros:
Expertise in partition management
Supports both logical and physical drives
Comprehensive partition recovery options
Cons:
The steeper learning curve for beginners
Lack of real-time customer support
Relies heavily on manual configurations
4. R-Studio - Best for network data recovery features
A modern data recovery challenge extends beyond a single computer. R-Studio steps in as a savior for networks, ensuring that data recovery is as cohesive as the networks they aim to protect.
Why I Picked R-Studio:
Through meticulous selection, R-Studio emerged as my top pick when focusing on network-based recovery. My opinion stems from its unique ability to blend traditional recovery with advanced network capabilities. It's this network-centric focus that makes R-Studio best for those who are keen on harmonizing their data recovery across an intricate web of devices.
Standout Features & Integrations:
R-Studio boasts remote recovery over a network, allowing professionals to access and recover data from distant computers. Additionally, its RAID reconstruction feature ensures data integrity even in clustered environments. As for integrations, R-Studio meshes well with various network configurations and popular RAID controllers.
Pricing:
From $10/user/month (billed annually)
Pros:
Network-based data recovery
Advanced RAID reconstruction
Remote recovery capabilities
Cons:
Might be overwhelming for individual users
Requires network configuration knowledge
Pricing might scale quickly for larger networks
Visual media, especially videos, hold memories, information, and emotions. When these get corrupted, Wondershare recoverit steps in, dedicated to salvaging and reviving damaged video files.
Why I Picked Wondershare recoverit:
In my analysis of data recovery tools, Wondershare recoverit stood out primarily because of its unique video repair capabilities. While many tools do data recovery, very few can claim expertise in video restoration. This specialization in video repair is why I've chosen it as the top contender for anyone needing video-centric recovery.
Standout Features & Integrations:
Beyond its video repair, Wondershare recoverit provides advanced file recovery, deep scan features, and even recovery from formatted devices. Regarding integrations, this tool is proficient in working with a multitude of video formats and diverse storage devices.
Pricing:
From $8/user/month (billed annually)
Pros:
Focused video repair functionality
Supports multiple video formats
Comprehensive data recovery options
Cons:
Might be too specialized for general users
Some formats might require advanced configurations
Recovery speed varies with file size
Accidental deletions are more common than users would like to admit. Minitool Power Data Recovery understands the urgency and precision needed to retrieve what's been unintentionally lost.
Why I Picked Minitool Power Data Recovery:
My judgment has always been based on recognizing specificity. Minitool Power Data Recovery caught my eye because of its consistent success in accidental deletion scenarios. In a world where an errant click can erase vital data, this tool's focus on such unintentional losses is why I selected it as the ideal choice for these situations.
Standout Features & Integrations:
Minitool not only specializes in recovery from accidental deletions but also shines in lost partition recovery, damaged partition recovery, and digital media recovery. When it comes to integrations, it aligns well with various file systems and popular storage device brands.
Pricing:
From $6/user/month (billed annually)
Pros:
Mastery in recovering accidentally deleted files
Versatile recovery options
Support for multiple storage devices
Cons:
Limited features in the basic version
Might be challenging for first-time users
Longer scans for extensive storage
7. EaseUS - Best for an intuitive interface and quick scans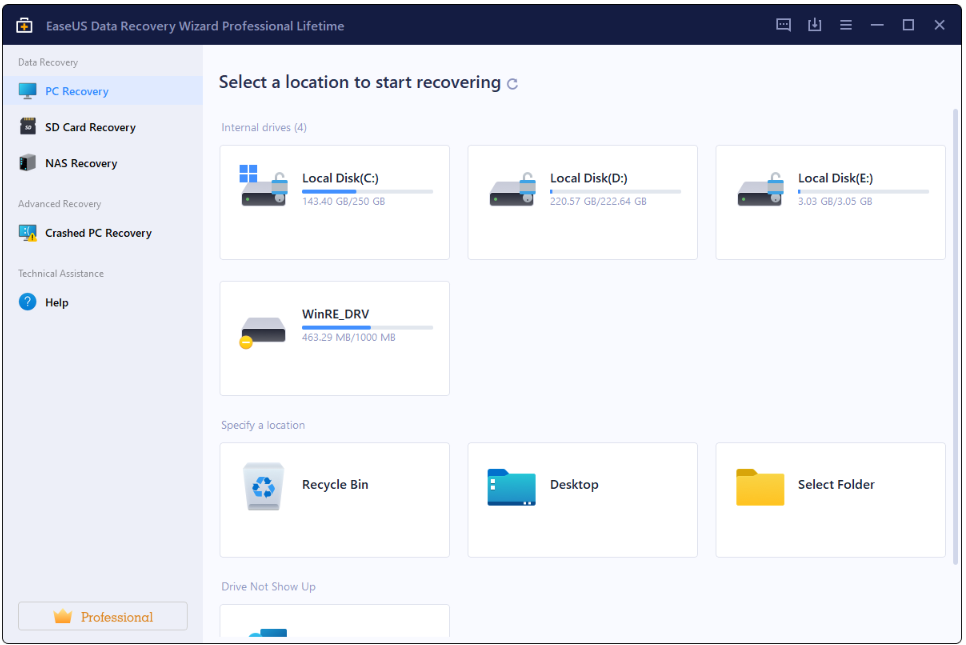 In data recovery, time is often of the essence, and a cluttered interface doesn't help. EaseUS brings to the table a swift scanning engine paired with an interface that anyone can navigate.
Why I Picked EaseUS:
When comparing various tools, the blend of quick scans and intuitive UI in EaseUS was undeniably appealing. My opinion on its user-friendly approach, combined with speed, led me to choose it as the prime tool for those who want efficiency without a steep learning curve.
Standout Features & Integrations:
Beyond its speedy scans, EaseUS provides partition recovery, formatted drive recovery, and even emergency data recovery. As for integrations, the tool works harmoniously with both Windows and Mac environments, making it versatile for diverse users.
Pricing:
From $7/user/month (billed annually)
Pros:
User-friendly interface
Fast scanning process
Compatible with both Windows and Mac
Cons:
Advanced features locked behind higher tiers
Recovery limits in the base version
Occasionally requires manual sorting post-recovery
8. Stellar - Best for corrupted file recovery
Corrupted files often lead to lost data, valuable memories, or important work being interrupted. Stellar stands as a front-runner in retrieving data from these corrupted files, ensuring that no significant information is left behind.
Why I Picked Stellar:
When it comes to dealing with corrupted files, I determined Stellar to be one of the best based on its consistent performance. Through my comparisons, I've concluded that Stellar offers superior corrupted file recovery, which justifies its top spot for this specific data recovery need.
Standout Features & Integrations:
Stellar boasts an impressive ability to recover data from multiple file systems. It also provides raw recovery features and supports multiple storage device types. In terms of integrations, Stellar efficiently works across Windows, Mac, and Linux environments.
Pricing:
From $9/user/month (billed annually)
Pros:
High success rate in corrupted file recovery
Supports multiple file systems
Compatible with various operating systems
Cons:
Might have a steeper learning curve for beginners
Scanning speed varies by device
Advanced features restricted to higher tiers
9. Lighthouse - Best for combined cybersecurity and recovery
In the era of cyber threats, having a tool that provides both cybersecurity and recovery is vital. Lighthouse promises a combined approach, ensuring digital safety while also offering robust recovery solutions.
Why I Picked Lighthouse:
After weighing various options, I opted for Lighthouse because of its dual capability in cybersecurity and recovery. It's not often that you find a tool proficient in both realms, and Lighthouse clearly distinguishes itself in this regard.
Standout Features & Integrations:
Lighthouse offers real-time threat detection alongside its recovery features. Additionally, its encrypted backup solutions ensure that data remains safe. For integrations, Lighthouse works with major cloud platforms and popular operating systems.
Pricing:
From $12/user/month (billed annually)
Pros:
The dual focus on cybersecurity and recovery
Real-time threat detection
Encrypted backup solutions
Cons:
Might be overwhelming for users seeking a basic tool
Requires regular updates for threat detection
Pricing might be on the higher side for small businesses
Large corporations face immense challenges in data management and recovery. Dell PowerProtect Cyber Recovery is specifically designed for enterprise needs, offering large-scale solutions and robust protection.
Why I Picked Dell PowerProtect Cyber Recovery:
Enterprise solutions require a different level of sophistication. Having compared various offerings, I can confidently say that Dell PowerProtect stood out in catering to large-scale organizational needs. Its enterprise-centric features make it an obvious choice for this category.
Standout Features & Integrations:
Dell PowerProtect offers automated data recovery workflows and integrates air-gapped protection to shield it from cyber threats. It also provides detailed analytics and reporting for recovery operations. In terms of integrations, it aligns well with major enterprise software and infrastructure setups.
Pricing:
Pricing upon request
Pros:
Tailored for enterprise needs
Automated recovery workflows
Air-gapped protection against cyber threats
Cons:
It might be overkill for small to mid-sized businesses
Requires specialized IT personnel for optimal use
The pricing model might be complex
11. NinjaOne - Best for integrated backup and management
For businesses, having an all-in-one solution that combines backup capabilities with holistic IT management can save time and ensure operations. NinjaOne offers just that – an integrated platform for both backup and comprehensive IT management.
Why I Picked NinjaOne:
After judging numerous solutions in the IT space, I settled on NinjaOne for its dual prowess in backup and IT management. Through my selection process, I observed that NinjaOne uniquely integrates these functions, setting it apart from others in the arena.
Standout Features & Integrations:
NinjaOne offers cloud-based backup solutions coupled with real-time IT asset tracking. Additionally, its automated patch management ensures systems stay updated. When it comes to integrations, NinjaOne fits well with major cloud service providers and integrates efficiently with standard IT management software.
Pricing:
From $15/user/month (billed annually)
Pros:
Cloud-based backup solution
Integrated IT asset tracking
Automated patch management
Cons:
Initial setup might require a learning curve
Not best suited for very small businesses
Some advanced features are locked behind higher price tiers
12. Recuva - Best for deep scan capabilities
Losing files can be frustrating, especially if conventional recovery methods fail. Recuva is renowned for its unparalleled deep scan capability, delving into the depths of your storage to retrieve what many other tools might miss.
Why I Picked Recuva:
In my quest for the finest recovery tools, Recuva consistently stood out due to its intensive deep scan feature. I've always believed in having a reliable tool that goes the extra mile in data recovery, and my comparisons consistently placed Recuva ahead in this specific domain.
Standout Features & Integrations:
Recuva provides advanced file recovery with support for all types of files. It also boasts a secure delete feature to permanently erase any file. As for integrations, Recuva operates smoothly alongside major antivirus software and works efficiently across different file systems.
Pricing:
From $3.50/user/month (billed annually)
Pros:
Exceptional deep scan capability
Supports all file types
Secure delete feature
Cons:
The interface might seem outdated to some
Premium support restricted to higher pricing tiers
Does not support all operating systems
Other Noteworthy File Recovery Software
Below is a list of additional file recovery software that I shortlisted, but did not make it to the top 12. They are definitely worth checking out.
Selection Criteria For Choosing File Recovery Software
When you're faced with data loss, the last thing you want is to trust your valuable information to an inadequate recovery tool. Through my experience, I've evaluated dozens of data recovery tools, but in this case, I was really looking for precise core functionality, key features tailored to recovery, and user-friendly design tailored to non-technical users. The criteria I considered most important in making these selections are outlined below.
Core Functionality
Ability to recover from various data loss scenarios: accidental deletion, hard drive failure, virus attack, system crash, partition loss.
Support for multiple file systems: NTFS, FAT, HFS, exFAT, etc.
Compatibility with a range of devices: hard drives, external disks, flash drives, SD cards, and more.
Preview functionality: Allows users to view recoverable files before proceeding with the recovery.
Key Features
Deep Scan: A thorough scan of the storage medium to retrieve deeply buried files.
File Sorting: Filters to categorize and find specific files by type, date, and size.
Save Scan Information: Allows users to pause and continue the recovery process at a later time without rescanning.
RAID Recovery: Specifically for systems with a RAID configuration, ensuring data integrity is maintained during the recovery process.
Bootable Recovery Drive: An option to create a bootable drive to recover data from a system that won't start.
Usability
Intuitive Dashboard: The software should have a clear dashboard where all options are readily available, minimizing the need to navigate through multiple menus.
Step-by-Step Guidance: Especially useful for beginners, the tool should guide users through the recovery process.
Responsive Customer Support: Since data recovery can be critical, having access to timely support is paramount. This includes chat support, a knowledge base, or even forums where users can seek help.
Configurable Search: In a tool where potentially thousands of files are being sifted through, users should have the ability to easily search and filter results for quicker recovery of specific files.
Clear Progress Indicators: Given the potential for long scan and recovery times, clear progress indicators help set user expectations.
Most Common Questions Regarding File Recovery Software
What are the benefits of using top-tier file recovery software?
The best file recovery software offers several advantages:
Comprehensive Recovery: It ensures a high recovery rate for lost or deleted files from various scenarios, be it accidental deletion or a hard drive failure.
Multiple Device Compatibility: You can recover data from a variety of storage devices, including hard drives, external disks, flash drives, and SD cards.
User-Friendly Interface: They provide an intuitive dashboard, which simplifies the process, especially beneficial for those without technical expertise.
Advanced Features: This includes options like deep scans, RAID recovery, and bootable recovery drives.
Support and Updates: Leading software usually comes with excellent customer support and regular updates, ensuring compatibility with the latest file systems and devices.
How much does file recovery software typically cost?
The pricing for file recovery software varies based on the features offered, with prices ranging from free to several hundred dollars. Basic versions are more affordable, while enterprise versions with advanced features tend to be more expensive.
What are the different pricing models for these tools?
There are several pricing models:
Freemium: The software offers basic functionalities for free with an option to upgrade to advanced features.
One-Time Purchase: Users pay a one-time fee and own the software indefinitely. This might include future updates or might require separate payments for major updates.
Subscription-Based: Users pay on a monthly or annual basis to access the software and its updates.
What is the typical range of pricing for these tools?
Typically, the pricing for file recovery software can range from $0 for freeware or basic versions to upwards of $500 for professional or enterprise editions.
Which are the cheapest and most expensive software options?
While specific prices can vary and change over time, freeware like Recuva tends to be among the cheapest (offering a free version). On the high end, software designed for professional data recovery in complex scenarios, like Stellar or GetDataBack, often commands higher prices.
Are there free file recovery software options?
Yes, there are free options available, like Recuva and SoftPerfect File Recovery. However, they might lack some advanced features present in paid versions. It's essential to ensure that a free tool meets your specific needs before relying on it for critical data recovery.
Other File Recovery Software Reviews
Summary
Choosing the right file recovery software is a crucial decision that can significantly influence the outcome of your data recovery efforts. The market is saturated with a myriad of options, each promising exceptional results. However, the key is to identify a solution tailored to your specific requirements, from basic file retrieval to advanced data reconstruction.
Key Takeaways
Purpose dictates choice: Understand your specific recovery needs. Whether it's accidental deletions, complex RAID reconstructions, or recovering files from various devices, ensure the software caters to these scenarios.
Quality over price: While there are free options available, sometimes investing in paid software can offer a more comprehensive suite of features and a higher success rate.
Usability matters: Regardless of its features, software should have an intuitive interface, clear guidance, and reliable customer support. This ensures that you can make the most of its capabilities without unnecessary hurdles.
What Do You Think?
While I've tried to cover a wide range of file recovery software options in this guide, the tech landscape is vast and ever-evolving. If you've come across a tool that deserves a spot on this list or have personal experiences with one that's been particularly helpful, I'd love to hear about it. Your insights and recommendations can enrich this guide and assist others in their journey to find the best file recovery solutions.