12 Best Backlog Management Tools Shortlist
After deep evaluation, I've handpicked 12 top backlog management tools to address your backlog challenges.
In the throes of product development, I've found that a robust product backlog management tool is indispensable. Bridging the gap between product owners, stakeholders, and agile teams, these tools transform user stories, backlog items, and subtasks into clear action plans. They integrate the nuances of Microsoft Planner, custom fields, and screenshots to streamline sprint planning.
With features like user-friendly messaging, timely notifications, and even a free plan accommodating unlimited users, navigating product backlogs and sprint backlogs becomes intuitive. If you're an agile team looking to simplify iterations, permissions, and teamwork metrics, these tools offer the solution.
What are Backlog Management Tools?
Backlog management tools are specialized software applications designed to help teams organize, prioritize, and track tasks or work items that are pending completion. Primarily used by product managers, developers, and teams practicing agile methodologies, these tools facilitate the smooth progression of tasks from inception to completion.
They aid in ensuring that critical tasks are addressed promptly, resources are allocated efficiently, and projects progress in alignment with the defined objectives, making them indispensable for businesses striving for effective project management.
Overviews of the 12 Best Backlog Management Tools
1. Confluence - Best for integrated documentation collaboration
At the heart of every efficient team lies a robust documentation system. Confluence stands out as a dedicated platform for this, helping teams document, collaborate, and share work. Its primary strength lies in integrated documentation collaboration, making it an ideal choice for teams that prioritize structured and collaborative document management.
Why I Picked Confluence:
In the vast sea of collaborative tools, I selected Confluence because of its distinguished approach to documentation. After comparing and judging multiple platforms, Confluence emerged distinctively due to its emphasis on creating an integrated documentation environment. This central focus on documentation, backed by user reviews and its extensive features, firmly planted my opinion that it's genuinely the best for teams seeking a collaborative documentation hub.
Standout features & integrations:
Confluence champions in offering customizable templates, ensuring teams can maintain consistent documentation standards. The real-time editing feature is another highlight, allowing multiple team members to cohesively work on a document. Integration-wise, it synergizes well with Atlassian's ecosystem, including Jira, Trello, and Bitbucket. Moreover, its extensive marketplace ensures teams have a plethora of plugins to customize their workspace.
Pricing:
From $5/user/month (min 5 seats)
Pros:
Customizable templates for standardized documentation
Real-time editing facilitates simultaneous collaboration
A wide array of plugins in the marketplace
Cons:
Could be daunting for smaller teams or solo users
Initial setup might require some learning
Cost becomes a consideration for very large teams
2. ProductBoard - Best for product management and roadmap visualization
Every effective product team requires a streamlined process to visualize and manage their roadmap. ProductBoard delivers on this, providing a platform where product management intertwines perfectly with visualization tools. Its prowess in displaying product management phases, along with roadmap visualization, sets it apart for those who like seeing the big picture.
Why I Picked ProductBoard:
While examining numerous platforms, I chose ProductBoard because it struck a balance between product management and roadmap clarity. Comparing its interface and capabilities to others, it stood out with its unique product-centered view. My judgment on ProductBoard is founded on its ability to make product management and roadmap visualization cohesive, thereby ensuring it's the best for product teams requiring this synergy.
Standout features & integrations:
ProductBoard excels with its feature prioritization tools, allowing teams to weigh and decide on the most impactful changes. Its portal for user feedback ensures products are continually aligned with customer needs. Integration-wise, it connects with tools like Jira, Trello, and Slack, making data flow easy and actionable.
Pricing:
From $20/user/month (billed annually)
Pros:
Clear product roadmap visualization
Effective feature prioritization tools
Direct portal for gathering user feedback
Cons:
Might be overkill for very small teams
Requires a learning curve for full utilization
Annual billing might deter some users
3. Yodiz - Best for agile project management with visual boards
For teams steeped in agile methodologies, visual boards become an indispensable asset. Yodiz presents itself as a potent solution for agile project management using vivid, intuitive boards. With its emphasis on visual representations of agile processes, Yodiz resonates with teams that prefer a graphic touch to their workflows.
Why I Picked Yodiz:
Navigating the landscape of agile management tools, Yodiz caught my attention due to its pronounced visual capabilities. I determined that its visual boards are not only appealing but functionally superior, simplifying complex agile processes. This combination solidified my opinion that Yodiz is best for teams in pursuit of a visually charged agile management experience.
Standout features & integrations:
Yodiz offers a scalable scrum board, catering to teams of varying sizes and complexity. Its epic and release management features are commendable, offering a broad perspective on projects. As for integrations, Yodiz supports connections with popular platforms like Slack, GitHub, and Jenkins, enhancing its operational versatility.
Pricing:
From $5/user/month
Pros:
Scalable and intuitive visual boards
Comprehensive epic and release management
A broad range of third-party integrations
Cons:
The interface can feel dense at times
Customization has its limits
Initial setup requires time and patience
4. Trello - Best for simple, card-based task organization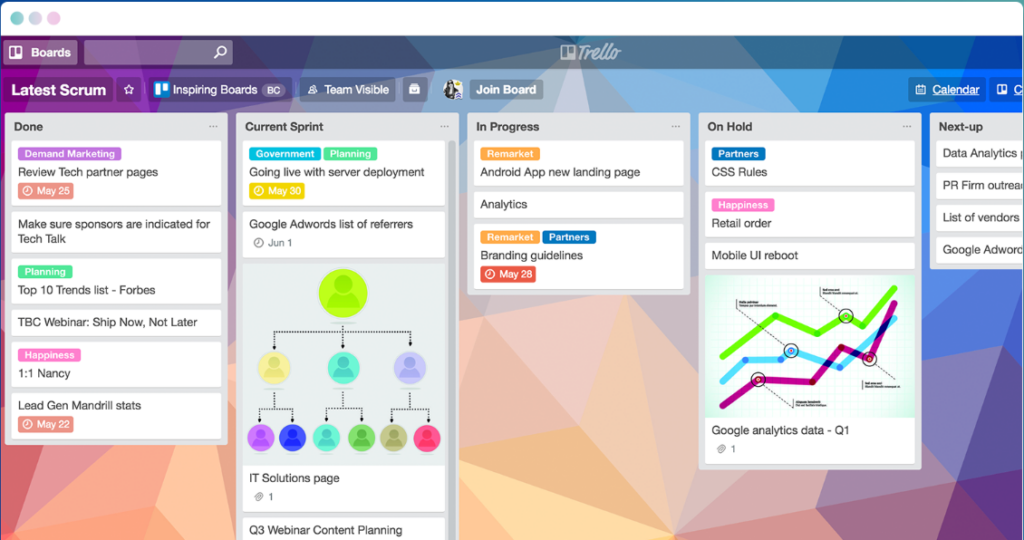 In the realm of task organization, simplicity often trumps complexity. Trello epitomizes this with its card-based system, allowing teams to manage tasks in a straightforward, drag-and-drop environment. Its commitment to simplicity, coupled with card-based organization, is why it's a favorite for those seeking a clutter-free task management experience.
Why I Picked Trello:
Through a process of selection and judgment, Trello emerged as a tool that masters the art of simplicity. In my comparisons, Trello's card-based organization was unmatched in its ability to simplify complex workflows. I believe Trello is unequivocally the best for those who seek a straightforward, no-fuss task organization method.
Standout features & integrations:
Trello's strength lies in its boards, lists, and cards, which offer a clear structure for task management. The Power-Ups feature, which lets teams integrate and automate their workflows, is a game-changer. On the integration front, Trello connects smoothly with tools like Dropbox, Google Drive, and Slack, enriching its ecosystem.
Pricing:
From $10/user/month (billed annually)
Pros:
Intuitive card-based system
Power-Ups add versatility to boards
Numerous integration options
Cons:
Advanced features behind paywalls
Might lack depth for complex projects
Collaboration tools can be basic for larger teams
5. ClickUp - Best for all-in-one project management solutions
In the vast sphere of project management, ClickUp stands as a comprehensive tool, offering a suite of features for a diverse range of needs. It's designed to encompass all aspects of project management, which supports its position as a preferred choice for teams seeking an all-in-one solution.
Why I Picked ClickUp:
Navigating through a myriad of project management tools, I settled on ClickUp primarily for its holistic approach. When comparing its breadth of features and adaptability to other platforms, ClickUp clearly differentiated itself. I am of the opinion that ClickUp is the best fit for teams who want an encompassing project management tool without juggling multiple platforms.
Standout features & integrations:
ClickUp excels with its custom views ranging from lists, and boards, to calendar displays. Its goal-tracking and mind-mapping capabilities further enhance the project planning process. Integrations are vast, with ClickUp connecting effortlessly to tools such as Slack, GitHub, and Google Drive.
Pricing:
From $5/user/month
Pros:
A comprehensive set of features for varied needs
Customizable views for personalized management
Extensive integration options
Cons:
Might feel overwhelming for new users
The mobile app experience can be improved
Some advanced features behind paywalls
6. Redmine - Best for open-source project management
Open-source solutions bring flexibility and customization, and Redmine captures these benefits in the realm of project management. As an open-source tool, Redmine offers adaptability and freedom, making it ideal for teams that prioritize customization and direct control.
Why I Picked Redmine:
I selected Redmine for this list after considering its strong community support and open-source nature. It became evident that its potential for customization and extensibility outshines many proprietary tools. Given these strengths, I judge Redmine as the best for organizations or teams that appreciate open-source freedoms.
Standout features & integrations:
Redmine boasts a modular architecture, allowing teams to plug in various features as needed. It supports multiple projects, offers a range of tracking tools, and possesses a robust issue management system. As for integrations, its open-source nature means it can be integrated with a plethora of tools, though popular ones include Git, Subversion, and LDAP.
Pricing:
Free (open-source)
Pros:
Highly customizable due to its open-source nature
Strong community support
Modular architecture for specific feature sets
Cons:
Might require technical expertise to setup
The user interface feels dated
Limited official support
7. Axosoft - Best for software development teams and release planning
In the realm of software development, precise release planning is paramount. Axosoft emerges as a dedicated tool in this space, offering features tailored for developers and aiding in precise release cycles.
Why I Picked Axosoft:
When determining a tool tailored for software development teams, Axosoft consistently stood out. I chose it because of its profound focus on aiding developers in managing release cycles effectively. In drawing comparisons, it became apparent that Axosoft is best for development teams that require precision in their release planning.
Standout features & integrations:
Axosoft is lauded for its scrum software planning, which streamlines agile methodologies. Its burndown charts and capacity planning tools ensure teams stay on track. Integration-wise, Axosoft connects well with repositories like Git and Subversion, as well as with customer support tools like Help Scout.
Pricing:
From $20/user/month (billed annually)
Pros:
Tailored features for software developers
Robust scrum and agile planning tools
Effective release management capabilities
Cons:
Might not cater to non-development teams
The interface can take time to familiarize with
Some features might seem complex for smaller teams
8. Backlog - Best for tracking projects, tasks, and bugs in one place
Backlog presents itself as a centralized platform that intertwines project management, task tracking, and bug resolution. It aptly consolidates these functionalities, making it invaluable for teams who want an integrated solution for their varying operational challenges.
Why I Picked Backlog:
In my search for tools that offer a cohesive experience, Backlog prominently emerged. I chose it after judging its capability to merge different operational needs into a single platform. Given its integrative features, it's my determination that Backlog is best suited for teams keen on tracking projects, tasks, and bugs from one hub.
Standout features & integrations:
Backlog shines with its built-in bug-tracking system, ensuring issues are identified and resolved quickly. Additionally, it facilitates visual project timelines and offers extensive collaborative features such as shared wikis. Key integrations encompass Slack, Typetalk, and Jenkins for enhanced operational fluidity.
Pricing:
From $35/month for up to 30 users
Pros:
Comprehensive dashboard with project, task, and bug views
Built-in wiki system for team knowledge sharing
Visual Gantt chart and burndown chart features
Cons:
The interface may be less intuitive for first-time users
Limited customization options in comparison to competitors
Mobile experience could be enhanced
9. Wrike - Best for real-time collaboration and workload management
Wrike champions itself as a hub for real-time collaboration, effectively bridging teams and streamlining project workflows. Its focus on workload management ensures that tasks are equitably distributed, catering to teams that aim for balanced work dynamics.
Why I Picked Wrike:
Through comparisons, I found Wrike's emphasis on real-time collaboration to be its standout trait. I selected it, judging by its proficiency in enhancing team synergies and its dynamic workload management capabilities. My opinion stands firm that Wrike is the optimal choice for teams that prioritize real-time collaboration and balanced workload distribution.
Standout features & integrations:
Wrike boasts a dynamic request form feature that streamlines task creation. Its interactive drag-and-drop Gantt chart offers visual clarity on project timelines. Integrations are expansive, with Wrike syncing with platforms like Salesforce, Tableau, and Microsoft Teams.
Pricing:
From $9.80/user/month (billed annually)
Pros:
Dynamic request forms streamline task assignments
Time tracking capabilities for resource management
Visual dashboards for instant project insights
Cons:
The learning curve may deter some users
Task filtering can be more refined
Dependency visualization might feel limited
10. Jira - Best for detailed software project management
Jira, an Atlassian product, has long been a forerunner in the software project management landscape. It provides detailed tools catered to the software development lifecycle, making it the go-to for development teams needing robust oversight of their projects.
Why I Picked Jira:
Upon weighing the strengths of various tools, Jira stood out in the domain of software project management. I chose it because of its tried-and-true reputation in the software industry. Reflecting on its features, I believe Jira is the best tool for teams seeking an in-depth approach to software project management.
Standout features & integrations:
Jira is renowned for its customizable workflows that adapt to varying development methodologies. Its issue and project tracking, combined with agile reporting tools, offers detailed project oversight. Notable integrations include Confluence, Bitbucket, and Slack, fortifying its position in the software ecosystem.
Pricing:
From $7/user/month
Pros:
Customizable workflows cater to different methodologies
Robust issue tracking and agile reporting tools
Integration with other Atlassian products
Cons:
Might be overkill for smaller projects
Configuration can be time-consuming
Pricing can get steep for larger teams.
11. Hansoft - Best for large-scale agile projects
Hansoft, by Perforce, carves out a niche for itself in managing large-scale agile projects. It's tailored to assist sprawling teams with detailed agile frameworks, making it a strong contender for organizations with vast projects that necessitate agile methodologies.
Why I Picked Hansoft:
In evaluating tools for comprehensive project management, Hansoft distinguished itself. My selection of Hansoft stems from its ability to handle the complexities of large projects while maintaining agile principles. Thus, I stand by the view that Hansoft is the ideal tool for entities needing a comprehensive solution for sizeable agile initiatives.
Standout features & integrations:
Hansoft excels with its combined backlog and timeline management, enabling simultaneous high-level and granular views. It also offers resource allocation and real-time collaboration tools, enhancing team synergy. On the integration front, Hansoft merges well with Jira, Perforce Helix Core, and Jenkins.
Pricing:
Pricing upon request
Pros:
Combines backlog and timeline views for improved oversight
In-depth resource allocation tools
Real-time collaboration fosters team communication
Cons:
The steeper learning curve for newcomers
The pricing model may not be transparent
The interface may seem dense for simple projects
12. monday.com - Best for customizable workflow automation
monday.com has been a prominent name in the project management space, often credited for its customizable workflow automation capabilities. It promotes flexibility in how teams manage tasks, making it a preferred choice for organizations keen on crafting their automation processes.
Why I Picked monday.com:
When determining tools that offer both structure and adaptability, monday.com clearly emerged. I picked it after judging its extensive customization options, which empower teams to tailor their workflows. Consequently, I firmly believe that monday.com is unmatched for entities prioritizing malleable workflow automation.
Standout features & integrations:
monday.com impresses with its color-coded boards and visual project tracking. Moreover, it boasts automation recipes, allowing teams to define trigger-action sequences. Integrations are abundant, with monday.com supporting connections with platforms like Slack, Zoom, and Microsoft Teams.
Pricing:
From $10/user/month
Pros:
Intuitive color-coded boards for easy task visualization
Extensive automation recipes to fine-tune workflows
A rich integration ecosystem enhances tool interoperability
Cons:
Advanced features may come at a premium cost
Can seem overwhelming due to the plethora of options
Initial setup might demand time investment.
Other Noteworthy Backlog Management Tools
Below is a list of additional backlog management tools that I shortlisted, but did not make it to the top 12. Definitely worth checking them out.
Selection Criteria For Choosing Backlog Management Tools
Having delved into the intricate world of project management software, I've evaluated dozens of tools. Throughout my exploration, I sought platforms that could offer robust functionality and ease of use while aligning with the unique demands of different industries and teams. As I've personally tried and researched these tools, I've distilled my findings into a set of criteria that I believe are paramount for any individual or team considering a project management solution.
Core Functionality
Task Assignment: The ability to assign tasks to individuals or teams.
Progress Tracking: Monitoring the status of tasks, milestones, and overall project health.
Collaboration Tools: A platform where team members can communicate, share files, and discuss tasks in real time.
Resource Allocation: A system to distribu
te and manage resources efficiently, ensuring no over-allocations.
Key Features
Integrations: The capability to work with other essential tools, such as email, cloud storage, and CRM systems.
Reporting Tools: Features that allow the creation of visual reports for performance analysis, insights and future planning.
Time Management: Tools that track time spent on tasks, helping in efficiency and billing.
Role-Based Access: This ensures that only authorized individuals can view or edit specific parts of a project.
Usability
Intuitive Interface: For a project management tool, interfaces should have clear dashboards that provide a snapshot of the project at a glance. Visual boards or Gantt charts can be particularly beneficial for scheduling and tracking.
Ease of Onboarding: Considering the diversity in tech proficiency among team members, a tool should offer straightforward tutorials, guides, or even interactive walkthroughs.
Adaptable Design: Platforms should be flexible enough to cater to both simple and complex projects, adjusting to the user's needs.
Responsive Customer Support: Given the pivotal role of such tools in day-to-day operations, timely and effective customer support can make or break the user experience.
Most Common Questions Regarding Backlog Management Tools (FAQs)
What are the benefits of using backlog management tools?
Using backlog management tools can significantly streamline your team's workflow. Some key benefits include:
Improved Prioritization: Helps in arranging tasks based on urgency and significance.
Enhanced Visibility: Provides a clear overview of all the tasks and their current statuses.
Better Resource Management: Allows efficient allocation and utilization of resources based on task requirements.
Collaboration: Enables team members to communicate, share feedback, and work together.
Data-Driven Decisions: With advanced analytics and reporting, teams can make decisions rooted in data.
How much do these backlog management tools typically cost?
Prices for backlog management tools can vary significantly based on features, integrations, and the number of users. While some tools might offer basic features for as low as $5/user/month, enterprise solutions with advanced capabilities might cost over $50/user/month.
What are the typical pricing models for these tools?
The most common pricing models include:
Per User: Price is determined based on the number of individuals using the tool.
Flat Rate: A fixed price that provides access to all features, irrespective of the team's size.
Freemium: Basic features are accessible for free, with advanced functionalities available at a cost.
Is there a typical range for pricing?
Yes, for most backlog management tools, the pricing usually ranges from $10/user/month to $50/user/month. However, this can vary based on the tool's capabilities and the size of the organization.
Which is the cheapest software available?
While prices are subject to change and may vary by region, tools like Trello and Asana often offer competitive rates, making them some of the more affordable options on the market.
Which software is on the more expensive side?
More advanced solutions, like JIRA and Monday.com, tend to be on the pricier side due to their comprehensive features and scalability for larger organizations.
Are there any free backlog management tools available?
Yes, several tools offer a freemium model. Tools like Trello, for instance, provide a free version with basic features, which can be sufficient for smaller teams or startups.
Is the price an indication of quality?
Not necessarily. While price can often correlate with the number of features or integrations a tool offers, it's essential to assess the tool's fit for your team's specific needs. Sometimes, a less expensive or even a free version can adequately serve a team's requirements.
Other Backlog Management Tools-Related Reviews
Summary
Selecting the right backlog management tool is crucial for streamlining workflows, enhancing team collaboration, and ensuring tasks are prioritized effectively. Through this guide, we've explored the pivotal criteria to consider, including core functionalities, key features, and usability aspects tailored to specific use cases. We've also addressed frequently asked questions, shedding light on the benefits, pricing models, and the range of options available.
Key Takeaways:
Define Your Needs: Before diving into the myriad of tools available, outline the specific requirements of your team or organization. Do you need a simple tool for small teams or a comprehensive solution for large enterprises?
Focus on Usability and Support: A tool's interface should be intuitive, catering to the needs of your use case. For instance, a backlog management tool for software development might need a drag-and-drop feature for task prioritization. Additionally, ensure the tool offers adequate support, be it through tutorials, customer service, or a learning library.
Consider the Total Cost: Beyond the sticker price, think about the potential costs associated with onboarding, training, and any additional features or integrations you might need in the future. Some tools may offer competitive initial prices but might have costs associated with advanced features.
What do you think?
While I've put in considerable effort to curate this list based on my research and experience, the world of backlog management tools is vast. If you've come across a standout tool that hasn't made it to this guide or have personal experiences with one you believe deserves mention, please share it with us. Your feedback is invaluable in ensuring this guide remains comprehensive and up-to-date. Let's collaborate to make this resource even better.