Best Data Privacy Software Shortlist
After a careful evaluation, I've curated the best data privacy software, addressing the challenges you face.
Navigating the complex landscape of data privacy regulations, including the General Data Protection Regulation, demands more than just understanding privacy laws. It's about using the right data privacy management software to easily handle personal and customer data across various data sources—from on-premises systems to cloud apps and social media.
I've delved deep into these challenges, and believe the right software can turn your approach, making privacy not just a requirement, but a strategic advantage.
What Is a Data Privacy Software?
Data privacy software is a specialized set of tools designed to help organizations safeguard personal and sensitive information against unauthorized access, breaches, and misuse. Primarily utilized by businesses, institutions, and agencies, these tools ensure compliance with data protection regulations, manage user consent, provide encryption, and monitor data access.
With rising threats from trackers and the need for robust endpoint security, tools like these offerings prioritize end-to-end authentication, data classification, archiving, and remediation. Whether it's safeguarding messaging or managing your comprehensive privacy program, a tailored privacy solution ensures compliance and trust.
Overviews of the 12 Best Data Privacy Software
1. Ketch - Best for comprehensive data orchestration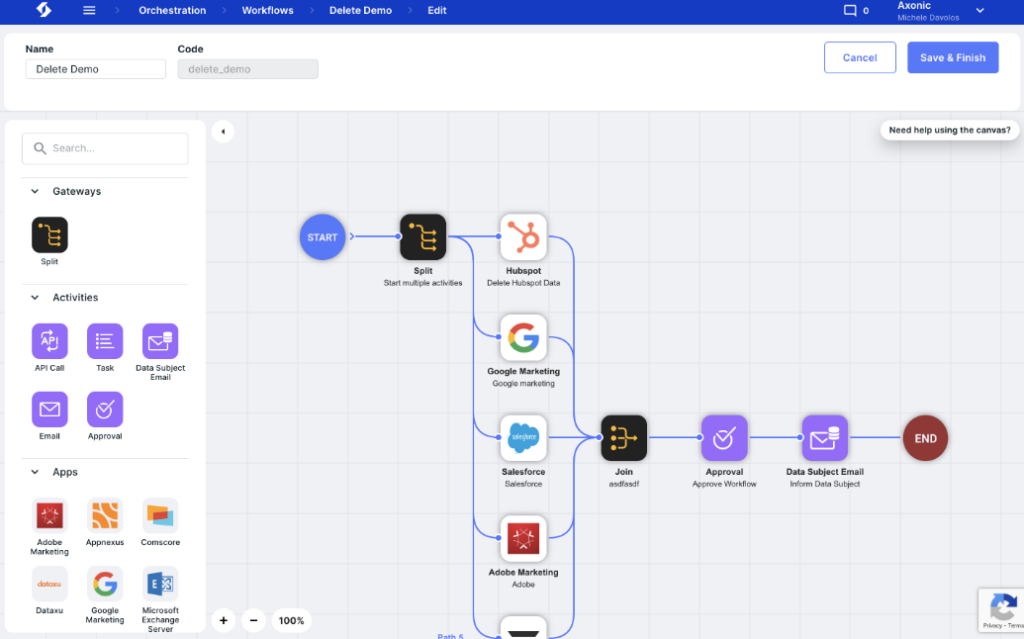 Ketch serves as a powerhouse in the world of data orchestration, diligently weaving together disparate strands of data for more harmonized governance. This tool's embrace of an all-encompassing approach ensures data governance, consent management, and compliance are not just met, but streamlined.
Why I Picked Ketch:
In my journey of selecting tools, Ketch stood out distinctly from the crowd. I chose Ketch after carefully judging its all-in-one capabilities in managing and securing data. Its approach to offering comprehensive solutions to the multifaceted challenges of data governance and orchestration was truly commendable.
This in-depth nature of Ketch is what justifies its standing as the best for data orchestration.
Standout Features & Integrations:
Ketch delivers on its promise with features like robust data governance, dynamic consent management, and far-reaching compliance checks. But it's not just about the features; it's how they come together to offer a unified solution to data challenges.
Integration-wise, Ketch blends with popular CRM systems such as Salesforce, adeptly connects with data warehouses like Snowflake, and provides APIs for those seeking a more tailored fit.
Pricing:
From $50/user/month (min 5 seats)
Pros:
Comprehensive data governance capabilities
Dynamic consent management
Extensive compliance check mechanisms
Cons:
Might have a steeper learning curve for beginners
Integration can be intricate for less common platforms
Potential overkill for very small businesses with minimal data processing needs
2. MineOS - Best for mining operation management
MineOS dives deep into the world of mining operations, offering tools and functionalities tailored to streamline and organize mining tasks efficiently. This specialized focus on mining operations and the unique challenges they present is why it's positioned as the top pick for mining operation management.
Why I Picked MineOS:
During my meticulous evaluation of numerous tools, MineOS emerged as a unique gem. What compelled me to select MineOS was its tailored approach to handling mining operations, an arena not many tools specialize in. I found that this tool wasn't just generic software but was specifically built to cater to mining tasks, making it best for mining operation management.
Standout Features & Integrations:
MineOS's strengths lie in its detailed mining analytics, customizable dashboards, and robust operation scheduling features. These combine to provide users with a clear picture of their mining landscape and the tools needed to make informed decisions. On the integration front, MineOS offers compatibility with major mining hardware and software, ensuring a cohesive experience for its users.
Pricing:
From $40/user/month
Pros:
Tailored specifically for mining operations
Customizable dashboards offer detailed insights
Robust operation scheduling for streamlined tasks
Cons:
Might be niche for those outside the mining sector
Requires understanding of mining operations for maximum benefit
Potential compatibility issues with less common mining software or hardware
3. Opsware - Best for IT process automation
Opsware is at the forefront of IT process automation, meticulously designed to simplify, organize, and improve the IT workflow for businesses. Its reputation for changing complex IT tasks into streamlined, automated processes is the very reason it's deemed best for this arena.
Why I Picked Opsware:
During my in-depth comparison of myriad tools, Opsware genuinely impressed me with its specialized approach. I selected Opsware not only for its ability to handle IT tasks but also because it takes a more nuanced approach, focusing on the automation of those tasks. This makes it stand out, and in my judgment, it truly is best for IT process automation.
Standout Features & Integrations:
Opsware offers a suite of features designed to simplify IT processes. From real-time monitoring to intuitive scripting tools, it caters to a range of automation needs. In terms of integrations, Opsware syncs with major ITSM tools, cloud platforms, and even custom applications, making it versatile in diverse IT environments.
Pricing:
From $15/user/month (billed annually)
Pros:
Specialized in IT process automation
Wide range of automation tools from monitoring to scripting
Versatile integration capabilities with major IT platforms
Cons:
Might require a learning curve for those new to automation
Annual billing might not suit all businesses
Could be overwhelming for smaller IT setups
AvePoint PIA Tool specializes in conducting and managing privacy impact assessments, ensuring organizations navigate the complexities of data privacy with efficiency. Its approach to simplifying these evaluations, particularly in a world increasingly concerned with data privacy, makes it an optimal choice for those seeking streamlined privacy assessments.
Why I Picked AvePoint Privacy Impact Assessment (PIA) Tool:
Among the various tools I analyzed, AvePoint's PIA Tool stood out due to its dedicated focus on privacy assessments. I chose it because it bridges the gap between intricate privacy regulations and the need for businesses to conduct thorough yet efficient evaluations. From my perspective, its specific design for streamlined privacy assessments truly justifies its "best for" status.
Standout Features & Integrations:
AvePoint PIA Tool is equipped with features like automated risk calculation, comprehensive assessment templates, and real-time collaboration capabilities. Integration-wise, it smoothly integrates with most data management systems and compliance platforms, ensuring a cohesive workflow for businesses of all sizes.
Pricing:
From $12/user/month (billed annually)
Pros:
Automated risk calculation for precise evaluations
Comprehensive assessment templates tailored to various needs
Real-time collaboration facilitates team-based assessments
Cons:
Could be intricate for small businesses or startups
Annual billing may not align with all budget cycles
Might require training for complete utilization
5. Privitar - Best for data de-identification
Privitar offers a robust platform dedicated to the de-identification of sensitive data, ensuring that privacy is maintained while the value of the data is retained. Its methodical approach to stripping personal identifiers without diminishing data quality positions it as a premier choice for data de-identification.
Why I Picked Privitar:
When I delved into the realm of data de-identification tools, Privitar emerged as a clear leader. Its commitment to safeguarding data while ensuring its utility was evident. I chose it not only for its sophisticated technology but also for its evident prowess in the arena of data protection. It genuinely aligns with the "best for" criterion of data de-identification.
Standout Features & Integrations:
Privitar boasts a range of features, including data masking, tokenization, and the use of differential privacy techniques. These tools ensure maximum data utility while minimizing the risk of re-identification.
On the integration front, Privitar smoothly connects with most major data platforms and cloud services, facilitating workflows in diverse data environments.
Pricing:
Pricing upon request
Pros:
Advanced techniques like data masking and tokenization ensure data remains useful
Integrates with major data platforms, enabling flexibility in various ecosystems
Maintains data's analytical value while ensuring privacy
Cons:
May come with a steeper learning curve for those new to data privacy
Pricing transparency could be improved for easier decision-making
Some integrations may require additional configurations
Symantec Data Loss Prevention (DLP) is a comprehensive solution designed to discover, monitor, and protect sensitive data across a wide range of environments. Its capability to detect and block potential breaches aligns with its role as an imperative tool for those keen on ensuring the sanctity of their data.
Why I Picked Symantec Data Loss Prevention:
Navigating through various tools, Symantec DLP captured my attention primarily for its in-depth approach to data protection. I selected it after judging its capabilities against other tools in the same category. What sets Symantec DLP apart is its comprehensive suite of features complemented by its robust track record in the cybersecurity space.
Its prowess in averting data breaches justifies its position as "best for" this particular concern.
Standout Features & Integrations:
Symantec DLP is known for its content discovery features, which scan stored data across a multitude of locations to find sensitive information. Additionally, its robust policy enforcement ensures that data doesn't get into the wrong hands unintentionally.
For integrations, Symantec DLP pairs well with many enterprise tools, from cloud storage solutions to communication platforms, enhancing its applicability across varied IT ecosystems.
Pricing:
Pricing upon request
Pros:
Comprehensive content discovery covers wide data locations
Robust policy enforcement ensures data sanctity
Wide range of integrations makes it versatile for various enterprise setups
Cons:
Might be perceived as complex for smaller organizations
Requires regular updates to stay abreast of emerging threats
Customer support might vary based on the region or contract
7. TrustArc - Best for privacy compliance management
TrustArc offers a platform tailored to address the multifaceted challenges of privacy compliance across varied jurisdictions. With an ever-increasing focus on data protection and privacy regulations globally, this tool emerges as a go-to for businesses eager to streamline and manage their compliance endeavors effectively.
Why I Picked TrustArc:
In the midst of many solutions, I determined that TrustArc had a distinct edge. I selected TrustArc because it combines in-depth privacy expertise with technological prowess. Its differentiation lies in its ability to offer a holistic approach to privacy compliance management. This holistic nature combined with its comprehensive features makes it "best for" managing privacy compliance across various industries.
Standout Features & Integrations:
TrustArc impresses with its Risk Profile feature, providing a quick snapshot of potential privacy risks. Their Data Flow Manager assists organizations in mapping out data processes, ensuring clarity in data management.
Integration-wise, TrustArc connects effectively with multiple business tools and platforms, ensuring that compliance management remains consistent across different segments of an organization's operations.
Pricing:
Pricing upon request
Pros:
Risk Profile feature provides insightful privacy risk overviews
Data Flow Manager offers clarity in data processes
Effective integrations maintain consistency in compliance management
Cons:
The interface might appear intricate to newcomers
Requires consistent updates to stay in tune with evolving global privacy regulations
Some users might find certain modules to be more robust than necessary for their specific use case
8. Trustwave - Best for data privacy mandates adherence
Trustwave delivers a robust solution geared towards ensuring companies adhere to stringent data privacy mandates. With a comprehensive suite of features, Trustwave aids businesses in navigating the complex waters of data privacy, focusing especially on helping them stick to mandatory regulations.
Why I Picked Trustwave:
In my quest to find the most effective tools, Trustwave caught my attention. I chose Trustwave because it offers a precise blend of thorough compliance features combined with ease of use. What makes it particularly noteworthy is its dedication to the intricate task of mandate adherence, justifying its position as "best for" those who seek strict alignment with data privacy obligations.
Standout Features & Integrations:
Trustwave shines with its Compliance Management Portal, a centralized hub for all privacy-related activities. Furthermore, their Threat Intelligence feature ensures that businesses are always a step ahead of potential breaches.
In terms of integrations, Trustwave smoothly works with popular business systems, thus ensuring that data privacy measures are uniformly applied across different organizational tools.
Pricing:
Pricing upon request
Pros:
Compliance Management Portal provides a unified view of all privacy tasks
Threat Intelligence keeps businesses informed of looming data threats
Smooth integrations allow for the uniform application of privacy measures
Cons:
Initial setup can be time-consuming
Advanced features might require a steep learning curve for some users
Service support might vary based on the regions
9. Osano - Best for consent management
Osano specializes in making the complex landscape of online consent user-friendly and straightforward. This tool was developed to aid businesses in being transparent with their audience, allowing them to manage user consents efficiently, a feature that aligns it perfectly with being "best for consent management."
Why I Picked Osano:
While exploring a range of tools, Osano emerged as a distinct choice for its dedication to consent management. I chose Osano primarily due to its in-depth features tailored for ensuring GDPR and CCPA compliances. Its unique selling proposition lies in how it handles user consent with transparency, making it aptly suited as the "best for" consent management.
Standout Features & Integrations:
Osano offers a Cookie Consent feature that is both intuitive and compliant with global standards. Additionally, its Data Subject Access Requests portal streamlines how businesses handle user data inquiries. In terms of integrations, Osano partners with several third-party platforms, ensuring its consent management tools are applied across various digital landscapes.
Pricing:
Pricing upon request
Pros:
Comprehensive Cookie Consent features align with global privacy standards
The platform's Data Subject Access Requests portal simplifies user data management
Wide array of integrations with third-party platforms
Cons:
Some customization options might require technical expertise
The dashboard might seem overwhelming to new users
Some users might find the alert notifications frequent
Imperva Data Security Fabric offers a robust solution, designed to guard businesses against a spectrum of threats to their data. By leveraging its advanced mechanisms, businesses can ensure their data is not only secure but also compliant with industry regulations, resonating with its tag of being "best for multifaceted data protection."
Why I Picked Imperva Data Security Fabric:
In the midst of evaluating various tools, I found Imperva Data Security Fabric distinctly ahead in delivering comprehensive data protection. I chose this tool because it amalgamates multiple layers of security with a focus on both external threats and internal vulnerabilities. Given its all-encompassing approach to data protection, it aptly sits as the "best for" multifaceted data protection.
Standout Features & Integrations:
Imperva Data Security Fabric impresses with its Dynamic Profiling, which learns and adapts to regular database activities, flagging anomalies in real time. Its User Rights Management feature ensures that data access is tightly controlled and regulated. As for integrations, Imperva offers connectivity with major cloud providers and integrates with SIEM solutions for better threat detection and response.
Pricing:
Pricing upon request
Pros:
Dynamic Profiling ensures real-time threat detection
User Rights Management ensures controlled data access
Integration capabilities with major cloud providers improve its versatility
Cons:
The setup might require a steeper learning curve for some
Depending on the scale, initial deployment can be time-consuming
Some users may desire a more intuitive dashboard interface
11. OneTrust - Best for data governance in the cloud
OneTrust serves as a comprehensive platform that aids businesses in their data governance endeavors, specifically in cloud environments. Focusing on cloud infrastructure ensures that companies maintain data integrity, security, and compliance, making it aptly suited for the tag "best for data governance in the cloud."
Why I Picked OneTrust:
While scouring the market for data governance tools, OneTrust caught my attention for its dedicated focus on cloud environments. I chose this tool not only for its versatility but also for its commitment to keeping data secure and compliant in cloud settings. Its capabilities made me determine that it indeed qualifies as "best for data governance in the cloud."
Standout Features & Integrations:
OneTrust shines with its Data Discovery and Classification feature, allowing companies to swiftly locate and categorize data across their cloud infrastructure. Its Automated Data Mapping further aids businesses in understanding the flow and interaction of their data. On the integration front, OneTrust smoothly connects with various cloud service providers and also offers integrations with popular CRM systems.
Pricing:
Pricing upon request
Pros:
Data Discovery and Classification improve data transparency
Automated Data Mapping aids in understanding data interaction
Rich integration capabilities with popular cloud and CRM services
Cons:
Might appear complex for small-scale businesses
Requires consistent updates to keep up with changing cloud environments
Initial setup can be intricate for those unfamiliar with data governance tools
12. IBM Security Guardium - Best for database activity monitoring
IBM Security Guardium functions as a robust platform focused on monitoring and ensuring the security of database activities. Its prime objective is to keep tabs on sensitive data access and movements, aligning it perfectly with its reputation for being the best in database activity monitoring.
Why I Picked IBM Security Guardium:
As I was determining the optimal tools for database monitoring, IBM Security Guardium continually surfaced due to its renowned capabilities. The distinguishing factor for me was its depth of monitoring and its ability to provide real-time alerts for suspicious activities.
Through my comparison and judgment, I realized this tool stood out and indeed deserved the title "best for database activity monitoring."
Standout Features & Integrations:
IBM Security Guardium is notable for its Vulnerability Assessment, which enables businesses to detect weak points in their databases. Additionally, it offers Dynamic Data Masking, ensuring that sensitive data remains hidden even during routine access. For integrations, Guardium works efficiently with a variety of databases, including Oracle, SQL Server, MySQL, and more, ensuring a broad spectrum of coverage.
Pricing:
Pricing upon request
Pros:
Comprehensive Vulnerability Assessment to pinpoint database weaknesses
Dynamic Data Masking provides an added layer of data protection
Extensive compatibility with a range of database systems
Cons:
The platform can be overwhelming for newcomers
The setup process requires a certain degree of technical know-how
Some users might find it resource-intensive, affecting system performance
Other Noteworthy Data Privacy Software
Below is a list of additional data privacy software that I shortlisted but did not make it to the top 12. They are definitely worth checking them out.
Selection Criteria for Choosing Data Privacy Software
When diving into the world of data privacy and protection software, it's critical to ensure that the chosen tools align with the unique requirements of your organization. I've evaluated dozens of data privacy tools, emphasizing specific functionalities essential for businesses to navigate the intricate web of data regulations, compliance, and security. After comprehensive research and hands-on testing, I've condensed my findings into the following criteria:
Core Functionality
Data Discovery: Enables users to locate and classify sensitive data across the organization's storage solutions.
Data Mapping: Provides a visual representation of how data flows through the organization's systems.
Regulatory Compliance Management: Assists in adhering to global data protection and privacy regulations like GDPR, CCPA, etc.
Risk Assessment: Evaluate the organization's data storage, processing, and transfer methods to identify potential risks.
Incident Management: Offers tools for reporting, investigating, and mitigating data breaches.
Key Features
Automated Redaction: Automatically removes or masks sensitive information from documents or databases.
Consent Management: Tracks user consent for data collection and ensures adherence to user preferences.
Data Minimization: Ensures that only necessary data is collected, processed, and stored.
Encryption at Rest and in Transit: Protects data from unauthorized access during storage and while it's being transferred.
Role-based Access Control: Defines user roles and permissions, ensuring only authorized personnel can access specific data.
Audit Trails: Maintains a record of all actions performed within the system, aiding in accountability and traceability.
Usability
Intuitive Dashboard: A centralized console that provides a comprehensive overview of data privacy status, alerts, and tasks.
Visual Data Flow Diagrams: Represent how data moves through systems, helping users understand and manage data better.
Configurable Alerts and Notifications: Ensures timely action on potential threats or compliance deviations.
Role-specific Interfaces: Provides tailored views depending on user roles, such as administrator, data officer, or regular employee, enhancing efficiency.
Comprehensive Onboarding: Offers detailed training materials, videos, or workshops to help users understand and utilize the software to its fullest potential.
Proactive Customer Support: Ensures that any issues, doubts, or questions users might have are addressed promptly and efficiently.
Most Common Questions Regarding Data Privacy Software
What are the primary benefits of using data privacy software?
Using data privacy software offers various advantages to organizations of all sizes. Some of the primary benefits include:
Regulatory Compliance: Helps businesses adhere to global data protection regulations like GDPR, CCPA, and more, thereby avoiding hefty fines.
Risk Mitigation: Enables organizations to detect and address vulnerabilities, reducing the chances of data breaches.
Improved Trust: By showcasing strong data protection practices, businesses can build trust with their customers and stakeholders.
Operational Efficiency: Automated data mapping, discovery, and redaction processes save time and reduce manual efforts.
Holistic Data Management: Provides a centralized view of all data-related activities, making it easier to manage and monitor data flows within the organization.
How much do these tools typically cost?
The pricing for data privacy software can vary widely based on the size of the organization, the tool's features, and the pricing model adopted by the software provider.
What are the typical pricing models for these tools?
Most data privacy tools follow one of these pricing models:
Per User: Charges are based on the number of users accessing the software.
Per Feature: Pricing is tiered based on the features or modules you choose.
Volume-based: Charges are linked to the volume of data or the number of records managed by the tool.
What is the typical price range for these tools?
While the pricing can be quite diverse, generally, entry-level solutions can start from as low as $50/user/month, with premium enterprise-grade solutions going up to $1000/user/month or even more, depending on the complexity and functionalities offered.
Which is the cheapest software, and which is the most expensive?
The least expensive options usually come from newer entrants in the market or open-source platforms like Apache Atlas. On the higher end, established names with comprehensive solutions like Varonis or IBM Security Guardium tend to be more expensive.
Are there any free tool options available?
Yes, there are free tools available in the market, especially open-source solutions. Apache Atlas is a notable example of a free, open-source tool designed for data governance and metadata management. However, while these tools don't have upfront costs, organizations might incur expenses in terms of setup, customization, and maintenance.
Other Data Protection Software Reviews
Summary
Selecting the right data privacy software is imperative in today's data-driven landscape. With rising concerns about data breaches and the importance of adhering to global data protection regulations, businesses must prioritize tools that offer comprehensive solutions to manage and protect their data.
Key Takeaways
Understand your needs: Every organization has unique data challenges. Identify your primary needs, whether it's compliance with a specific regulation, enhancing customer trust, or simply ensuring personal data protection.
Features over price: While budget considerations are important, prioritizing features and capabilities ensures you get the most value for your investment. Opt for software that aligns with your objectives and offers growth potential.
Prioritize usability: Even the most feature-rich software can falter if it's not user-friendly. Ensure that the software you choose promotes ease of use and provides necessary training and support, as this directly affects implementation success.
What Do You Think?
I strive to provide a comprehensive list, but the landscape of data privacy software is vast and ever-evolving. If you're aware of any noteworthy tools that weren't mentioned in this guide, please reach out and share your recommendations. I am always eager to learn about and highlight tools that can add value for my readers. Your insights and suggestions are invaluable.