Best RMM Software Shortlist
The following are my very top recommendations for RMM tools to monitor computers and other devices remotely, depending on your needs:
Whether you're managing employee devices on a bring-your-own-device (BYOD) policy, installing patches, or monitoring potential security risks to your network, RMM software is essential for any situation where you need to manage IT systems in multiple locations.
Speed, ease of use, and automation capabilities are all critical factors to consider, but it can be tricky to narrow down the best solutions for your needs. In the guide below, I've summarized the key features and price plans of the above RMM tools to hopefully make the task of choosing one a little easier.
What Is RMM Software?
RMM software allows you to access, monitor, and manage computers, IT networks, and mobile devices from a remote location. With an RMM tool, you can provide IT support, monitor for network threats and faults, remotely install software and patches, automate maintenance, and troubleshoot issues without being on-site.
By providing IT services via RMM software, you can take on more clients because you'll be working more efficiently, save money and time by doing fewer site visits, and be alerted of any small issues before they turn into major problems.
Overviews of the 19 Best RMM Software
I've summarized the features, unique selling points, and other relevant details about each tool in the list below.
1. Barracuda MSP - Best for robust security features
Barracuda MSP is a leading name in the field of remote monitoring and management, focusing on delivering top-notch security features. Serving various industries, it plays a critical role in safeguarding IT systems and networks, making it especially appealing for businesses prioritizing strong security measures.
Why I Picked Barracuda MSP:
I chose Barracuda MSP after comparing its security features with other tools, and I was impressed with its dedication to offering robust protection. It stands out with its comprehensive approach to security, monitoring every endpoint and network in real time. That's why I believe Barracuda MSP is best for robust security features, as it brings together several vital security functions in one platform, making it a preferred choice for businesses wanting to ensure the utmost protection.
Standout Features & Integrations:
Barracuda MSP offers features such as threat protection, network monitoring, and email security. The ability to pinpoint and address threats before they escalate gives it a unique position in the RMM landscape. Integrations include popular solutions like Office 365 and various other cloud-based services, ensuring smooth operations and better alignment with existing infrastructure.
Pricing:
From $10/user/month (min 5 seats)
Pros:
Comprehensive threat protection
Real-time network monitoring
Integration with popular cloud services
Cons:
May be complex for new users
Higher pricing compared to some competitors
Limited customization options
2. OptiTune - Best for customizable user experience
OptiTune is a remote monitoring and management tool that offers flexibility and customization in managing IT systems and networks. It provides tailored solutions to meet the specific needs of businesses, which makes it stand out as the ideal choice for those looking for a user-centric approach.
Why I Picked OptiTune:
I chose OptiTune after evaluating its ability to provide a truly customizable user experience. In a market where many tools offer rigid interfaces, OptiTune provides an adaptable platform that can be tailored to different user needs and preferences. This ability to fine-tune and align with a company's unique requirements is why I find OptiTune best for customizable user experience.
Standout Features & Integrations:
OptiTune offers features such as custom branding, personalized dashboard configurations, and customizable alerting systems. These features allow businesses to align the platform with their brand identity and operational needs. Integrations with widely used systems like Windows and popular antivirus solutions facilitate cohesive operations and greater control over the network and endpoints.
Pricing:
From $4/user/month (min 10 seats)
Pros:
Highly customizable interface
Tailored solutions to fit specific needs
Integration with popular operating systems
Cons:
May require technical expertise to set up
Limited mobile support
Lack of some advanced monitoring features
3. ITarian RMM - Best for integration capabilities
ITarian RMM is a comprehensive solution that provides robust remote monitoring and management functions. Its ability to seamlessly integrate with a wide range of platforms and tools sets it apart, enabling organizations to combine their existing systems and resources into a unified operational environment.
Why I Picked ITarian RMM:
I chose ITarian RMM due to its exceptional integration capabilities. After carefully evaluating the market, I discovered that ITarian RMM offers the ability to blend and connect various systems, tools, and applications, which many businesses rely on. Its extensive integration capabilities allow it to stand out, providing a cohesive and unified solution. This makes ITarian RMM best for integration capabilities, meeting the diverse needs of different organizations.
Standout Features & Integrations:
ITarian RMM offers a wide array of features, including remote support, patch management, and automated scripting. The most remarkable aspect is its ability to integrate with various operating systems, CRMs, cloud services, and antivirus platforms. These integrations foster smoother operations and create a unified workspace that enhances productivity and streamlines IT management.
Pricing:
From $6/user/month (min 5 seats)
Pros:
Extensive integration capabilities
Offers a wide range of management features
Flexible and scalable to different needs
Cons:
Some complexity in setup and configuration
Support might be slow at times
Limited customization in reporting options
4. Syxsense - Best for real-time monitoring
Syxsense is a remote monitoring and management tool that excels in providing real-time monitoring capabilities. It offers an immediate view into your system's status and activities, making it a valuable asset for those who want to maintain control and visibility over their IT environment.
Why I Picked Syxsense:
I chose Syxsense due to its exceptional real-time monitoring features. In my process of selecting, evaluating, and comparing various tools, Syxsense stood out for its ability to provide immediate insights and continuous updates on network and device status. Its real-time monitoring capacity ensures that administrators can promptly detect and respond to any potential issues, making it the best for real-time monitoring and timely intervention.
Standout Features & Integrations:
Syxsense provides extensive monitoring functions, including device performance, security status, and software updates. Its real-time dashboard and alerts are highly effective for rapid response. Integration with various platforms such as Windows, macOS, and Linux ensures that it can function across different environments, offering a consistent and unified view of all monitored systems.
Pricing:
From $10/user/month
Pros:
Excellent real-time monitoring capabilities
Integrates with multiple operating systems
Comprehensive dashboard with actionable insights
Cons:
Might be overwhelming for smaller organizations
Limited documentation and support resources
Slightly higher cost compared to similar tools
5. Naverisk - Best for network management efficiency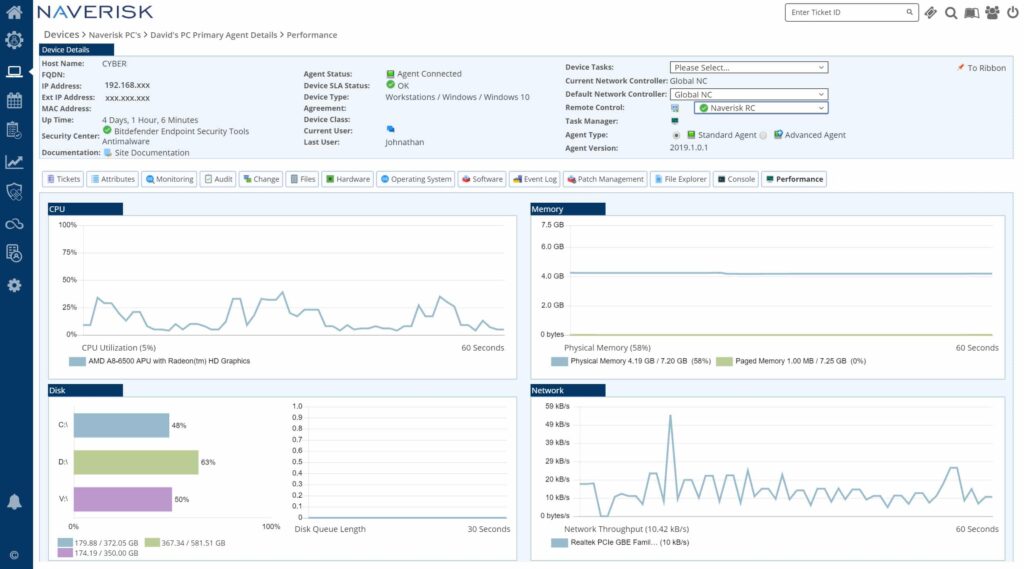 Naverisk is a comprehensive IT service platform designed for network monitoring and management. Its efficiency in overseeing and controlling various network components allows for streamlined operations, positioning it as an ideal solution for organizations seeking to enhance their network management efficiency.
Why I Picked Naverisk:
I picked Naverisk after considering multiple alternatives, determining that it offered a unique blend of functionality and user-friendliness. What set it apart, in my judgment, was its ability to integrate various aspects of network management into a single platform, facilitating efficiency. Its capabilities make it best for network management efficiency, with features that allow administrators to conduct quick diagnostics, monitor performance, and manage all network components with ease.
Standout Features & Integrations:
Naverisk's standout features include advanced network monitoring, automated patch management, and robust reporting tools. Its ability to offer real-time insights and handle complex network structures makes it a valuable tool for network administrators. Integrations with platforms such as ConnectWise and Autotask allow for a seamless connection between network management and other IT service tools, enhancing overall productivity.
Pricing:
From $12/user/month (billed annually)
Pros:
Comprehensive network management features
Integration with popular IT service platforms
User-friendly interface and customizable dashboards
Cons:
Annual billing might be less flexible for some organizations
Potential learning curve for new users
Limited customization in certain areas of functionality
6. MSP360 RMM - Best for cross-platform compatibility
MSP360 RMM is a tool aimed at managed service providers and IT departments that offers remote monitoring and management across different platforms. It's renowned for its broad compatibility with various operating systems, including Windows, macOS, Linux, and others, affirming its position as best for cross-platform compatibility.
Why I Picked MSP360 RMM:
I picked MSP360 RMM for this list after examining its superior capability to work seamlessly across different platforms. In judging its features and comparing them with similar tools, its stand-out attribute was the ease of managing diverse environments within a single interface. This makes it ideal for businesses or service providers managing multiple platforms, and I believe it's best for cross-platform compatibility due to this flexibility.
Standout Features & Integrations:
MSP360 RMM's support for a wide array of platforms is indeed remarkable, providing a consistent user experience regardless of the underlying operating system. Its integration with cloud backup services and remote access functionalities are some key features that streamline daily operations. The integration with solutions such as AWS, Google Cloud, and Microsoft Azure offers more flexibility and control over data management.
Pricing:
From $10/user/month (billed annually)
Pros:
Wide compatibility with various operating systems, including Windows, macOS, Linux
Integration with major cloud providers ensures streamlined data management
Comprehensive remote monitoring and management tools
Cons:
Billing is done annually, which may not suit all customers
Some users may find the interface less intuitive
A lack of detailed documentation or tutorials might hinder new users
ManageEngine ServiceDesk Plus MSP is a complete helpdesk solution designed specifically for managed service providers. It offers robust ticketing, account management, asset tracking, and much more, with a special focus on delivering top-notch helpdesk functionality that makes it the best in this specific aspect.
Why I Picked ManageEngine ServiceDesk Plus MSP:
I chose ManageEngine ServiceDesk Plus MSP after careful comparison with other tools, assessing the specific need for strong helpdesk support within an organization. Its features stand out in providing a full-featured helpdesk solution tailored to the requirements of managed service providers. I determined it's best for helpdesk functionality because of its refined features that facilitate seamless issue tracking, management, and resolution.
Standout Features & Integrations:
ManageEngine ServiceDesk Plus MSP offers intuitive ticketing, comprehensive asset management, and powerful account management features that are essential for any helpdesk functionality. Its integration capabilities are equally compelling, providing connectors to prominent third-party applications such as Zoho CRM, Jira, and various Microsoft products, enabling a cohesive environment for support and IT management.
Pricing:
From $60/technician/month (billed annually)
Pros:
Highly focused on helpdesk functionality with an intuitive ticketing system
Integrations with many third-party applications increase efficiency and collaboration
Modular design allows customization to fit individual business needs
Cons:
Pricing can be on the higher side for small businesses
Initial setup may require some technical expertise
Some users may find the interface dated and less user-friendly
8. N-able - Best for small to medium MSPs
There are two RMM solutions available from N-able: N-sight, which is designed for small MSPs and IT departments, and N-Central, which is more suitable for larger enterprise providers.
Why I picked N-able:
N-able's dual RMM platforms are suitable for any size of MSP. I was impressed with the clear and intuitive layout of the N-sight dashboard, which makes it quick and easy to see any issues at a glance. The ticketing system is equally easy to use, allowing team members to prioritize tasks and automate common workflows.
Standout Features and Integrations:
Features include efficient automations, like automated patch management and a drag-and-drop automation tool with 400 preconfigured scripts. I was also impressed that N-able supports both Windows and Apple machines.
Integrations include native ones with Acronis, BrightGauge, Barracuda, and Kaspersky.
Pricing:
Starts from $99/month
Free trial available
Pros:
Intuitive interface and easy to get started
Excellent patch management solutions
Supports both Windows and MacOS devices
Cons:
RMM console can run a little slow
Customer support has mixed reviews
ConnectWise RMM is a cloud-based remote monitoring and management solution designed to be agile and adaptable to the constantly evolving needs of different types of organizations.
Why I picked ConnectWise:
ConnectWise offers a powerful combination of intelligent RMM services, advanced security solutions, and out-of-the-box automations to optimize your workflow and speed up help desk services. I was particularly impressed with ConnectWise's intelligent monitoring engine that learns over time, helping to eliminate false alerts and ultimately reducing tickets and time spent on support.
Standout Features and Integrations:
Features of ConnectWise include a clear, unified interface for managing your entire tech stack, a simple onboarding process for clients, and automations combined with customizations to offer superior efficiency. I particularly liked the option of utilizing ConnectWise's service team to fill any talent gaps or reduce the overall workload.
Integrations are available natively to other ConnectWise products such as ConnectWise PSA, ConnectWise BCDR, ConnectWise PSA, and Brightgauge. There are also third-party pre-built integrations, including Microsoft Intune, Auvik, Acronis Cyber Cloud, and Bitdefender.
Pricing :
Pricing upon request
Free trial + Free demo available
Pros:
Intelligent automations make your workflow more efficient over time
Deep customizations allow MSPs to meet their clients' needs more easily
Full integration with the ConnectWise ecosystem
Cons:
Non-transparent pricing model
Fewer third-party integrations available than some of the alternatives
10. NinjaOne - Best for growing teams
Designed to be fully scalable for growing teams, NinjaOne provides a full solution for remote monitoring, maintenance, and documentation.
Why I picked NinjaOne:
The Ninja team excels at improving their products over time, with rapid response to client requests and bug fixes and proactive development of new features. I also scored NinjaOne highly for customer support, as its commitment to providing the best possible product and service is clear.
Standout Features and Integrations:
Features include secure remote access to Windows and Mac devices, one-click device actions to speed up repetitive tasks, and automated patching and endpoint tasks to improve security and efficiency. I found the built-in IT documentation solution and self-service portal to be useful additional features.
Integrations are available natively with third-party providers, including SentinelOne, TeamViewer, Slack, Octa, and Microsoft Azure.
Pricing:
Pricing upon request
14-day free trial
Pros:
Excellent automated patch management system
Self-service portal reduces support requests
Mobile app allows management and troubleshooting on the go
Cons:
Reporting is disappointing compared to some other platforms
There's no plan for teams managing fewer than 50 devices
Founded by the company behind the popular Zoho suite of cloud-based tools, ManageEngine has been providing enterprise IT management solutions for over two decades. Its RMM tool follows the brand values of being simple, efficient, and user-friendly while being powerful enough to manage multiple clients and networks.
Why I picked ManageEngine RMM Central:
In a sector that's becoming increasingly complex, I appreciate ManageEngine's efforts to provide a solution that gets the basics right. RMM Central offers robust automation tools and efficient device management with robust security and a responsive customer support team to help you get the most from the platform.
Standout Features and Integrations:
Features are what you'd expect from an RMM platform: network device management, patch management, and remote control and management of IT assets. But I think ManageEngine does a great job of providing core functionality that's easy to use and works well.
Integrations are available natively for ManageEngine's own ServiceDesk Plus MSP, as well as other third-party tools such as Zendesk, Jira, Spiceworks, and FreshService.
Pricing:
Pricing upon request
Free trial available
Pros:
Mobile device management for Android, Apple, and Windows devices
Robust threat detection system
Easy patch management
Cons:
Limited integrations with third-party tools
Fewer features than some other options
12. Atera - Best range of features
Atera's clear and intuitive interface with powerful automation helps to streamline your workflow and manage IT networks efficiently. The helpdesk with built-in automation eliminates low-level service requests, and powerful patch management keeps your systems safe and secure.
Why I picked Atera:
Atera positions itself as a state-of-the-art solution, and I like the fact they aim to push the boundaries of what's currently possible in RMM with one of the widest feature sets of any of the tools I reviewed. I found the real-time monitoring and alert system particularly valuable, with an overview of device status and a customizable threshold profile that makes it easy to triage issues as they occur.
Standout Features and Integrations:
Features include AI-powered Tier 1 support for issues like password resets and auto-generated summaries of tickets to assist in prioritizing tasks. I was impressed with the automated patch management feature combining customizable automation schedules with cybersecurity best practices for a solution that's both robust and efficient.
Integrations include native third-party add-ons, like AnyDesk, Acronis, Malwarebytes, and Webroot. Technical APIs are also available for integrations.
Pricing:
Starts from $99/technician/month (billed annually)
Free trial available
Pros:
Database of proprietary and user-submitted scripts to speed up your workflow
AI-powered chat
Easy-to-use interface
Cons:
Mobile app is limited in functionality
Some integrations don't work as smoothly as they could
13. SuperOps.ai - Best user experience
SuperOps USP is providing a modern, clean interface for their MSP tools and simplifying workflow, and they've certainly achieved it with their RMM. Simple asset management systems, customizable automation rules, and alert and patch management make it a breeze to stay on top of client or company IT management.
Why I picked SuperOps:
I like the fact that SuperOps has taken the approach of doing a few things really well rather than jamming in lots of different tools. Even so, the RMM has some handy features like unified asset information, intelligent automation rules, and custom policies.
Standout Features and Integrations:
Features include an AI-powered alerting system that eliminates false alarms and an automated patch management system that ensures your systems are protected from attacks. I found the flexible policy management rules to manage tickets and centralized asset management to be particularly useful.
Integrations are included and natively built into the platform for tools like Quickbooks, Bitdefender, Stripe, Microsoft Azure, and Acronis.
Pricing:
Starts from $59/user/month
Free trial available
Pros:
Custom policies for each client
Affordable
Streamlined, intuitive interface
Cons:
More integrations are needed
Mobile app has limited functionality
14. GoTo Resolve - Best for providing IT support
GoTo has built an impressive platform designed to provide IT support for multiple clients and devices. From its inbuilt ticketing system to its powerful no-code automation tools, this RMM makes it easy to take care of your IT infrastructure.
Why I picked GoTo Resolve:
GoTo Resolve is designed primarily for remote IT teams providing support, and I appreciate the way that GoTo has built the system to be a comprehensive support platform. Complete background access to the command prompt and system information allows agents to troubleshoot problems without disturbing users.
Standout Features and Integrations:
Features include remote patch management, IT automation, and antivirus management. I was very impressed with the multi-platform remote support infrastructure that includes live camera share and in-session diagnostics.
Integrations include pre-built and ready-to-use tools like Zendesk, Salesforce, Miro, and Microsoft Teams.
Pricing:
Starts from $57/user/month
Free 14-day trial available
Pros:
Comprehensive feature set
Impressive tools for live support
Affordable
Cons:
Speed can be sluggish when running remote sessions
No dedicated mobile app
15. LogMeIn Central - Beast for internal IT teams
Central's single-view dashboard allows for complete control of endpoints, including remote access, alerts, and software deployment. Automatic monitoring and user control allow you to organize computers by department or location, and the antivirus system powered by Bitdefender ensures your network is secure at all times.
Why I picked LogMeIn Central:
As most RMM tools are aimed at MSPs, I like the fact that Central has concentrated on a different sector of the market: IT teams in charge of managing remote teams. But the user management and computer grouping features are equally as useful to MSPs.
Standout Features and Integrations:
Features of LogMeIn Central include a highly secure remote access tool, automation of routine IT tasks, and built-in inventory reports. I was surprised to see that somewhat uniquely for an RMM, Central also offers support for remote kiosks, POS systems, and digital signs.
Integrations are pre-built with tools like SolarWinds Authpoint, Zluri, and Kaseya.
Pricing:
Starts from $80/month (billed annually)
14-day free trial
Pros:
Mobile apps available for multiple devices
Automated scripting and patch management
Real-time computer health reports alert you of any issues before they cause major problems
Cons:
Base plan includes limited features
Add-ons can greatly increase costs
16. Syncro - Best for unlimited endpoints
Syncro is one of the few RMMs that support unlimited devices with no contract. The tool allows for remote monitoring of client devices in real-time, with automatic patch management and actions to improve efficiency.
Why I picked Syncro:
Syncro immediately stood out to me due to its lack of endpoint limitations. If you're an MSP struggling with balancing your budget against growing client devices, Syncro is definitely worth investigating.
Syncro's Standout Features and Integrations:
Features include cross-platform support from a single dashboard, and PSA features to keep your team organized. I found the advanced reporting and analytics useful for measuring the ROI of providing IT support services to different clients.
Integrations are available natively for over 50 third-party tools, including Bitdefender, Domotz, Google Workspace, Hudu, IT Glue, Mailchimp, Slack, and Office 365.
Pricing:
Starts from $129/user/month
Free trial available
Pros:
Powerful scripting engine and community script library to speed up your workflow
Built-in client invoicing and billing
Flexible pricing model
Cons:
UI is a little outdated
Patch management and scripts don't always run smoothly and error-free
17. Domotz - Best value for money
The network monitoring solution from Domotz is used by organizations in over 190 countries, including some big names like the BBC, Sony, and WeWork. With a robust inventory and asset identification system, powerful management and maintenance features, high-level monitoring, and watertight security, it certainly earns its place in this list.
Why I picked Domotz:
Domotz impressed me with its range of features and suitability for a variety of different user groups. User feedback for the RMM is overwhelmingly positive, and the development team seems to be proactive about adding new features to meet client requests and needs.
Domotz Standout Features and Integrations:
Features include advanced monitoring of unlimited endpoints, automatic alerts for issues with network performance, network data aggregation, advanced data reporting, automated asset detection, and speed tests. As far as I can tell, the cybersecurity tools on this platform are one of the best on the market.
Integrations are available natively and include big names like AWS, Cisco, Zendesk, ITGlue, Autotask, and Kaseya. Domotz also has an open API, so you can build your own integrations.
Pricing:
Starts from $24.98/month/site
14-day free trial
Pros:
More integrations available than any other tool
Easy to scale up and grow with your business
Flexible reporting and intuitive interface
Cons:
Online/offline detection can be variable
Enterprise plan levels can become costly
18. Pulseway - Best for mobile app management
Pulseway designed its RMM with a unique USP: the powerful mobile app means that agents can work from anywhere with real-time alerts and the ability to fix IT issues on the go. Advanced automation speeds up repetitive tasks and allows for efficient patch management, while the monitoring tool provides a complete overview of your network.
Why I picked Pulseway:
User feedback of other tools consistently mentions that their mobile apps lack power and flexibility, so I found it refreshing to find an RMM that prioritizes this feature. Pulseway is also one of the most affordable RMMs on this list, with a fully flexible pricing model that suits small teams and large organizations.
Standout Features and Integrations:
Features include a self-service IT portal, freeing up support teams to work on high-value tasks, real-time monitoring and device management from an intuitive interface, and customizable reports. I found the easy network discovery and deployment particularly useful.
Integrations are available natively for popular platforms like Autotask, Zendesk, Slack, ConnectWise, and ITGlue.
Pricing:
Starts from $22/month (for 20 endpoints)
14-day free trial
Pros:
Easy-to-use scripting tools
Robust monitoring and automation tools
Advanced mobile management app
Cons:
Limited PSA features
Steep learning curve
19. Auvik - Best for network monitoring
Auvik's cloud-based remote monitoring and management software features a unique visual representation of the state of your network, with automatic device detection and preconfigured, customizable alerts. Real-time alerts and monitoring ensure your team will always be aware of any issues as soon as they occur.
Why I picked Auvik:
Auvik's control panel looks very different from its competitors, which appeals to me as visual data is often easier to process than text and data. I also liked the automation features, which help to eliminate repetitive tasks such as backups and patch deployment.
Standout Features and Integrations:
Features I was most impressed with include network traffic analysis giving full insight into traffic across the network, advanced performance monitoring with automatic alerts, full configuration backups and restores, and simple network mapping and navigation.
Integrations include native ones for tools like Autotask, Freshdesk, ConnectWise, BrightGauge, Liongard, and Microsoft Teams. APIs are also available for building integrations with other tools.
Pricing:
Pricing upon request
Free trial available
Pros:
Effective tools for root cause analysis
Integrated billing for MSPs
Impressive network discovery capabilities
Cons:
Can be a little confusing to use
Configuration is required to avoid false alerts
Other RMM Software Options
While the options above will best suit the needs of most IT teams and MSPs, if you need specific functionality from your RMM tool, you might want to consider one of the following solutions:
Selection Criteria For RMM Tools
It can be overwhelming to compare different RMM tools when you consider the sheer range of features that modern platforms offer. To simplify the process of selecting the best RMM tools for this article, I used the following selection and evaluation criteria:
Core Functionality
I prioritized RMM software with the following core functionalities:
Allow you to remotely troubleshoot and resolve issues
Enable you to automate patch management across different systems
Provide a complete inventory of all hardware and software assets
Generate detailed reports on your IT infrastructure
Allow you to receive and customize alerts for critical issues
Key Features
To deliver the functionality and tools needed for teams to manage IT systems remotely, an effective RMM system must include the following key features:
Centralized network dashboard: A single, centralized interface to monitor and manage the entire network infrastructure.
Remote device access: Secure remote access to devices for seamless troubleshooting and management.
Real-time monitoring and alerts: Continuous monitoring of systems and immediate alerts for timely issue resolution.
Remote updates and patches: Remote deployment of software updates and patches across devices for enhanced security and performance.
Workflow automation: Automation of routine tasks and processes to improve efficiency and productivity.
Reporting: Generation of comprehensive reports to gain insights into network performance, usage, and other key metrics.
Usability
I focused on selecting Remote Monitoring and Management (RMM) solutions that prioritize user satisfaction, ensuring a seamless implementation and usage experience. I specifically opted for RMM tools with intuitive interfaces designed to be user-friendly and easily adaptable.
Scalability
Scalability was also a key factor in my selection process. It is essential to choose an RMM tool that can seamlessly grow and adapt alongside your evolving business needs.
Integrations
In my evaluation of RMM solutions, I placed a strong emphasis on the availability of integrations. It is crucial to select an RMM tool that seamlessly integrates with your existing software ecosystem.
Value for Money
Finally, it's essential to select an RMM tool that provides a strong return on investment while meeting your specific business requirements. I focused on RMM solutions that strike a balance between cost-effectiveness and feature-rich functionality.
The cost for RMM software can vary. However, you can expect to pay a few dollars per device a month, which can add up to hundreds of dollars per month for large deployments. Some providers, like Atera, charge per technician instead of per end point, which may be more cost effective for your company.
People Also Ask
Still not sure whether you need an RMM or if any of the options in this list are suitable for you? These frequently asked questions might help clarify your thoughts:
Why use RMM software?
Are there any free RMMs?
Does Microsoft have an RMM solution?
Final Thoughts
Network management will never be a straightforward task, but choosing the right software can help you to be more efficient and proactive in your approach. RMM software is a critical tool for MSPs of any size and IT departments servicing distributed teams. Hopefully, this guide has helped you make a decision about the best RMM software for your team.
Subscribe to The CTO Club newsletter for more software recommendations and insight into the latest industry trends.