12 Best Data Recovery Software Shortlist
After thorough evaluation, I've curated the 12 best data recovery software tailored to bridge your specific gaps.
Navigating the digital realm, I've come across the heart-sinking moment when files go missing or a hard drive falters. Data recovery software stands as a beacon designed specifically to recover data and retrieve vital files from your hard drive. The beauty of this tool? It not only restores your peace of mind but also resurrects work, memories, and essential data. If you've felt the sting of losing critical documents or cherished photos, know that this software directly addresses such agonizing moments, bringing back what once seemed lost forever.
What Is Data Recovery Software?
Data recovery software is a specialized tool designed to retrieve lost or accidentally deleted data from various storage mediums, such as hard drives, SSDs, or memory cards. Professionals in IT, businesses safeguarding critical information, and everyday users recovering cherished memories all leverage these tools. These applications are essential to restoring important files, be it crucial business documents, academic work, or treasured family photos, ensuring that lost files don't translate to permanent loss.
Overviews of the 12 Best Data Recovery Software
EaseUS Data Recovery Wizard is a stalwart in the realm of data retrieval, renowned for its prowess in recovering an extensive array of file formats. This software's ability to navigate and recover files from varied formats positions it as a prime choice for users who handle diverse types of data, truly justifying its "best for comprehensive file formats" accolade.
Why I Picked EaseUS Data Recovery Wizard:
In my quest for superior data recovery tools, I landed on EaseUS Data Recovery Wizard, primarily impressed by its versatility in file type support. The capacity it demonstrated to recover files across numerous formats set it apart. Particularly, when evaluating its disk drill proficiency, it showcased a distinct edge in rescuing various file types.
Standout features & integrations:
EaseUS is known for its deep scan mode, which dives deep to retrieve even the trickiest of files. With its Preview Before Recovery feature, it provides a touch of user empowerment, letting one view files prior to the final recovery. Its integrations are notable as well; it syncs well with a multitude of storage devices, from hard drives to SD cards, catering to a broad user base.
Pricing:
From $69.95/user/month (billed annually)
Pros:
Recognizes and retrieves over 1000+ file types.
Employs RAW recovery techniques.
Disk drill functionality delves deeper for thorough searches.
Cons:
Can be challenging for novices to navigate.
Higher price point might deter some users.
Free variant has a capped data recovery limit.
Stellar Data Recovery is a frontline tool designed to claw back lost data from various storage systems. With a robust emphasis on RAID configurations, its prowess in RAID data recovery truly differentiates it, marking it as essential for those working with such systems.
Why I Picked Stellar Data Recovery:
In my journey of comparing and selecting recovery software, Stellar became an evident choice due to its unparalleled strength in RAID data retrieval. Many tools can claim generic data recovery, but Stellar stood out with its specialized focus on RAID systems. This specialization was crucial in determining that Stellar is "Best for RAID data recovery."
Standout features & integrations:
Stellar boasts a powerful RAID reconstruction module, adept at rebuilding various RAID levels. The software also provides a free version which, while limited, offers a glimpse into its capabilities. In terms of file system support, its compatibility with NTFS and FAT makes it versatile for various user needs. Furthermore, it integrates smoothly with both Windows PC and Mac operating systems.
Pricing:
From $79.99/user/month (billed annually)
Pros:
Specialized RAID recovery techniques.
NTFS and FAT filesystem support.
A free version to sample its features.
Cons:
The interface may be intimidating for new users.
Recovery speed can vary based on system specifics.
Some advanced features locked behind higher-tiered plans.
3. Clever Files - Best for Mac file retrieval
Clever Files, designed with precision, is tailored for macOS users, providing them with an effective tool to pull back files that seem lost. When diving into Mac file retrieval, it demonstrates an acumen that's hard to match, which is why it's crowned the "best for Mac file retrieval."
Why I Picked Clever Files:
When it came to choosing recovery software for macOS, Clever Files quickly caught my attention. Its dedication to the macOS environment, combined with its robust tools, made it a clear standout. In my judgment, given the intricacies of macOS file systems and the need for specialized tools, Clever Files firmly stood its ground as the "Best for Mac file retrieval."
Standout features & integrations:
Clever Files showcases a knack for recovering files, even if they have been overwritten in the recycle bin. This overwriting feature is an indispensable tool for many users, providing a second chance at data rescue. In addition, its deep integration with macOS ensures it caters specifically to Mac users, addressing their unique file structure and needs.
Pricing:
From $89/user/month (billed annually)
Pros:
Tailored for the intricacies of macOS.
Efficient in recovering overwritten recycle bin files.
Deep scan capabilities for comprehensive recovery.
Cons:
Might be pricier for individual users.
Interface may be dense for the uninitiated.
Some file types may require extended scan durations.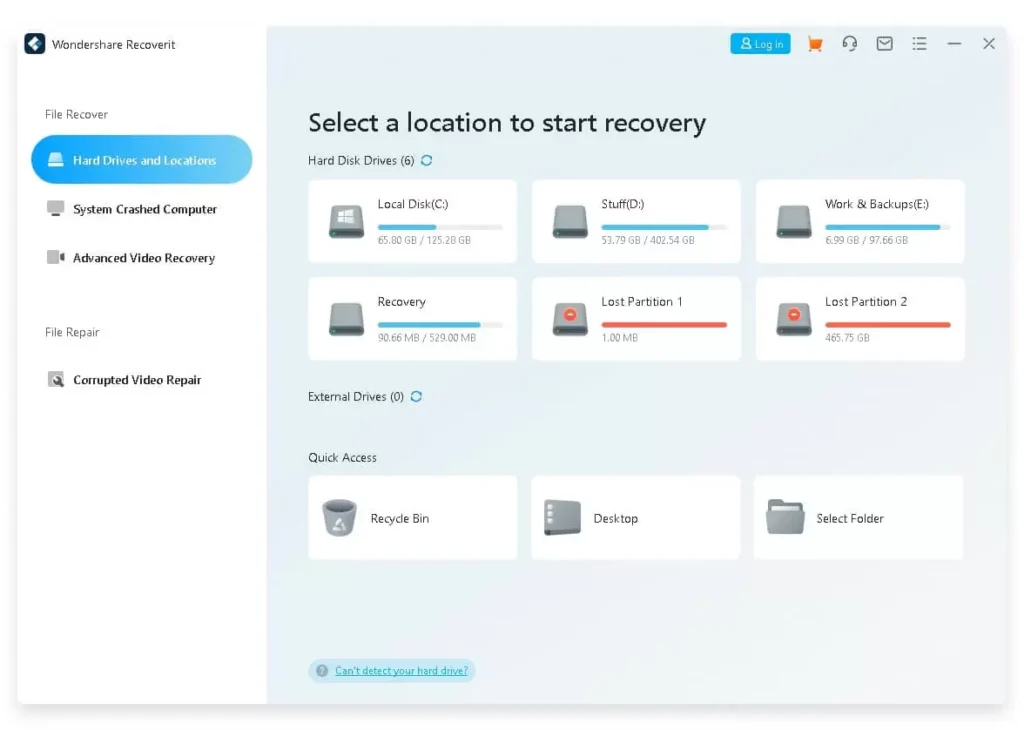 Dedicated to retrieving lost data, Wondershare Recoverit excels, particularly in the realm of video restoration. Having analyzed multiple tools, its prowess in bringing back cherished video memories from the abyss sets it apart, making it fittingly "best for video restoration."
Why I Picked Wondershare Recoverit:
In the ocean of recovery tools, selecting the right one isn't always straightforward. My criteria hinged on efficiency, diversity, and specificity. Through rigorous comparison and judging based on these criteria, Wondershare Recoverit emerged as a unique candidate, particularly for video restoration. Its excellent capabilities and consistency made it an obvious choice for the top spot in this category.
Standout features & integrations:
Wondershare Recoverit boasts a comprehensive toolkit with a special focus on video restoration across a range of devices. It efficiently handles data recovery from Android devices, which can often be tricky, and its compatibility with external hard drives is commendable. Additionally, its integration with various file systems and platforms ensures a broad spectrum of recovery options.
Pricing:
From $39.95/user/month (billed annually)
Pros:
Specialized in video restoration, catering to users with specific needs.
Comprehensive support for Android devices.
Strong compatibility with external hard drives.
Cons:
Might require a steeper learning curve for beginners.
The initial scan duration can be lengthy for larger storage devices.
Some file types, outside of video, might not be as promptly recovered.
5. Recuva - Best for Windows-based recoveries
A stalwart in the realm of data restoration, Recuva offers specialized recovery solutions primarily for Windows users. Tailored to the intricacies of the Windows file system, it's adept at navigating its complexities, justifying its status as the best for Windows-based recoveries.
Why I Picked Recuva:
Deciding upon a data recovery tool wasn't taken lightly. When it came to judging and comparing tools based on their efficiency and compatibility, Recuva consistently surfaced at the forefront for Windows recoveries. I chose this tool not merely because of its reputation but by its proven ability to simplify the recovery process in a Windows environment.
Standout features & integrations:
Recuva impresses with its user-friendly interface, catering to both novices and experts. The tool provides deep scan capabilities, ensuring that files hidden in the recesses of a drive aren't overlooked. Integration-wise, while it shines with Microsoft's Windows, it doesn't provide native support for Linux, making it primarily a Windows-focused utility.
Pricing:
From $19.95/user/month (billed annually)
Pros:
Specialized and efficient for Windows environments.
User-friendly interface simplifies the recovery process.
Effective deep scan capabilities.
Cons:
Limited support for Linux and other non-Windows operating systems.
Recovery success rate can vary based on the condition of the file.
Lacks certain advanced features available in more expensive tools.
6. GetDataBack - Best for advanced filesystem support
GetDataBack has been a trusted solution for those needing comprehensive data recovery capabilities. Its proficiency in handling an array of advanced filesystems makes it the prime choice for specialized recoveries, positioning it as the best for advanced filesystem support.
Why I Picked GetDataBack:
In my journey of selecting the right data recovery software, I weighed many tools based on their merits and shortcomings. GetDataBack captured my attention due to its exceptional algorithms tailored for various data loss scenarios. I chose this specific tool for its unique ability to address a diverse range of filesystem challenges.
Standout features & integrations:
GetDataBack is renowned for its advanced algorithms that provide depth in data retrieval processes. Its bootable feature is essential for systems that can't start, allowing users to rescue their data right from the hard disk. For integrations, it harmonizes well with most of the prominent filesystem formats, ensuring a broad coverage against different data loss scenarios.
Pricing:
From $79/user/month (billed annually)
Pros:
Advanced algorithms ensure comprehensive data retrieval.
Bootable feature provides recovery options for unbootable systems.
Versatile in handling various hard disk formats and filesystems.
Cons:
Might be overwhelming for users looking for a simple recovery tool.
Higher price point compared to some competitors.
Might require a learning curve for non-tech-savvy users.
7. R-Studio - Best for professional data recovery tasks
R-Studio is a robust software solution tailored for individuals and professionals needing advanced data recovery. With its capabilities stretching beyond standard tools, it excels in professional tasks, validating its position as best for professional data recovery.
Why I Picked R-Studio:
During my quest to find the most potent data recovery tools, I compared several options side by side. R-Studio stood out not just because of its functionalities but also because of its intuitive user interface, which made complex tasks more manageable. I chose it as it is specially tailored for professional tasks, offering features that are often sought after by experts in the field.
Standout features & integrations:
The software's user interface is not only intuitive but also rich in features, providing advanced options while remaining accessible. R-Studio supports a wide range of file systems, making HDD and other storage recoveries efficient. In terms of integrations, it provides support for iOS, enabling iPhone data recoveries with ease.
Pricing:
From $49/user/month (billed annually)
Pros:
Intuitive user interface simplifies complex recovery tasks.
Broad support for various file systems, including HDD.
iOS integration allows for efficient iPhone data recovery.
Cons:
Might be overkill for users with basic recovery needs.
Higher cost compared to simpler tools.
Advanced features require a learning curve for beginners.
8. AOMEI Backupper - Best for data backups and cloning
AOMEI Backupper is a comprehensive tool that caters to a myriad of backup needs, including data protection and disk cloning. Its proficiency in safeguarding against accidental deletion and ensuring a solid data recovery plan makes it the top choice for data backups and cloning.
Why I Picked AOMEI Backupper:
In my journey of determining the best tools for backups, AOMEI Backupper consistently emerged as a frontrunner. I chose this tool after judging its capabilities against several others and formed the opinion that its unique blend of features offers more than just the average backup solution. Its competence in handling accidental deletions and delivering a reliable data recovery plan particularly resonated with its tag of being "best for data backups and cloning."
Standout features & integrations:
AOMEI Backupper provides an array of features from simple data backups to complex disk cloning. It's especially proficient in backing up audio files, ensuring that your music and voice recordings remain safe. Integration-wise, the software's command line utility stands out, offering users the ability to execute backup operations via the command prompt or scripts.
Pricing:
From $4.50/user/month (billed annually)
Pros:
Robust data recovery plan to safeguard against unforeseen data losses.
Specialized backup support for audio files.
Command line utility provides flexibility for advanced users.
Cons:
Interface might be daunting for complete beginners.
Primarily focuses on Windows OS, leaving out other platforms.
Disk cloning might be more complex than rival tools.
MiniTool Data Recovery is a proficient data recovery program designed to retrieve data from lost or damaged partitions. With the surge in partition-related mishaps, especially among users transitioning to Windows 11, this tool stands out as a reliable solution for partition recoveries.
Why I Picked MiniTool Data Recovery:
When choosing the best tools for data recovery, MiniTool Data Recovery captured my attention. The process of selecting the ideal tool involved comparing multiple products, and I determined that MiniTool's specialized focus on partition recoveries sets it apart. Considering the challenges users often face with partition losses, especially during OS upgrades like Windows 11, I firmly believe this tool is "Best for partition recoveries."
Standout features & integrations:
One of the chief features of MiniTool Data Recovery is its adeptness in handling complex partition recovery tasks. The software boasts a robust algorithm that can dive deep into damaged partitions and retrieve data efficiently. While it primarily integrates with Windows operating systems, its collaboration with various file systems enhances its efficacy.
Pricing:
From $5.50/user/month (billed annually)
Pros:
Tailored specifically for partition recoveries, making it a specialist in its domain.
Updated compatibility with Windows 11 ensures users of the latest OS aren't left out.
Comprehensive data recovery service with support for various file types and formats.
Cons:
Exclusive focus on partition recovery may limit its appeal to users with broader recovery needs.
Integrations are primarily Windows-centric, which might not cater to a diverse audience.
Advanced features might have a steeper learning curve for new users.
Active@ File Recovery is a dedicated data recovery solution engineered to retrieve accidentally deleted files. Its primary strength lies in recovering files, right down to their original file names, from various storage mediums and file systems.
Why I Picked Active@ File Recovery:
In my quest to find the most efficient tools, I selected Active@ File Recovery after a thorough comparison and evaluation. I judged it based on its effectiveness, having opinions from various users and other experts in the field. Its primary focus on recovering deleted files with intact file names truly differentiates it. Consequently, when it comes to retrieving accidentally deleted files, I've determined this tool as "Best for deleted file recovery."
Standout features & integrations:
Active@ File Recovery boasts a feature that can recover files while retaining their original file names, a crucial aspect often overlooked by other tools. It also supports multiple file systems, including HFS, which broadens its usability spectrum. In terms of integrations, the tool efficiently collaborates with various storage devices, from HDDs to SSDs, and offers protection against potential malware threats during the recovery process.
Pricing:
From $5.90/user/month (billed annually)
Pros:
Dedicated focus on retrieving deleted files with original file names.
Support for various file systems, including HFS, ensures comprehensive data recovery.
Comes with a lifetime of updates and protection against malware during recovery.
Cons:
Specific emphasis on deleted file recovery might limit its capability in other data recovery scenarios.
Users might require a learning curve to utilize all its advanced features effectively.
Integration primarily with storage devices may not cater to cloud-based recovery needs.
11. Remo - Best for media file recovery
Remo is a specialist in data recovery, particularly excelling in restoring lost or deleted media files like photos, videos, and music. Given the increasing importance and sentimental value attached to media files, Remo's prowess in this niche ensures users can retrieve their cherished memories and work files.
Why I Picked Remo:
During my search for reliable data recovery tools, I selected Remo based on numerous comparisons and opinions gathered from diverse sources. Its distinct capability of efficiently recovering media files, especially photos, made it stand out in my judgment. This unique proficiency is why I determined that Remo is "Best for media file recovery."
Standout features & integrations:
Among the most significant features of Remo is its quick scan option that hastens the process of locating lost media files. While it's not open source, the tool does offer a pro version, unlocking more advanced functionalities. Integration-wise, Remo works well with multiple storage devices and is known for its robust photo recovery integrations with various formats and devices.
Pricing:
From $5.50/user/month (billed annually)
Pros:
Specialized in media file recovery, particularly photos.
The pro version offers advanced functionalities for comprehensive data recovery.
Quick scan option expedites the recovery process.
Cons:
Not being open source might limit customizability for tech-savvy users.
Might not be the go-to tool for non-media-related recoveries.
The pro version, while offering more features, comes at an additional cost.
12. Tenorshare - Best for mobile device data recovery
Tenorshare is a recognized recovery app that primarily focuses on retrieving lost data from various mobile devices. With the proliferation of mobile usage, there's a growing need for specialized recovery solutions, and Tenorshare effectively addresses this by specializing in mobile device data restoration.
Why I Picked Tenorshare:
In my journey to find the most effective data recovery tools, Tenorshare caught my attention due to its singular emphasis on mobile devices. After various comparisons and understanding diverse opinions, I judged that Tenorshare's mobile-focused features distinguish it from other tools. This specialization and consistent positive feedback were decisive in determining that Tenorshare is "Best for mobile device data recovery."
Standout features & integrations:
Tenorshare impressively supports a wide array of types of files, from text messages to multimedia, ensuring comprehensive mobile data recovery. Its capability extends to various storage media, efficiently recovering data not just from the device's internal memory but also from SD cards. For those seeking more versatility, Tenorshare also integrates well with USB flash drives, enhancing its recovery scope.
Pricing:
From $6/user/month (billed annually)
Pros:
Dedicated to mobile device data recovery, catering to a wide range of file types.
Versatile in handling different storage media, from internal memories to SD cards.
Offers integration with USB flash drives, further expanding its utility.
Cons:
Might not be the primary choice for non-mobile data recovery tasks.
Some features are locked behind higher pricing tiers.
Users unfamiliar with data recovery might find its range of options overwhelming.
Other Noteworthy Data Recovery Software
Below is a list of additional data recovery software that I shortlisted but did not make it to the top 12. Definitely worth checking them out.
Selection Criteria for Choosing Dat Recovery Software
When navigating the realm of data recovery software, a few essential elements rise to prominence. I've evaluated dozens of data recovery tools, and in this case, I was particularly discerning about their core capabilities and ease of use. These elements prove vital in ensuring successful data recovery, and I'll delve into the specifics of what I was looking for below.
Core Functionality
Data Restoration: The software should be adept at retrieving deleted, lost, or corrupted data from diverse storage devices.
Partition Recovery: Essential for retrieving data from deleted, lost, or damaged partitions.
File Preview: Before actual recovery, the tool should allow users to preview files to decide which ones to retrieve.
Deep Scan: For cases where quick scans fall short, the software should offer a thorough, deep scanning mode.
Key Features
Supported File Types: The software should recognize and recover a broad range of file formats, including documents, images, videos, etc.
Device Compatibility: It should support a variety of storage devices, such as hard drives, USB flash drives, memory cards, and more.
File System Compatibility: Tools that support multiple file systems like NTFS, FAT32, HFS, etc., provide versatility.
Secure Overwrite: After ensuring data recovery, the software should offer an option to securely overwrite the free space to avoid unauthorized data retrieval.
Usability
Intuitive Dashboard: A straightforward dashboard where users can easily choose between modes like quick scan, deep scan, partition recovery, etc.
Guided Recovery Process: Especially for novices, the software should guide users step by step through the recovery process.
Interactive Preview Pane: When previewing potential files to recover, users should have an interactive pane where they can easily toggle between file types or use search functionalities.
Accessible Customer Support: Since data loss can be critical, the software should provide easy-to-reach customer support, including tutorials, FAQs, and direct support channels.
Tailored User Profiles: Advanced users and beginners should both find the software accommodating. For instance, an advanced mode can give experienced users more control, while a basic mode simplifies things for the less tech-savvy.
Most Common Questions Regarding Data Recovery Software (FAQs)
What benefits can I expect from using the best data recovery software?
There are multiple advantages to using top-notch data recovery software. Some of the notable benefits include:
Efficient Recovery: The tools effectively retrieve various file types, including documents, images, and video files.
Versatility: They are compatible with numerous devices and can handle a plethora of data loss situations, from accidental deletions to drive failures.
User-Friendly Interface: Even if you're not tech-savvy, many tools offer an intuitive interface, guiding you through the recovery process.
Preview Features: Before committing to a full recovery, users can preview specific files in scan results to ensure they're retrieving the right data.
Safety Measures: Some software options include features like a recovery vault, which enhances data protection and aids in easier retrieval.
How much do these data recovery tools typically cost?
The cost of data recovery software varies based on features, capabilities, and brand reputation. Typically, prices range from freeware options to premium tools that can cost upwards of $100.
Can you explain the different pricing models of these tools?
Certainly! There are a few common pricing models:
Freeware: These are completely free tools, often with limited features or data recovery capacities.
One-Time Purchase: You pay a single fee and own the software forever, typically including updates for a windows version or specific platform.
Subscription-Based: Users pay a recurring fee, usually monthly or annually, to use the software and receive regular updates.
What's the price range for these software options?
While freeware options are free of charge, the premium software tools can range anywhere from $30 to over $100, depending on their features and capabilities.
Are there any notably cheap or expensive software options?
Yes, while freeware options like "Recuva" are on the cheaper end, premium tools like "Stellar Data Recovery" tend to be on the pricier side due to their advanced features and effectiveness.
Do any of these tools have free options?
Yes, some data recovery software offers freeware versions. These typically come with limitations, such as recovering only up to a certain GB of data or lacking advanced features. It's always recommended to check the specific limitations of freeware versions before relying on them.
Can these tools recover video files specifically?
Absolutely. Most of the top data recovery software can retrieve video files alongside various other file types, ensuring you don't lose precious memories or important work.
Are the scan results of these tools reliable?
Yes, the best data recovery software offers reliable scan results. Many tools also feature a "recovery vault" or similar safety measure to enhance the accuracy and reliability of recoverable files, ensuring you get back what you lost.
Other Data Recovery Software Reviews
Summary
Choosing the right data recovery software can be a crucial step to ensure you regain access to valuable data that might have been lost due to unforeseen circumstances. Throughout the guide, we've explored multiple tools, delved into their strengths and weaknesses, and highlighted the criteria to consider when making a selection. Whether it's a critical file deleted by mistake or an entire system compromised by a virus attack, the right software can make all the difference.
Key Takeaways:
Digital Cameras and More: Many think of data recovery software as just for computers, but it's essential to select a tool that also supports digital cameras, external hard drives, and other storage devices.
Disk Image Functionality: Opt for software that allows the creation of a disk image. This feature lets users make an exact replica of their drive, enabling recovery efforts without further risking the original data source.
Free vs. Paid: There are many reliable free data recovery software options available. However, while they can handle basic recovery tasks, for more complex issues like a virus attack, investing in a paid solution often provides more robust features and customer support.
What do you think?
I've worked diligently to provide a comprehensive list of the best data recovery software available, but I acknowledge that the tech landscape is vast and ever-evolving. If you're using a tool that you believe deserves a spot on my list, or if you've had a unique experience with one I've mentioned, I'd love to hear from you.