12 Best Firewall Audit Software Shortlist
After rigorous testing, I've distilled the market's offerings to these 12 top firewall audit software.
Understanding the intricacies of network firewalls can often feel like a battle. As someone who's spent countless hours wading through network traffic, managing IP addresses, and navigating rulesets, I've experienced firsthand how time-consuming it can be to pinpoint misconfigurations and troubleshoot firewall changes. This is where firewall audit software comes into play.
The complexity of tracking security events, auditing firewall changes, and maintaining a consistent ruleset can be overwhelming. Firewall audit software streamlines these tasks, so you can focus on what matters most: keeping your network safe. I encourage you to explore the options I've outlined, I believe they could make a significant difference for you.
What Is a Firewall Audit Software?
Firewall audit software serves as a critical tool for security teams, network administrators, and IT professionals to ensure optimal network security. This software scrutinizes firewall rules, configurations, and policies, identifying vulnerabilities and non-compliant activities that may pose a threat.
Users rely on these platforms for continuous monitoring, timely vulnerability detection, and precise remediation to maintain a robust defense against cyber threats. Moreover, the ability of firewall audit software to automate labor-intensive processes provides an efficient way to maintain the complex and dynamic nature of today's network security environment.
This invaluable tool meticulously reviews your network — whether on-premises or cloud-based, monitoring firewall devices and routers, safeguarding against cyberattacks, and spotting malware lurking in your systems. The benefits are clear: it provides an audit trail for every checkpoint in your system, and customizable templates make this process less cumbersome.
Overviews of the 12 Best Firewall Audit Software
1. Rapid7 InsightVM - Best for prioritizing vulnerabilities in real-time
Rapid7 InsightVM takes a unique approach to vulnerability management by prioritizing vulnerabilities based on risk and context. This tool facilitates real-time assessment and analysis of your security posture to help you act swiftly on the most imminent threats.
Why I Picked Rapid7 InsightVM:
I selected Rapid7 InsightVM due to its capacity to deliver real-time analytics. Its distinguishing trait lies in the risk-scoring functionality that allows for effective prioritization of vulnerabilities. The tool excels in determining which threats need immediate attention and why, making it an ideal solution for real-time vulnerability management.
Standout Features & Integrations:
InsightVM stands out with its Live Dashboard, Remediation Workflow, and automated actions triggered by the risk score. The Live Dashboard offers a continuously updated view of your risk landscape. The Remediation Workflow aids in tracking and coordinating remediation efforts.
As for integrations, InsightVM partners with leading technologies like ServiceNow, Splunk, and CyberArk, fostering a more streamlined and comprehensive security strategy.
Pricing:
Pricing starts at $2,800/user/year (billed annually).
Pros:
Real-time risk scoring
Robust workflow coordination
Wide range of integrations
Cons:
Pricing could be prohibitive for smaller businesses
Requires technical expertise to operate effectively
No monthly subscription option, billed annually
2. Fortinet FortiManager - Best for large-scale network management
Fortinet FortiManager presents a robust solution for managing large network environments. Its centralized management console effectively handles numerous network appliances and policies, qualifying it as the top pick for expansive network architectures.
Why I Picked Fortinet FortiManager:
I picked Fortinet FortiManager for its comprehensive capabilities to manage extensive network infrastructures. Its central management of diverse network devices and policies makes it the ideal choice for organizations with a vast network topology.
Its forte in handling large-scale networks with ease and precision makes it an undisputed solution for expansive network management.
Standout Features & Integrations:
Fortinet FortiManager's standout features include centralized management, streamlined operations, and security fabric integration. Its centralized management allows you to manage thousands of devices and workflows from a single console.
In terms of integrations, FortiManager connects well with Fortinet's suite of network security products, forming a unified and collaborative security framework.
Pricing:
Pricing starts at $6,000 (billed annually), with additional costs for extra network devices.
Pros:
Efficient large-scale network management
Centralized control for various devices
Good integration with Fortinet's network security suite
Cons:
No monthly subscription available, billed annually
Extra costs for managing additional devices
Steep learning curve for beginners
3. Panorama - Best for providing consolidated policy visualization
Panorama from Palo Alto Networks is a management solution known for its strong policy visualization. This tool enables users to see a consolidated view of their network policies across different environments, making it the perfect tool for unified policy visualization.
Why I Picked Panorama:
Panorama caught my eye because of its unparalleled ability to provide a unified policy visualization across complex networks. This characteristic allows for easy tracking and management of firewall security policies, giving it an edge over other solutions.
I hold it in high regard because it's specifically designed for organizations that seek a comprehensive overview of their security posture.
Standout Features & Integrations:
Key features of Panorama include centralized management, traffic and threat visibility, and policy orchestration. The centralized management feature delivers a streamlined interface for managing policies across multiple environments.
For integrations, Panorama plays well with the Palo Alto Networks product suite, ensuring consistency and interoperability within the network security infrastructure.
Pricing:
The pricing for Panorama starts from $1,000 (billed annually).
Pros:
Excellent for consolidated policy visualization
Offers deep traffic and threat visibility
Integrates smoothly with other Palo Alto products
Cons:
Requires upfront annual payment
Can be challenging for beginners
Pricing might be steep for small businesses
4. Tripwire IP360 - Best for scoring network risk factors
Tripwire IP360 is an advanced threat and vulnerability management system. With its focus on providing a robust risk scoring model, it is a key player in managing network security for businesses that prioritize risk management.
Why I Picked Tripwire IP360:
I selected Tripwire IP360 for its unique ability to deliver a comprehensive risk-scoring system for network vulnerabilities. It was my choice because of its unique focus on transforming complex security data into a digestible risk score, making it an ideal tool for businesses concerned about network risk factors.
Standout Features & Integrations:
Notable features of Tripwire IP360 include its sophisticated risk-scoring mechanism, comprehensive vulnerability database, and impressive automation capabilities. As for integrations, IP360 is designed to fit within your existing security infrastructure and works harmoniously with a multitude of security information and event management (SIEM) systems.
Pricing:
Pricing for Tripwire IP360 starts at "$500/user/month" (minimum 10 seats, billed annually).
Pros:
Powerful risk-scoring system
In-depth vulnerability database
Excellent automation capabilities
Cons:
Can be expensive for small businesses
Requires a minimum of 10 seats
The user interface could use improvement
5. FireMon - Best for proactive firewall policy tuning
FireMon is a robust firewall management platform that centers on proactive policy tuning and optimization. It assists organizations in maintaining continuous compliance and enforcing network security policies effectively, making it the top pick for businesses looking to proactively manage their firewall policies.
Why I Picked FireMon:
In my search for the best firewall audit tool, I chose FireMon for its focus on proactive policy tuning. Its commitment to preventing policy clutter and optimizing rules makes it stand apart in the market. I believe it's "best for" businesses seeking to stay ahead of potential vulnerabilities by optimizing their firewall policies.
Standout Features & Integrations:
FireMon boasts various features, with the policy optimizer and risk analyzer standing out. These features ensure a proactive approach to firewall management. In terms of integrations, FireMon offers compatibility with a wide range of firewalls, next-generation firewalls, and cloud platforms, providing a truly flexible solution.
Pricing:
FireMon's pricing starts from "$45/user/month" (minimum 10 users, billed annually).
Pros:
Offers proactive policy tuning
Compatible with a wide range of firewalls and cloud platforms
Provides risk analysis
Cons:
Pricing could be high for small organizations
Requires a minimum of 10 users
The user interface may have a steep learning curve for some users
6. Vanta - Best for simplifying security compliance
Vanta is a security compliance platform designed to streamline the often complicated process of adhering to regulatory standards. Its capability to automate complex compliance tasks and provide clear reports makes it an exceptional tool for organizations seeking to simplify security compliance.
Why I Picked Vanta:
I selected Vanta for this list due to its unique ability to uncomplicate the intricate realm of security compliance. The platform's automation of many compliance tasks, combined with its user-friendly interface, makes it stand out among competitors. I believe it's "best for" businesses that aim to simplify the compliance process and easily understand their compliance status.
Standout Features & Integrations:
Vanta shines with its continuous monitoring feature and automated security compliance audits. It provides clear, easy-to-understand compliance reports that significantly reduce the manual effort involved in compliance management.
When it comes to integrations, Vanta supports numerous popular services, including AWS, GCP, Okta, and GitHub, offering users a comprehensive view of their infrastructure's security.
Pricing:
Vanta's pricing begins from "$50/user/month". Note that this is billed annually, with a minimum of 5 users required.
Pros:
Streamlines security compliance
Offers continuous monitoring
Supports a wide range of integrations
Cons:
Relatively expensive for small businesses
Requires a minimum of 5 users
Could be overkill for businesses with simple compliance needs
7. Drata - Best for automating security controls
Drata is a platform designed to help businesses achieve and maintain compliance. The software's emphasis on automation, particularly when it comes to managing security controls, makes it a valuable asset for businesses looking to alleviate some of the burdens associated with maintaining security compliance.
Why I Picked Drata:
Drata caught my attention due to its strong focus on automating security controls, a typically labor-intensive process for most businesses. Its automation capabilities and clear, audit-ready reports make it a stand-out option. In my judgment, Drata is "best for" those companies aiming to streamline their security compliance process through automation.
Standout Features & Integrations:
Key features of Drata include continuous compliance monitoring, automated security control evidence collection, and providing audit-ready reports. The platform also integrates with a wide array of other services, including AWS, GCP, Slack, and GitHub, to allow for thorough security audits across your company's entire software stack.
Pricing:
The pricing for Drata starts from "$49/user/month". This pricing applies when billed annually and requires a minimum of 5 users.
Pros:
Automates various aspects of security compliance
Provides audit-ready reports
Integrates with a wide range of services
Cons:
Might be costly for small businesses
Requires a minimum of 5 users
Could be complex for businesses with basic compliance needs
8. Forcepoint - Best for threat-centric visibility
Forcepoint is a cybersecurity company that offers solutions aimed at providing businesses with threat-centric visibility. Its tools and features help organizations identify and counteract threats quickly and effectively, justifying why it is the best for this type of visibility.
Why I Picked Forcepoint:
I selected Forcepoint for this list due to its unparalleled emphasis on threat-centric visibility. In comparison to others, Forcepoint's systems are particularly adept at providing insights into potential threats and their sources.
Given its effectiveness in offering threat-centric visibility, I see Forcepoint as a suitable tool for organizations keen on advanced threat detection and management.
Standout Features & Integrations:
Forcepoint offers unique features such as behavior analytics, data loss prevention (DLP), and insider threat detection that improve its threat-centric visibility. It also integrates with other cybersecurity tools, including SIEMs and firewalls, to provide an encompassing security ecosystem.
Pricing:
Pricing information for Forcepoint is available upon request, as the company tailors the cost to the specific needs of each organization.
Pros:
Provides threat-centric visibility
Offers behavior analytics, DLP, and insider threat detection
Integrates well with other cybersecurity tools
Cons:
Pricing is not transparent
Might be complex for small organizations
Tailoring to specific needs may lead to features you do not need or use
9. Skybox - Best for identifying policy violations
Skybox is a cybersecurity platform specializing in attack surface visibility and security policy management. By analyzing and visualizing your entire network, it excels in pinpointing policy violations and bringing them to your attention, making it an optimal tool for this purpose.
Why I Picked Skybox:
I chose Skybox for its impressive ability to identify policy violations, making it stand out from other security tools on this list. It delivers actionable insights that organizations can use to improve their security posture. Given its strengths, I've determined that Skybox is especially proficient at identifying and managing policy violations.
Standout Features & Integrations:
Skybox is equipped with notable features such as network modeling, change management, and firewall assurance. Furthermore, it boasts impressive integrations with a broad range of other security platforms, including most major firewalls, IDS/IPS, vulnerability scanners, and SIEM systems.
Pricing:
Pricing for Skybox is made available upon request. The company offers tailored packages to suit the specific needs of different organizations.
Pros:
Exceptional at identifying policy violations
Offers network modeling and firewall assurance
Integrates with a wide variety of security platforms
Cons:
Pricing is not directly available, must be requested
Could be complex for users with less technical experience
Customized solutions may include unnecessary features for some organizations
10. Tufin - Best for change management tracking
Tufin is a cybersecurity platform with a focus on network security policy management and orchestration. Its key competency lies in change management tracking, ensuring a smooth and secure transition whenever policies or systems are updated.
Why I Picked Tufin:
When I was selecting the right tool for change management tracking, Tufin stood out for me. The platform's comprehensive approach to monitoring and managing policy changes is impressive, allowing organizations to maintain a high level of security while implementing necessary modifications.
It can automatically generate security audit reports on demand based on different criteria, such as firewall vendors, time periods, and cloud service providers. In my opinion, this dedicated functionality makes Tufin the top choice for change management tracking.
Standout Features & Integrations:
Tufin offers critical features like network topology mapping, policy analysis, and risk assessment. Besides these, its change management tracking stands out, providing valuable insights and control over network changes.
It also integrates effectively with most major firewall vendors, security devices, cloud platforms, and other IT management tools, offering a cohesive ecosystem for security management.
Pricing:
Pricing for Tufin starts from $5000 annually, which equates to roughly $417/user/month (billed annually). This cost is for the base package, with more advanced options available at higher rates.
Pros:
Provides comprehensive change management tracking
Integrates well with a broad range of IT management tools
Offers network topology mapping and risk assessment
Cons:
Relatively high starting price
The user interface may be complex for new users
Requires an investment of time to fully utilize all features
11. AlgoSec - Best for optimizing application connectivity
AlgoSec is a network security management solution that excels in streamlining and optimizing application connectivity. By providing visibility and control over network applications, it ensures a secure, compliant, and efficient network environment.
Why I Picked AlgoSec:
I selected AlgoSec because of its strong capabilities in managing and optimizing application connectivity. Its ability to map application connectivity, automate security changes, and assess risk stands out from other platforms. Consequently, I determined AlgoSec as the optimal choice for teams aiming to improve application connectivity while maintaining security standards.
Standout Features & Integrations:
AlgoSec offers several useful features including automated security policy management, firewall audit and compliance, and network auto-discovery. Its standout feature is the application-centric approach to security policy management that boosts the connectivity of applications. AlgoSec also integrates well with a range of other IT management tools, firewalls, and cloud platforms which makes it an integral part of any network security setup.
Pricing:
The starting price for AlgoSec is "Pricing upon request". Given the complexity and depth of its offering, AlgoSec chooses to provide pricing on a case-by-case basis, tailored to the specific needs of the organization.
Pros:
Comprehensive and automated security policy management
Strong focus on application connectivity
Wide range of integrations
Cons:
Pricing information is not publicly available
Might be complex for beginners
Full utilization might require considerable time investment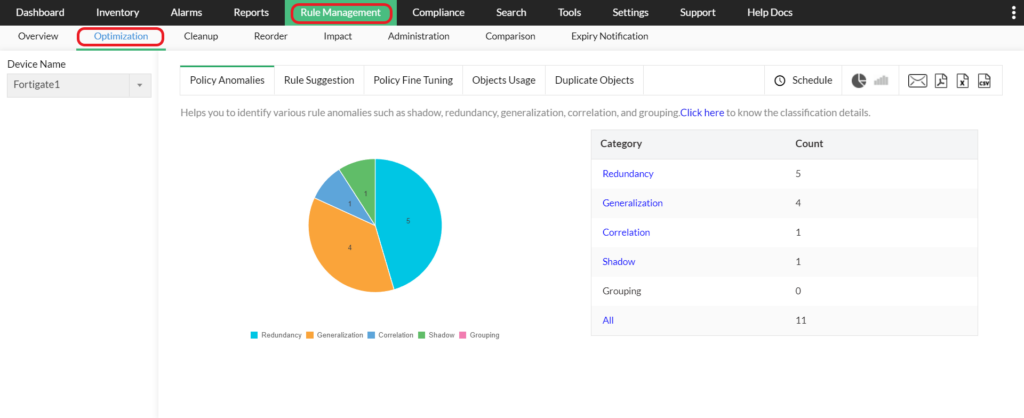 ManageEngine Firewall Analyzer is a web-based firewall log analysis tool designed to collect, correlate, and report on most enterprise firewalls, proxy servers, and VPNs. Its special focus on log analytics makes it a superior tool for detecting network intrusions, auditing firewall configurations, and regulating bandwidth usage.
Why I Picked ManageEngine Firewall Analyzer:
In my quest for the best tool for analyzing firewall logs, I was drawn to ManageEngine Firewall Analyzer. This tool caught my attention due to its specialized firewall log analysis and interpretation capabilities, which differ from more generalist tools.
From a wide range of options, I judged ManageEngine Firewall Analyzer to be the best solution for those needing deep, detailed insights from firewall logs.
Standout Features & Integrations:
ManageEngine Firewall Analyzer offers impressive features like real-time alerting, comprehensive firewall log reporting, and bandwidth monitoring. It further stands out with its security audit and compliance reports, which aid in maintaining regulatory standards such as NIST, SOX, NERC CIP, HIPAA, GDPR, PCI DSS, etc.
The tool integrates with a wide array of firewalls, VPNs, and proxies, thereby catering to various network environments.
Pricing:
The pricing for ManageEngine Firewall Analyzer starts at $395 for 10 devices (billed annually). This pricing model makes it accessible for small to medium-sized enterprises and scales up for larger network environments.
Pros:
Excellent for detailed firewall log analysis
Offers real-time alerts and notifications
Wide range of integrations with firewalls, VPNs, and proxies
Cons:
Pricing can be high for larger networks
Interface could be intimidating for beginners
Limited functionality beyond firewall log analysis
Other Firewall Audit Software
Below is a list of additional firewall audit software that I shortlisted, but did not make it to the top 12. They are definitely worth checking out.
Selection Criteria for Firewall Audit Software
In my experience with firewall audit software, I've tested and researched multiple tools. I've evaluated dozens of them, but my focus has been on specific functionalities like efficient log analysis, robust change management, and reliable compliance reporting. Here are the criteria that mattered most during my selection process:
Core Functionality
The primary functions that any firewall audit software should enable include:
Log Analysis: Ability to scrutinize firewall logs for insights on potential threats and violations.
Change Management: Capacity to track, manage, and report changes in firewall configurations.
Compliance Reporting: Generation of comprehensive reports to demonstrate regulatory compliance.
Threat Detection: Capability to identify and alert on potential security risks.
Key Features
There are numerous features that firewall audit software can offer. However, the key ones that specifically matter for this use case include:
Automated Audits: Enables routine firewall audits without manual intervention, saving time and resources.
Real-time Alerts: Instant notifications about security threats or configuration changes help in the timely mitigation of potential issues.
Compliance Mapping: Tools that map audit findings to specific regulatory standards simplify compliance reporting.
Integrations: Ability to integrate with existing security infrastructure, including firewalls, intrusion detection systems, and SIEM solutions.
Usability
In terms of usability, specific aspects of this type of software that matter include:
Intuitive Interface: The tool should provide a clear, easy-to-navigate dashboard for managing firewall audits and viewing reports.
Easy Setup: Rapid and straightforward deployment is essential, as complex setups can delay firewall protection.
Role-based Access: The software should allow for role-based access controls to limit who can modify firewall settings.
Learning Resources: Given the complexity of firewall management, the tool should have a comprehensive knowledge base, training resources, or a responsive support team for user assistance.
Most Common Questions Regarding Firewall Audit Software
What are the benefits of using firewall audit software?
Using firewall audit software offers multiple benefits, including:
Risk Reduction: These tools help to identify and fix configuration errors, reducing the risk of security breaches.
Compliance: They assist organizations in meeting compliance with regulations that require regular firewall audits.
Efficiency: Automated auditing saves time and resources compared to manual methods.
Reporting: They provide detailed reports and actionable insights to improve security posture.
Change Management: These tools track changes made to firewall settings, helping to identify any unauthorized alterations.
How much do firewall audit software tools typically cost?
Pricing for firewall audit software varies greatly, depending on factors such as the scale of the network, the specific features offered, and the vendor's pricing model.
What are the typical pricing models for firewall audit software?
Common pricing models for these tools include per-user, per-device, or per-feature pricing. Some vendors also offer tiered pricing, where different tiers include different sets of features.
What is the typical range of pricing for firewall audit software?
On the lower end, pricing can start from as low as $20 per month for smaller networks with basic features. For enterprise-grade solutions with advanced features, prices can go up to several thousand dollars per month.
Which are the cheapest and most expensive firewall audit software?
Among the tools mentioned, Firewall Analyzer by ManageEngine is one of the more affordable options, with pricing starting from $395 annually. On the higher end, AlgoSec's firewall management software can go up to several thousand dollars, depending on the size and complexity of the network.
Are there any free firewall audit software options?
Yes, some options are available for free but they typically offer limited features. For example, Firewall Builder is an open-source tool that allows users to design and manage their firewall settings. However, support and advanced features might require a paid plan.
More Firewall Audit Software Reviews
Summary
To wrap up, choosing the right firewall audit software is a critical decision that can significantly impact your organization's cybersecurity posture. Such a tool can help manage, analyze, and optimize your firewall configurations while ensuring regulatory compliance.
Key Takeaways
Focus on core functionality. A robust firewall audit software should provide efficient log analysis, reliable change management, strong compliance reporting, and timely threat detection.
Pay attention to key features. Look for features like automated audits, real-time alerts, compliance mapping, and integrations with existing security infrastructure. These will provide extra layers of security and simplify your firewall management tasks.
Usability matters. The best tools provide an intuitive interface, easy setup, role-based access controls, and sufficient learning resources to help you navigate their functionalities. The interface should aid, not hinder, your efforts to manage and audit your firewalls.
Bear these points in mind as you explore options, and you'll be well on your way to finding the right firewall audit software for your needs.
What Do You Think?
Absolutely, your input is appreciated and valuable! If you've had a positive experience with a firewall audit software not mentioned in this guide, please feel free to share it. It's always beneficial to broaden your knowledge base with real-world user insights. Looking forward to your suggestions!