12 Best Disk Cleanup Software Shortlist
After a thorough evaluation, I've selected 12 disk cleanup software that effectively addresses your challenges.
Navigating the digital clutter can be daunting, significantly when your device slows down or runs out of space. Disk cleanup software is the lifeline that streamlines and revives your system. It's designed to swiftly remove unnecessary files and free up valuable storage, allowing your device to breathe and function more efficiently.
I know the frustration of a sluggish computer and the confusion of sifting through files, wondering what's safe to delete. This software tackles those exact challenges, ensuring your system stays in optimal shape without the guesswork. Dive in, and let's find the best solution for your needs.
What is a Disk Cleanup Software?
Disk cleanup software is a category of utilities designed to scan, identify, and remove unnecessary files and clutter from a computer's storage system. These tools often target temporary files, redundant backups, cache data, and other non-essential items that occupy valuable disk space.
Both individual users and IT professionals utilize disk cleanup software to maintain the health and efficiency of their computers, ensuring smoother performance and longer lifespans for their devices. By regularly using these tools, users can prevent storage-related slowdowns, manage their digital files better, and free up space for more critical applications and data.
Overviews of the 12 Best Disk Cleanup Software
1. Duplicate Cleaner - Best for identifying duplicate files
Duplicate Cleaner primarily serves to spot and remove identical files cluttering a Windows PC's hard disk. It's adept at ensuring that the system's performance remains optimal by freeing up essential storage space. This software's proficiency in spotting duplicate files reaffirms its "best for" statement.
Why I Picked Duplicate Cleaner:
I chose Duplicate Cleaner after closely examining many cleaner software options available. It was clear to me that this tool had an edge due to its robust algorithms and precision in singling out duplicate files. When comparing its capabilities with other offerings, I determined that Duplicate Cleaner uniquely stands out in catering to Windows 10 and other Windows systems, ensuring that no two similar files are missed. This confirms that it truly is the best for identifying duplicate files.
Standout features & integrations:
Duplicate Cleaner boasts advanced features like the capability to perform deep scans across various file types - from music to documents. It even goes beyond filenames, identifying similarities to ensure thorough cleaning. This tool is also integrated with Microsoft's Windows operating system, ensuring that users can speed up their PC performance without hitches.
Pricing:
From $4/user/month (billed annually)
Pros:
Precise identification of duplicate files across diverse file types
Compatible with a vast array of Windows systems, including Windows 10
Aids in optimizing PC performance by freeing up storage space
Cons:
Targeted mainly at Windows users, excluding Linux or macOS enthusiasts
Absence of a mobile variant for Android or iOS users
Might feel complex for users new to cleaner software due to its advanced features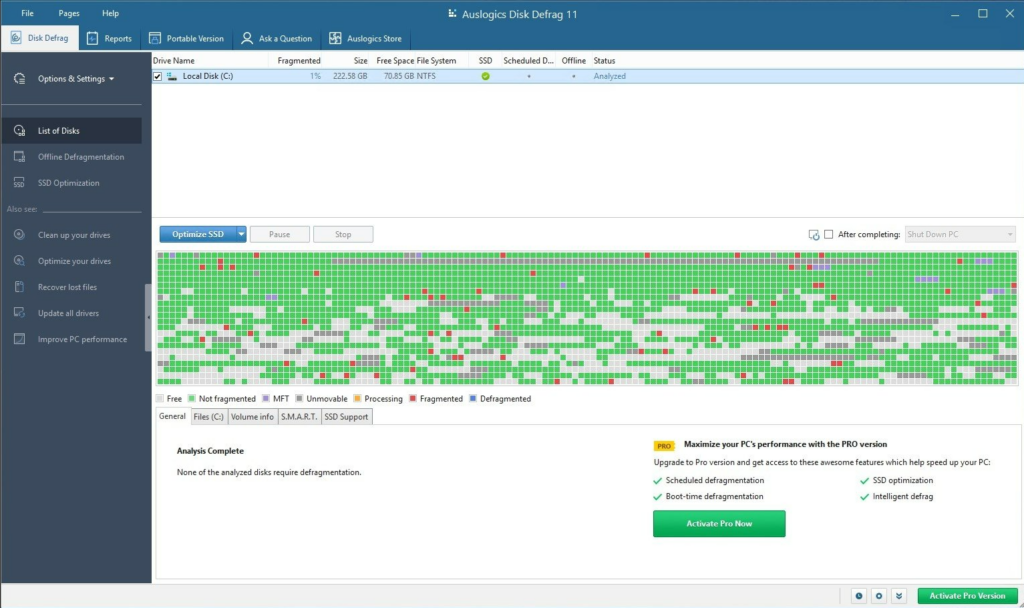 Auslogics Disk Defrag is a Windows system-centric tool that aims to streamline and speed up PC performance. Its mastery in rearranging data on a hard disk makes it a frontrunner for hard drive defragmentation.
Why I Picked Auslogics Disk Defrag:
During my journey to find the top optimization tools for a Windows PC, I sifted through numerous apps and cleaner software. After diligent comparison and judgment, I determined that Auslogics Disk Defrag outshone others in efficiency and effectiveness. The tool's adeptness at fine-tuning data on the hard disk marks it as the "Best for hard drive defragmentation."
Standout features & integrations:
Auslogics Disk Defrag boasts advanced features that not only defrag files but also consolidate free space, optimizing every byte on your disk. Its user interface is intuitive, ensuring ease even for those unfamiliar with the PC cleaning domain. The tool integrates with Windows 10 and previous Windows system versions for integrations, always keeping pace with Microsoft's ever-evolving ecosystem.
Pricing:
From $3/user/month (billed annually)
Pros:
Effective in improving overall computer's performance.
Direct integration with the Windows system, especially Windows 10.
Offers both a free version and a more comprehensive pro version.
Cons:
Mainly designed for Windows, limiting options for Linux or macOS users.
The software's focus is mainly on defragmentation, not broad system optimization.
Freeware version can sometimes prompt users for upgrades or other products.
3. CleanMyPC - Best for overall PC cleanup tasks
CleanMyPC is a well-regarded cleaning software designed to declutter and improve a Windows PC's performance. It focuses on sweeping away junk files, managing startup items, and ensuring the optimal functioning of a user's system. Recognizing its comprehensive suite of features, it is the ultimate solution for overall PC cleanup tasks.
Why I Picked CleanMyPC:
Navigating through many apps and tools to improve PC performance, I had to select and compare critically. My determination landed on CleanMyPC due to its meticulous approach to system optimization. I chose this tool for its cleaning prowess and harmonious blend of functionality, making it the "Best for overall PC cleanup tasks."
Standout features & integrations:
CleanMyPC is celebrated for its multi-faceted cleaning features, such as its ability to detect and delete large files clogging storage space, in-depth registry cleaner, and tune-up capabilities for faster system performance. Additionally, its real-time notification system alerts users to potential optimization opportunities. The software beautifully integrates with the Windows system, notably Windows 10, aligning with Microsoft's framework.
Pricing:
From $5/user/month (billed annually)
Pros:
Comprehensive PC cleaning capabilities, targeting junk files, browser history, and startup items.
User-friendly interface ensuring a smooth optimization experience.
Dedicated uninstaller to effectively remove unwanted apps and software.
Cons:
Lacks support for operating systems outside of Windows, such as Linux or macOS.
While it offers a free version, its capabilities are somewhat limited compared to the full suite.
Some users might prefer a monthly billing option over the annual commitment.
4. Cleaner One Pro - Best for macOS-specific optimization
Cleaner One Pro is an optimization tool exclusively tailored for the macOS environment. Its primary aim is to delete files, clear junk data, and ensure that macOS users enjoy peak system performance. Drawing attention to its platform-specific design, it's evident that Cleaner One Pro offers unparalleled utility for macOS users.
Why I Picked Cleaner One Pro:
From an expansive list of cleaner software, making a choice requires careful judgment and comparison. Upon evaluating several tools, Cleaner One Pro resonated with me for its depth of macOS integration. Its macOS-focused approach is what sets it apart from others. Convinced by its capabilities and focus, I determined it's the "Best for macOS-specific optimization."
Standout features & integrations:
Noteworthy features of Cleaner One Pro include its ability to swiftly identify and delete large files, its real-time monitoring of storage space, and a dedicated app cleaner ensuring complete app removal. As for integrations, the tool smoothly aligns with the macOS operating system, ensuring that tools and functionalities harmonize with Apple's interface and design principles.
Pricing:
From $4/user/month (billed annually)
Pros:
Designed with a laser focus on macOS, ensuring optimum compatibility.
Real-time monitoring assists users in managing storage efficiently.
Intuitive user interface simplifies the cleaning and optimization process.
Cons:
Exclusivity to macOS means it can't cater to Windows or Linux users.
Might lack some advanced features seen in multi-platform cleaners.
The annual billing might deter users seeking short-term commitments.
5. Avast Cleanup - Best for scheduled system improvements
Avast Cleanup is a robust PC cleaner designed to declutter your system and improve its performance. With its capacity for scheduled cleaning, it's a hands-off solution that keeps systems optimized even on autopilot.
Why I Picked Avast Cleanup:
After selecting and judging a myriad of cleaning tools, Avast Cleanup was one that consistently stood out. Its ability to schedule and automate improvements is distinctly unique, a feature not uniformly present in every tool. Based on these attributes, I determined that Avast Cleanup is "Best for scheduled system improvements."
Standout features & integrations:
Avast Cleanup boasts features like automatic maintenance, finding and deleting redundant files, and advanced tuning of system settings. Integrations-wise, Avast Cleanup naturally pairs with other Avast products, such as their antivirus software, creating a comprehensive system of defense and optimization for Microsoft Windows systems.
Pricing:
From $3/user/month (billed annually)
Pros:
Automated maintenance ensures regular system improvements.
Efficient in identifying and performing deletion of unnecessary files.
Comprehensive tuning options provide deeper system improvements.
Cons:
Lacks some features offered by competitive tools.
Integration is mainly within the Avast ecosystem, limiting versatility with other products.
Some users may find the user interface less intuitive than competitors.
6. Norton Utilities - Best for active system health checks
Norton Utilities is a prominent tool tailored to maintain and optimize Microsoft-based systems. Recognized for its operational system health checks, it provides users an edge in monitoring and maintaining their system's well-being.
Why I Picked Norton Utilities:
Choosing among various PC cleaners was challenging, but Norton Utilities captured my attention due to its dynamic system health checks. Unlike other utilities, it actively monitors system health, allowing preemptive action. I chose it specifically because I believe it's unparalleled regarding "active system health checks."
Standout features & integrations:
Norton Utilities comes with various features like an advanced PC cleaner, SSD optimization, and tools for comprehensive deletion of personal data. As part of the broader Norton family, it integrates with other Norton products, especially their antivirus software, forming a robust system protection and optimization ecosystem.
Pricing:
From $4.99/user/month (billed annually)
Pros:
Real-time system health monitoring allows for early detection of issues.
Extensive suite of cleaning tools.
SSD optimization ensures longer life and better performance of solid-state drives.
Cons:
It might be perceived as pricier than some alternatives.
Mainly designed for Microsoft Windows, limiting its cross-platform utility.
Some users have mentioned the initial learning curve with its interface.
7. CleanMyMac X - Best for detailed Mac cleaning
CleanMyMac X is an exclusive tool for Mac systems, focusing on deep cleaning and optimization. Tailored for those who crave detailed cleaning, it ensures no unwanted file is left unchecked on your Mac device.
Why I Picked CleanMyMac X:
While selecting the ideal tool, CleanMyMac X consistently emerged as the top choice for detailed Mac cleaning. Comparing various tools, its meticulous approach to decluttering and optimization set it apart. I firmly judged it to be the best for those desiring comprehensive and detailed Mac cleaning.
Standout features & integrations:
CleanMyMac X boasts a powerful PC cleaner, adept at deleting junk and unnecessary files. It houses an effective malware removal tool, and its eraser feature ensures the complete and irreversible deletion of personal data. Furthermore, being a Mac-centric tool, it integrates well with macOS system apps and utilities, offering a more refined cleaning process.
Pricing:
From $3.33/user/month (billed annually)
Pros:
Tailored specifically for Mac, ensuring deep and efficient cleaning.
Eraser feature guarantees irreversible removal of sensitive data.
Incorporates a malware removal tool, fortifying your Mac against threats.
Cons:
Exclusively for Mac, which means Windows users can't benefit.
Some users might find certain cleaning tools a bit too aggressive.
The full potential is realized only in the paid version, limiting the free download capabilities.
8. Glary Utilities - Best for a variety of utility tools
Glary Utilities is a comprehensive toolkit tailored to optimize, clean, and repair system glitches. With an impressive array of utilities, it stands out as an all-in-one solution for various system needs.
Why I Picked Glary Utilities:
In determining the best utility tools, I felt compelled to select Glary Utilities primarily because of the variety it brings to the table. Compared with other tools like Piriform products, its extensive set of functions gives it a distinct edge. I judged it as "Best for variety in utility tools" as it offers a wide range of utilities under a single platform.
Standout features & integrations:
Glary Utilities is not just about cleaning; it offers features like data recovery, which is invaluable in accidental deletion scenarios. Its eraser tool ensures thorough deletion, while the shredding feature guarantees the complete removal of data. Regarding integrations, the toolkit has been designed to work well with most Windows applications, ensuring maximum compatibility and efficiency.
Pricing:
From $2.99/user/month (billed annually)
Pros:
Broad range of utility tools in a single application.
Effective data recovery feature aids in restoring accidentally deleted files.
Compatible with most Windows applications for a smooth user experience.
Cons:
While it offers a free download, some advanced features are locked behind the paid version.
The interface might be overwhelming for first-time users due to its extensive options.
Users have reported occasional prompts to install additional software.
9. Duplicate Files Fixer - Best for scanning large datasets for duplicates
Duplicate Files Fixer is a specialized tool that detects and removes duplicate files efficiently. Catering to users who manage extensive datasets, it streamlines the cleaning process by identifying redundant files.
Why I Picked Duplicate Files Fixer:
While curating this list, I chose Duplicate Files Fixer based on its proficiency in handling vast datasets. After comparing several tools, this one stood out due to its fast and precise scanning capabilities. I judged it as "Best for scanning large datasets for duplicates" as it is particularly adept at processing vast volumes of data without compromising on accuracy.
Standout features & integrations:
Duplicate Files Fixer boasts an advanced scanning algorithm that quickly identifies duplicate files based on content, not just filenames. Its user-friendly interface allows for easy navigation and selection of files for deletion. While primarily a standalone tool, it integrates well with most file storage and management systems, ensuring a more unified user experience.
Pricing:
From $2.99/user/month (billed annually)
Pros:
Efficient scanning algorithm that processes large datasets rapidly.
User-centric design facilitates easy file management and deletion.
Integrates well with most file storage systems, adding to its versatility.
Cons:
Some users might find the interface too simplistic.
While it offers a wide range of file type scanning, certain niche formats might be overlooked.
Periodic updates are required to maintain optimal performance.
Clean Master for PC is a dedicated software that cleanses system junk, freeing up valuable disk space. Its precise targeting makes it adept at identifying and removing unnecessary files and optimizing system performance.
Why I Picked Clean Master for PC:
In the process of selecting tools, Clean Master for PC caught my attention due to its laser-focused approach to system junk. Having compared numerous cleaning tools, it was evident that this tool stands apart for its efficiency and specificity. I believe it's "Best for targeting system junk" as its algorithms are finely tuned to identify and eradicate redundant system files.
Standout features & integrations:
Clean Master for PC offers a deep cleaning feature that delves into every corner of the system to locate junk files. Its intuitive interface simplifies the task of cleaning, even for novice users. Although primarily a standalone cleaning tool, it synchronizes smoothly with major antivirus software to ensure a clean and secure system.
Pricing:
Pricing upon request
Pros:
Robust deep cleaning capabilities.
Simplified user interface suitable for all user levels.
Compatibility with major antivirus software ensures an added layer of security.
Cons:
Lacks some advanced features found in other cleaning tools.
Regular updates are necessary to ensure up-to-date junk file identification.
Some users may find the tool too aggressive, potentially removing files they wanted to keep.
11. Wise Disk Cleaner - Best for unwanted file removal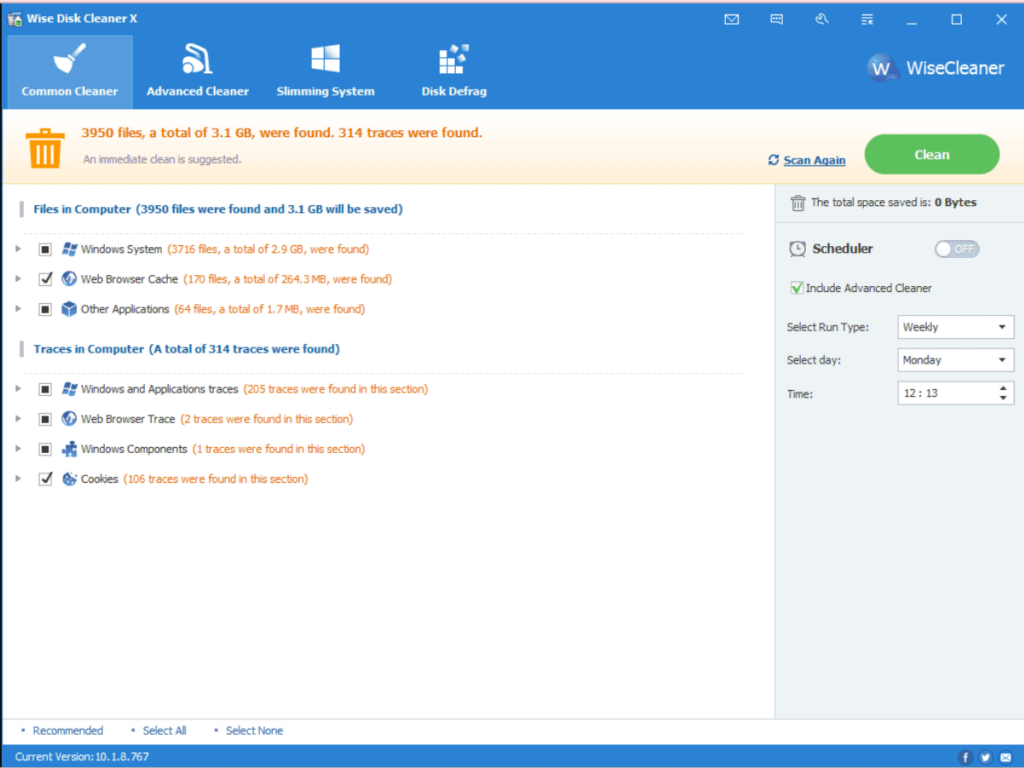 Wise Disk Cleaner is designed to scan and remove redundant and unwanted files from your system, boosting overall performance. Its adeptness in identifying and removing such files makes it an essential tool for those aiming to keep their systems clutter-free.
Why I Picked Wise Disk Cleaner:
While choosing among various tools, Wise Disk Cleaner emerged as a frontrunner due to its meticulous scanning capabilities. My judgment was based on its track record and positive feedback about its effectiveness in unwanted file detection. I determined that it's "Best for unwanted file removal" since it excels in locating and disposing of files that other tools might overlook.
Standout features & integrations:
Wise Disk Cleaner's notable features are its Advanced Cleaner, which goes beyond standard scans to unearth deeply embedded junk files. Additionally, its Slimming System feature targets obsolete software, reducing the footprint of unnecessary applications. Integration-wise, it's compatible with a wide range of systems and works in tenacious antivirus solutions to maintain system health.
Pricing:
From $5/user/month (billed annually)
Pros:
Exceptional unwanted file detection through Advanced Cleaner.
Slimming System reduces redundant software bulk.
Broad compatibility ensures it can function across multiple platforms.
Cons:
The interface may be slightly overwhelming for beginners.
Requires regular updates for optimal performance.
Some users have reported aggressive cleaning, which may delete less critical but desired files.
12. CCleaner - Best for browser and cache cleansing
CCleaner is a renowned system optimization tool primarily purging unnecessary browser and cache files. Its prowess in maintaining browser hygiene and ensuring faster web browsing is precisely why it stands out.
Why I Picked CCleaner:
In the process of selecting a tool, CCleaner grabbed my attention due to its longstanding reputation and consistent results. I judged it against other options and found its detailed approach to cleaning browser-specific junk unparalleled. Hence, I determined it to be "Best for browser and cache cleansing," as its emphasis on cleansing browser residuals offers an edge in improving browser performance.
Standout features & integrations:
CCleaner shines with features like real-time monitoring, which constantly looks for junk accumulation, and automatic cleaning, which refreshes the system without manual intervention. It also boasts a patented registry cleaner to fix errors and crashes. As for integrations, CCleaner integrates with most leading browsers such as Chrome, Firefox, and Edge, ensuring comprehensive cleaning.
Pricing:
From $2.50/user/month (billed annually)
Pros:
Precision in targeting and cleaning browser junk files.
Patented registry cleaner rectifies system errors.
Compatibility with a broad range of browsers ensures thorough cleansing.
Cons:
Users may encounter prompts to install additional software.
Some advanced features locked behind the premium version.
Real-time monitoring might consume additional system resources.
Other Noteworthy Disk Cleanup Software
Below is a list of additional disk cleanup software that I shortlisted, but did not make it to the top 12. Definitely worth checking them out.
Selection Criteria for Choosing Disk Cleanup Software
When it comes to disk cleanup software, I've been hands-on with many of these tools. After testing each and trying out more than a dozen tools, I've found certain functionalities and features essential. In this guide, I've narrowed down the criteria that are crucial for this type of software, based on my experiences and research.
Core Functionality
For disk cleanup software to be effective, it should enable you to:
Detect Redundant Files: Identify and remove duplicate files that hog storage.
Clean Temporary Files: Clear out system, browser, and application temp files.
Securely Erase Data: Provide options for data sanitization, ensuring irrecoverable file deletion.
Fix Registry Issues: Detect and rectify issues within the system registry.
Manage System Startup: Control which applications run on system startup to improve boot time.
Key Features
Beyond the core, these are some key features that significantly improve the user experience and efficacy of the tool:
Scheduled Cleaning: Set specific times for automated cleanups, ensuring regular maintenance without manual input.
Browser Cleaning: Target browser caches, cookies, and history to maintain user privacy.
Drive Wiper: For complete purges, securely wipe free space on drives, ensuring deleted data remains unrecoverable.
Real-time Monitoring: Keep an eye on junk accumulation in real-time and receive suggestions for cleanup.
Portable Version: Ability to run the software without installation, straight from a USB drive or similar devices.
Usability
For disk cleanup software, usability often translates to the optimization speed and ease of navigation. Here's what I looked for:
Intuitive Dashboard: An organized central hub that overviews system health and immediate actions.
Clear Visual Reports: Post-scan results with visual representations, making it easy to understand storage distribution.
Guided Actions: Clear prompts and explanations for each cleanup action, ensuring users understand the implications.
Responsive Design: Quick load times and responsive UI, ensuring smooth navigation even during intensive scans.
Accessible Support: Comprehensive FAQs, active community forums, and responsive customer support for troubleshooting.
Choosing the right disk cleanup software is pivotal to ensuring your system remains in peak condition. By focusing on these criteria, you can make an informed decision that aligns with your specific needs.
Most Common Questions Regarding Disk Cleanup Software (FAQs)
What are the benefits of using disk cleanup software?
Using disk cleanup software can significantly improve the health and performance of your system. Here are five benefits of these tools:
Efficient Storage Management: These tools help in identifying and removing redundant and junk files, ensuring optimal storage usage.
Enhanced System Performance: By cleaning unwanted cache, temporary files, and registry errors, these tools can boost system speed.
Longevity of Hardware: Reducing clutter and unnecessary write cycles can extend the lifespan of storage drives.
Secure Data Deletion: Most disk cleanup tools provide secure erasure features, ensuring sensitive data cannot be retrieved.
Automated Maintenance: Several of these tools offer automatic cleaning schedules, ensuring your system remains optimized without regular manual intervention.
How much do these disk cleanup tools typically cost?
The cost of disk cleanup software varies depending on features, usability, and brand reputation. Prices can range from free versions to upwards of $50/user/month for premium offerings.
What are the typical pricing models for disk cleanup software?
Most disk cleanup software adopts one of three pricing models:
Freemium: These tools offer basic features for free and charge for advanced functionalities.
Subscription: Users pay on a monthly or annual basis to access the tool.
One-time Purchase: Users pay a single upfront fee for lifetime access to the software.
Which are the cheapest and most expensive disk cleanup software options?
Among popular options, CCleaner offers one of the most affordable premium versions, starting at $2.50/user/month. On the higher end, tools like MacPaw's CleanMyPC can cost around $40 for a yearly subscription.
Are there any free disk cleanup software options available?
Yes, several disk cleanup software options come with free versions. Tools like CCleaner, Wise Disk Cleaner, and Glary Utilities provide free editions, though they may have limited functionalities compared to their premium counterparts.
Other Disk Cleanup Software Reviews
Summary
Choosing the right disk cleanup software goes beyond just deleting temporary files. The tool's core functionality must be comprehensive, targeting everything from redundant files to system registry issues. Essential features like scheduled cleaning, real-time monitoring, and a portable version can significantly enhance the software's effectiveness. Lastly, usability, highlighted by an intuitive dashboard, clear reports, and accessible support, ensures a good experience for users.
Key Takeaways:
Holistic Approach: A good disk cleanup software should offer a well-rounded approach to system optimization, covering file redundancy, temporary data, registry issues, and more.
Enhancing Features Matter: Beyond the basics, features like real-time monitoring, browser cleaning, and drive wiping can significantly boost the tool's value and impact.
User Experience is Key: The best tools combine powerful functionalities with an intuitive design, ensuring users can navigate the software efficiently, understand its reports, and access support when needed.
What do you think?
I've taken great care in compiling this list based on my experiences and research. However, the tech landscape is vast and ever-evolving. If there's a standout disk cleanup software you've come across or are passionate about that I haven't mentioned, I'd love to hear about it. Your insights and experiences are invaluable, and sharing them enriches the community. Please drop your suggestions, and let's ensure everyone benefits from the best tools out there