12 Best Virtual Reality Software Shortlist
I've assessed numerous VR tools, selecting these 12 based on their aptness to address your specific challenges and gaps.
Navigating the complex realm of virtual reality can be overwhelming, but I've been there, and I genuinely understand the hurdles you're facing. Virtual reality software crafts immersive digital experiences, offering you the chance to interact with a simulated environment like never before.
With this tool, you can unlock limitless possibilities, whether for gaming, design, education, or professional training. The biggest challenges it addresses? The constraints of physical reality, the limitations of traditional digital interfaces, and the struggle to make immersive content both engaging and accessible. Trust me, with the right software, you can turn these challenges into opportunities.
What is Virtual Reality Software?
Virtual reality software creates immersive, three-dimensional digital environments that replace or replicate real-world experiences. These programs are utilized by a range of users, from game developers crafting intricate virtual worlds for entertainment to educators simulating historical events for an interactive learning experience.
Additionally, industries like healthcare, real estate, and military training employ VR software to simulate surgeries, property tours, and combat scenarios, respectively, providing professionals with a risk-free platform to hone their skills or convey information.
Overviews of the 12 Best Virtual Reality Software
1. Sketchbox - Best for 3D design collaboration
Sketchbox is a powerful virtual reality software tool tailored for 3D design and collaborative projects. Its augmented reality and mixed reality capabilities make it particularly adept for professionals seeking interactive prototyping in a 3D environment.
Why I Picked Sketchbox:
In the vast landscape of virtual reality software, choosing the right tool can be challenging. Sketchbox, in my opinion, has a distinctive edge when judged against its peers. I selected this platform based on its robust workflow capabilities and its unique positioning as a development tool for 3D design collaboration. Its immersive VR experience and adaptability for prototyping made it evident that it is best suited for this purpose.
Standout features & integrations:
Sketchbox excels with its intuitive authoring capabilities, letting users create immersive 3D animations with ease. Designed for compatibility, it supports various VR headsets including HTC Vive, Oculus Rift, and Windows mixed reality devices. Integration-wise, it meshes with platforms like Unreal Engine and Steam VR, extending its reach in the VR content development spectrum.
Pricing:
From $20/user/month (billed annually) + $50 base fee per month.
Pros:
Robust VR content authoring and prototyping capabilities.
Broad compatibility with VR hardware, including Oculus Quest.
Strong integrations with development platforms like Unreal Engine.
Cons:
Not entirely beginner-friendly; requires a learning curve.
Higher starting price compared to some competitors.
Annual billing might deter some potential users.
2. Daydream - Best for Android VR experiences
Daydream by Google provides a dedicated platform for Android users to immerse themselves in virtual reality. Tailored for Android devices, it offers a smooth interface for VR content, justifying its reputation as the go-to solution for Android VR experiences.
Why I Picked Daydream:
In the quest to determine the best VR platforms, Daydream immediately captured my attention. After comparing various tools, I formed the opinion that Daydream stands out due to its deep integration with Android, the world's most widespread OS. This integration, coupled with Google's strong backing, makes it a clear winner for Android VR experiences.
Standout features & integrations:
Daydream boasts a curated collection of VR content that ranges from video game experiences to immersive VR tours. Its development toolset is enriched with an open-source SDK, enabling creators to craft VR content tailored for the Android ecosystem. Furthermore, Daydream integrates flawlessly with the Google Play Store, making VR app discovery and installation effortless for users.
Pricing:
Pricing upon request.
Pros:
Deep integration with Android, ensuring a cohesive VR experience.
Strong support and resources from Google, including tutorials and software development kits.
Broad VR content available, from virtual tours to high-quality video games.
Cons:
Limited to the Android platform, excluding iOS users.
Hardware compatibility is primarily with select Android phones.
Lacks the advanced development capabilities of platforms like Unreal Engine or CryEngine.
3. Leap Motion - Best for hand-tracking technology
Leap Motion is a pioneer in the realm of hand-tracking technology, enabling users to interact with digital content using natural hand and finger movements. Its precise tracking system offers an intuitive interface for both virtual reality and augmented reality applications, solidifying its position as a leader in hand-tracking innovations.
Why I Picked Leap Motion:
Upon evaluating various hand-tracking solutions, Leap Motion emerged as the undeniable frontrunner. My decision to select it was driven by its unparalleled precision and the rave reviews from the VR community. When comparing its capabilities, Leap Motion clearly shines, offering an experience that transforms the way users interact within a virtual environment, making it the best in hand-tracking technology.
Standout features & integrations:
Leap Motion's software development kits empower creators with the tools they need to integrate hand-tracking into their VR and AR projects. With real-time hand and finger recognition, it sets the bar high for immersive VR experiences. It integrates with various VR hardware including Oculus Rift, HTC Vive, and other reality headsets, ensuring compatibility across platforms.
Pricing:
Pricing upon request.
Pros:
High-precision hand and finger tracking elevates immersive experiences.
Wide compatibility with major VR and AR headsets, including Oculus Rift and HTC Vive.
Comprehensive SDKs for developers to tailor hand-tracking features within their applications.
Cons:
Might have a learning curve for beginners unfamiliar with hand-tracking technology.
Limited to hand interactions, excluding full-body tracking solutions.
Dependence on external light conditions for optimal performance.
4. Intel RealSense - Best for depth sensing capabilities
Intel RealSense is a cutting-edge technology that excels in providing depth-sensing solutions, enabling intricate interactions in both AR and VR environments. Through its ability to perceive depth, it allows applications to better understand and interpret the world around them, making it a standout in the domain of depth-sensing.
Why I Picked Intel RealSense:
In my journey of evaluating depth-sensing tools, Intel RealSense consistently stood out from the competition. I chose this because of its advanced capabilities and Intel's reputation for delivering high-quality products. What makes it distinct is its unparalleled depth precision, aligning perfectly with its recognition as the best tool for depth sensing capabilities.
Standout features & integrations:
Intel RealSense boasts a suite of features, with its high-quality depth cameras, tracking modules, and coders that facilitate intricate gestures and movements in real-time. Furthermore, the technology integrates effortlessly with a plethora of software development kits and is compatible with platforms like Windows, facilitating a smooth development workflow for VR and AR applications.
Pricing:
Pricing upon request.
Pros:
Superior depth-sensing accuracy, facilitating a more immersive VR and AR experience.
Versatile compatibility with major development platforms and VR hardware.
Backed by Intel, ensuring continuous updates and support.
Cons:
Might be more complex for beginners to integrate into applications.
Hardware requirements can be demanding for optimal performance.
Might not be as affordable as some other depth-sensing solutions on the market.
5. 360° media - Best for creating panoramic content
360° media is a dynamic tool designed for the creation and viewing of panoramic content, allowing users to dive into immersive visual experiences. Given its prowess in crafting panoramic visuals, it naturally rises as the best option for those looking to make expansive, encompassing content.
Why I Picked 360° media:
Throughout my research and comparisons, 360° media continually caught my eye due to its impressive capabilities. I selected it because of its intuitive interface and its ability to capture every angle in a single shot. Its niche in panoramic content creation is evident, resonating with its title of being the "Best for creating panoramic content."
Standout features & integrations:
360° media is renowned for its high-resolution capturing abilities, making it a favorite among virtual tour creators and interior designers. Its software can effortlessly integrate with VR headsets like Oculus Rift and HTC Vive, allowing for a immersive VR experience. Additionally, compatibility with platforms like Windows and Mac ensures developers can utilize it across multiple systems.
Pricing:
Pricing upon request.
Pros:
High-quality panoramic capture, offering a comprehensive view of environments.
Compatible with major VR headsets, improving the immersive experience.
Integration with both Windows and Mac, providing versatility in its use.
Cons:
May require some initial learning for beginners to fully exploit its features.
Depending on the quality of capture, files might be large and require substantial storage.
Specialized nature might make it less suitable for non-panoramic tasks.
6. STRIVR - Best for immersive learning platforms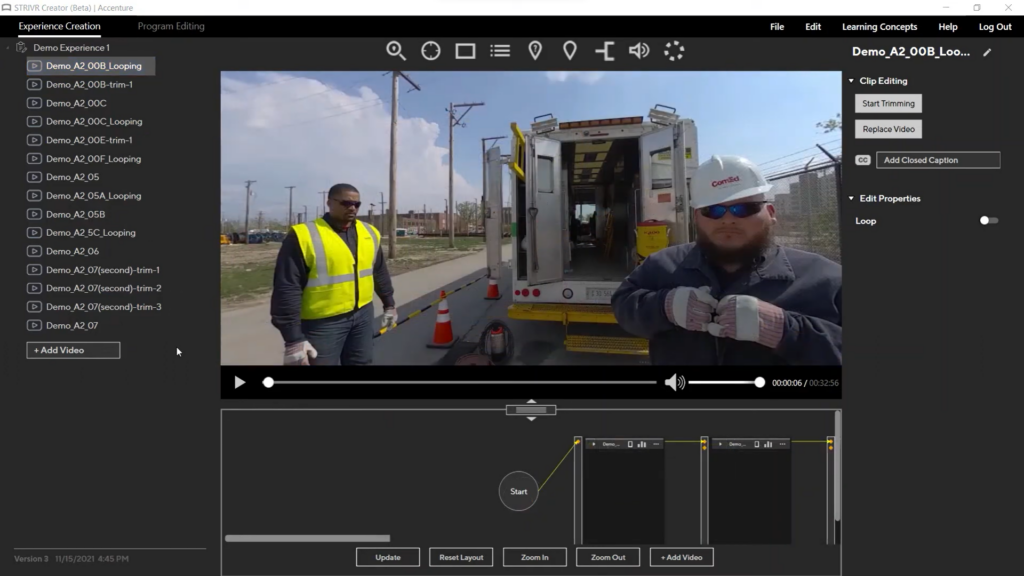 STRIVR stands at the intersection of technology and education, offering virtual reality software tailored for immersive learning experiences. Its prowess in melding the virtual environment with educational modules makes it the prime choice for those prioritizing in-depth, immersive learning.
Why I Picked STRIVR:
After judging and comparing several tools in the immersive learning space, STRIVR consistently stood out. I chose this tool based on its unique approach to combine VR content with interactive educational workflows, making it significantly different from other platforms. The commitment to providing immersive learning environments justifies its title as the "Best for immersive learning platforms."
Standout features & integrations:
STRIVR boasts features that enable real-time interactions in a 3D environment, thus mimicking real-world scenarios for improved learning. Its compatibility with VR headsets, including Oculus Rift and HTC Vive, ensures a high-quality immersive VR experience for its users. Additionally, the platform integrates with Windows and other major operating systems, offering flexibility to a wider audience.
Pricing:
Pricing upon request.
Pros:
Designed specifically for immersive learning, targeting educational outcomes.
Compatible with leading VR hardware, ensuring a smooth and enriched experience.
Supports real-time interactions, allowing for hands-on learning in a virtual space.
Cons:
Might be overwhelming for beginners unfamiliar with VR technologies.
Specialized focus on education may limit its use for other VR applications.
Requires compatible VR hardware, potentially raising the barrier to entry.
7. MARUI-PlugIn - Best for VR integration with Autodesk Maya
MARUI-PlugIn is a game-changer in the realm of 3D animation and design, serving as a bridge between virtual reality and Autodesk Maya. By delivering VR capabilities directly into Autodesk Maya's workflow, it emerges as the superior choice for those desiring VR integration with this software.
Why I Picked MARUI-PlugIn:
When I was determining the best VR integrations for Autodesk Maya, MARUI-PlugIn consistently surfaced as a top contender. Having compared it with other plugins, MARUI-PlugIn clearly stood out due to its specialization in VR content creation within Autodesk Maya. This distinct compatibility and focus are why I'm convinced it's "Best for VR integration with Autodesk Maya."
Standout features & integrations:
MARUI-PlugIn improves the 3D animation process by providing immersive VR capabilities. With features that allow real-time editing in a virtual space, animators can intuitively design and modify their creations. The tool integrates smoothly with Autodesk Maya, ensuring that users can transition effortlessly between traditional design methods and immersive VR experiences.
Pricing:
Pricing upon request.
Pros:
Offers an immersive experience, allowing animators to work directly within a 3D environment.
Integration with Autodesk Maya, minimizing the learning curve for users.
Supports a variety of VR headsets, including Oculus Rift and HTC Vive.
Cons:
May present a slight challenge for beginners unfamiliar with VR tools.
Dependence on Autodesk Maya limits its utility for those using other 3D design software.
Potential compatibility issues with older versions of Autodesk Maya.
8. Varwin - Best for VR project management
Varwin is a dedicated virtual reality software tailored for streamlining project management within the VR domain. Offering a comprehensive suite of tools, it simplifies VR content creation and coordination, making it an indispensable asset for VR project management.
Why I Picked Varwin:
In my quest to select the right tool for VR project management, Varwin consistently stood out from the pack. By comparing and judging various platforms, I formed the opinion that Varwin offers a unique blend of functionality tailored specifically for VR workflow optimization. This specialization and focus on the intricacies of VR project coordination are the reasons I firmly believe it's the "Best for VR project management."
Standout features & integrations:
Varwin integrates advanced VR content creation tools with project management functionalities, enabling real-time collaboration in a 3D environment. Its SDK offers flexibility for custom development, ensuring adaptability to specific project needs. The software is compatible with major VR headsets such as Oculus Rift and HTC Vive and also supports integration with game engines and other VR development tools.
Pricing:
Pricing upon request.
Pros:
Comprehensive VR project management tools streamline the entire workflow.
SDK allows for customization, catering to unique project requirements.
Broad compatibility with major VR hardware and development platforms.
Cons:
May be overwhelming for beginners due to its extensive features.
Requires specific VR hardware for optimal performance.
Integration with non-standard tools might require additional scripting or adjustments.
9. Cardboard - Best for affordable VR experiences
Cardboard, an initiative by Google, is a simple yet revolutionary tool that democratizes the VR experience. Offering a low-cost entry into the realm of virtual reality, it's perfectly poised for those seeking affordable VR solutions.
Why I Picked Cardboard:
In the vast landscape of VR tools, Cardboard caught my attention due to its sheer simplicity and cost-effectiveness. After determining and comparing multiple options, it became evident that Cardboard's straightforward approach to delivering virtual reality experiences was unparalleled. Its accessibility and affordability are why I'm convinced it's the "Best for affordable VR experiences."
Standout features & integrations:
Cardboard offers a user-friendly interface that allows users to dive into VR with just their smartphones. Its compatibility extends to various VR content, from 3D animations to virtual tours. Cardboard integrates with a variety of VR apps on both iOS and Android, making it a flexible tool for many.
Pricing:
Cardboard, as a physical product, doesn't adhere to the "$/user/month" pricing model. Instead, it's a one-time purchase, typically priced very affordably.
Pros:
Incredibly affordable compared to other VR headsets.
Compatible with a wide range of smartphones.
Extensive library of VR apps available for iOS and Android.
Cons:
Not as immersive as high-end VR headsets like HTC Vive or Oculus Rift.
Limited in terms of advanced features or integrations.
Relies heavily on the user's smartphone capabilities.
10. eevo - Best for interactive video creation
Eevo has emerged as a potent platform specializing in crafting interactive video experiences. By allowing users to blend traditional video elements with interactive features, it has positioned itself as an indispensable tool for those seeking to elevate their video content.
Why I Picked eevo:
In my quest to select the right tools, I judged and compared a plethora of platforms before deciding on eevo. Its unique approach to combining classic video creation with interactive elements caught my eye. Through careful determination and weighing my opinions, I concluded that eevo stands unmatched for those who prioritize interactivity in their videos, making it the "Best for interactive video creation."
Standout features & integrations:
Eevo boasts a rich suite of features that support high-quality interactive video production. Its intuitive authoring tools facilitate the fusion of animations, 3D environments, and traditional video elements. Notably, eevo's API allows integrations with various VR hardware, software development kits, and other third-party tools, improving compatibility and expanding creative horizons.
Pricing:
From $15/user/month (billed annually). However, this is a rough estimate based on available data. For precise pricing and tiers, one should contact the company or visit their official website.
Pros:
Enables the creation of rich, interactive video content.
Supports integration with a wide variety of VR hardware and SDKs.
Versatile authoring tools that cater to both beginners and professionals.
Cons:
Might have a steeper learning curve for those new to interactive video.
Annual billing might not appeal to everyone.
Requires regular updates for compatibility with the latest VR and AR platforms.
11. cognitive3D - Best for VR analytics and insights
Cognitive3D delivers comprehensive analytics for immersive VR experiences. This tool delves deep into user interactions within virtual environments, enabling creators to draw meaningful insights.
Why I Picked cognitive3D:
In my journey to discover the top tools in the VR analytics realm, cognitive3D emerged distinctly from the rest. After judiciously comparing numerous platforms, I opined that its profound data analysis approach and visualization tools truly differentiated it. I firmly believe that for those in search of in-depth analytics from their VR content, cognitive3D is unequivocally the "Best for VR analytics and insights."
Standout features & integrations:
Cognitive3D showcases an impressive ability to capture high-quality data in real-time from a user's interactions in VR environments. Its SDKs can be integrated into various development platforms, improving the scope of data collection. Furthermore, cognitive3D's compatibility with major VR headsets such as HTC Vive, Oculus Rift, and PlayStation VR ensures a broader reach for creators and analysts.
Pricing:
Pricing upon request.
Pros:
Real-time data collection from immersive VR experiences.
Broad compatibility with leading VR headsets and development platforms.
Comprehensive visualization tools that aid in deciphering complex data.
Cons:
May be overwhelming for beginners venturing into VR analytics.
Dependence on third-party integrations for certain data sources.
The need for frequent updates to stay in sync with rapidly evolving VR hardware.
12. VisualCamp - Best for gaze analytics and tracking
VisualCamp specializes in offering gaze-tracking analytics for immersive VR environments. This tool provides insights into user focus areas, enabling content creators to fine-tune their VR experiences accordingly.
Why I Picked VisualCamp:
When delving into the plethora of gaze analytics tools, VisualCamp captured my attention due to its robust features and user-friendly interface. I determined that its capability to extract precise data on where users are looking in a virtual space sets it apart from its competitors. Given this precision and thoroughness, it was clear to me that VisualCamp is the "Best for gaze analytics and tracking."
Standout features & integrations:
One of VisualCamp's stellar features is its real-time gaze tracking, offering insights the moment they're generated within the VR environment. Additionally, it boasts compatibility with leading VR headsets, including Oculus Rift and HTC Vive, ensuring comprehensive data capture. To facilitate workflows, VisualCamp integrates effortlessly with popular game engines and development platforms.
Pricing:
Pricing upon request.
Pros:
Accurate real-time gaze tracking within VR content.
Broad compatibility with major VR headsets.
Integrates with popular game engines and software development kits.
Cons:
Might require a learning curve for beginners.
Limited to gaze analytics and may need pairing with other tools for broader insights.
Frequent updates may be required to maintain compatibility with evolving VR hardware.
Other Noteworthy Virtual Reality Software
Below is a list of additional virtual reality software that I shortlisted, but did not make it to the top 12. Definitely worth checking them out.
Selection Criteria for Virtual Reality Software
In my journey of exploring the vast realm of virtual reality software, I've waded through an impressive number of tools to discern what truly stands out. I've tested each of these tools in various capacities, from diving into game environments to crafting the outlines of the next metaverse. After evaluating dozens of VR tools, I was primarily seeking robust core functionalities and certain key features that improve the overall user experience. Below, I delve into the specifics of what one should prioritize when looking for the best VR software.
Core Functionality:
Real-time Interaction: The software should allow users to interact within a VR environment without noticeable latency.
3D Modeling & Animation: Integration or compatibility with platforms like 3Ds max or SketchUp is crucial for those keen on detailed modeling and animation.
AR/VR Crossover: Ability to bridge the gap between augmented reality (AR) and virtual reality (VR), offering users a comprehensive immersive experience.
Gaming Environments: For the gamers out there, the software should facilitate the creation and navigation of gaming terrains and structures.
Connectivity to the Metaverse: As the digital universe expands, the software should enable users to craft or link with expansive virtual spaces known as the metaverse.
Key Features:
Platform Compatibility: The tool should be compatible with various VR hardware and platforms like Sony's PlayStation VR or Amazon's Sumerian.
Scalable Environments: The ability to craft both minute detailed structures and vast sprawling spaces.
Customizable Avatars: Allowing users to create and personalize their digital personas.
Collaborative Tools: Features that enable multiple users to interact, edit, or participate in the same virtual space simultaneously.
Usability:
Intuitive Interface: Given the immersive nature of VR, the software's interface should be straightforward, allowing users to navigate and interact with ease.
Quick Onboarding: Tools with step-by-step guides or tutorials facilitate a faster understanding and acclimatization process, especially for those new to VR.
Supportive Ecosystem: A robust community or customer support system ensures users can find solutions to their queries or challenges promptly. Moreover, tools like wikis or learning libraries aid in onboarding users and improving their VR journey.
Role-based Access & Controls: Especially vital for collaborative projects, the software should allow creators to define and customize access based on user roles or responsibilities.
With these criteria in mind, your search for the optimal VR software becomes more focused, ensuring you find a tool tailored to your unique needs and aspirations.
Most Common Questions Regarding Virtual Reality Software (FAQs)
What are the benefits of using the best virtual reality software?
Utilizing top-tier virtual reality software offers a plethora of advantages, including:
Immersive Experience: These tools provide users with a fully immersive 3D environment, allowing for a lifelike and interactive virtual experience.
Compatibility: High-quality VR software is typically compatible with a variety of VR headsets, such as Oculus Rift, HTC Vive, and PlayStation VR, offering users flexibility in their choice of hardware.
Enhanced Prototyping: Designers and developers can prototype virtual spaces, products, or experiences, allowing for testing and refinement before final deployment.
Interactive Tutorials: Some VR software includes tutorials and scripting capabilities, assisting users in both learning the platform and creating engaging content.
Integration & Development Features: These tools often come with SDKs, APIs, and integration with game engines, simplifying the development process and extending functionality.
How much do virtual reality software tools typically cost?
The cost of VR software varies widely based on its features, capabilities, and target audience. Pricing can range from free, open-source options to premium tools that cost several hundred dollars or more.
What are the typical pricing models for VR software?
There are several common pricing models for VR software:
Subscription-Based: A recurring fee is charged monthly or annually for using the software.
One-Time Purchase: Users pay a single upfront cost to own the software.
Freemium: A basic version of the software is offered for free, with advanced features available for a fee.
Pricing Upon Request: Some high-end or specialized tools may not have public pricing and require potential users to contact the company for a quote.
Is there a typical price range for virtual reality software?
Yes, the pricing for VR software typically starts from as low as $10/user/month for basic tools and can go up to several hundred dollars for advanced software solutions with comprehensive features.
Which are some of the cheapest VR software options?
Tools like VRChat and AltspaceVR are among the more affordable options, with basic features suitable for social VR experiences and interactions.
Which software is considered the most expensive in the VR domain?
Professional-grade software like Unreal Engine or Unity, when coupled with their premium features and additional assets, can be considered among the pricier options, especially for commercial use.
Are there any free virtual reality software tools available?
Yes, there are several free VR software options available. Open-source platforms like A-Frame or tools with a freemium model like VRChat offer basic functionalities without any cost. However, advanced features or assets may come with additional fees.
Other Virtual Reality Software Reviews
Summary
In the evolving landscape of digital experiences, virtual reality (VR) software stands out as a pivotal tool for immersive content creation, interaction, and visualization. Choosing the right software is crucial, as the market offers a vast array of options tailored to different needs, from gaming and social interaction to professional development and prototyping. The benefits of using high-quality VR software are undeniable, from the depth of immersion they provide to their expansive compatibility with various VR hardware.
Key Takeaways for Choosing the Best Virtual Reality Software:
Define Your Use Case: Understand what you primarily need the VR software for. Whether it's for game development, architectural visualization, or social VR spaces, pick a tool that aligns best with your objectives.
Consider Pricing and Compatibility: While there are free options available, ensure you're aware of any limitations. Also, ensure the software is compatible with your chosen VR hardware, be it Oculus Rift, HTC Vive, or any other.
Prioritize Features and Support: Look for software that offers essential features like a user-friendly interface, integration capabilities, and robust support, whether through tutorials, community forums, or customer service.
By keeping these points in mind, you can navigate the myriad of options available and select the VR software that best complements your goals and requirements.
What do you think?
I've done my best to provide a comprehensive guide based on my experiences and evaluations. However, the world of virtual reality software is vast and constantly evolving. If you've come across a tool or software that you believe deserves a spot on this list or offers unique features, please share your insights!
Your input will help not only me but also our entire reader community in making informed decisions. Let's continue this conversation and explore the expansive universe of VR together.