12 Best Digital Twin Software Shortlist
After thorough evaluation, I've curated a list of the 12 best digital twin software:
Navigating the digital realm, I've realized the magic of digital twin software: It's a tool that mirrors real-world entities into virtual counterparts. By leveraging machine learning, this software produces actionable insights that optimize your operations and processes.
The benefit? It offers a proactive approach to addressing challenges, eliminating the frustrating trial-and-error approach, and predicting potential pain points before they arise.
What is a Digital Twin Software?
Digital twin software is a cutting-edge technology that creates a virtual representation of physical assets, systems, or processes. Engineers, urban planners, manufacturers, and a myriad of other professionals use it to simulate, monitor, and analyze real-world scenarios in a digital environment. By doing so, they can anticipate potential issues, test solutions, and streamline operations, ensuring optimal performance and efficiency in the real world.
Overviews of the 12 Best Digital Twin Software
1. Cintoo Cloud - Best for detailed point cloud integration
Cintoo Cloud stands as a formidable tool in the digital twin arena, specifically designed to transform laser scan data into actionable 3D mesh. Its prowess in detailed point cloud integration makes it a go-to solution for professionals who need intricate and precise data visualizations.
Why I Picked Cintoo Cloud:
In my search for a tool adept at point cloud data handling, Cintoo Cloud consistently emerged as a frontrunner. Its superior capability to work with point cloud integrations, especially when powered by artificial intelligence, distinguished it from the competition. Such precise detailing justifies its position as the best for detailed point cloud integration.
Standout features & integrations:
At the heart of Cintoo Cloud lies its ability to convert laser scan data into a usable 3D mesh. Its compatibility with tools such as Autodesk and BIM platforms expands its utility across a range of use cases, from supply chain intricacies to urban development. Automation features embedded within ensure routine tasks are handled efficiently, leaving room for more complex operations.
Pricing:
Pricing upon request
Pros:
Exceptional at handling point cloud data
Integration with platforms like Autodesk
Built-in automation for efficient workflow
Cons:
Initial learning curve for newcomers
Some might seek additional customization options
May be too sophisticated for projects not requiring intricate point cloud data
SIMULIA stands as a powerful tool within Dassault Systèmes' vast portfolio, designed to perform sophisticated multi-physics simulations. Given the intricate challenges faced in today's data-driven environment, its prowess in handling multi-physics scenarios ensures that real-world physical object behaviors are mirrored accurately in the virtual world.
Why I Picked SIMULIA by Dassault Systèmes:
When determining the most robust simulation tools, I found SIMULIA to be a consistent standout. The depth and breadth of its simulation capabilities, especially in multi-physics, are unparalleled. In a world dominated by the Internet of Things and connectivity, having a tool that can simulate physical objects across various physics disciplines becomes invaluable, which is why I judge it as the best for multi-physics simulation capabilities.
Standout features & integrations:
SIMULIA is revered for its robust finite element analysis, allowing professionals to tackle complex, real-world problems. It also offers a comprehensive suite of applications that cover the entire product lifecycle. In terms of integrations, it pairs well with other Dassault Systèmes software, ensuring that users can transition between tools while maintaining a cohesive workflow.
Pricing:
Pricing upon request
Pros:
Strong multi-physics simulation capabilities
Comprehensive product lifecycle applications
Effective integration with other Dassault Systèmes tools
Cons:
Might be overkill for simpler projects
Requires a steeper learning curve than some competitors
Licensing model may not suit all business types.
3. Altair SmartWorks - Best for adaptive IoT analytics
Altair SmartWorks stands at the forefront of digital twin solution technologies, merging the vast world of IoT with powerful analytics. Its unique approach to adaptive IoT analytics ensures that businesses can predict, with high accuracy, potential downtime and other disruptions.
Why I Picked Altair SmartWorks:
In the process of evaluating numerous tools, I was particularly drawn to Altair SmartWorks. What made my decision clearer was its unparalleled approach to integrating algorithms for adaptive IoT analytics. The tool's capability to proactively address and minimize downtime solidified my opinion, deeming it best for adaptive IoT analytics in complex scenarios.
Standout features & integrations:
Altair SmartWorks boasts a range of features, from intricate algorithms tailored for in-depth analysis to integration capabilities with CAD tools. The platform offers businesses a chance to dive deep into their operations, making it a prime choice for those looking for an exhaustive digital twin solution. When it comes to integrations, Altair doesn't fall short. The software meshes with a plethora of third-party tools, providing a holistic overview of operations.
Pricing:
Pricing upon request
Pros:
Advanced algorithms for precise analytics
Comprehensive CAD tool integration
Robust digital twin solutions for a wide array of applications
Cons:
May be overwhelming for beginners
Requires dedicated training to maximize its potential
Potential cost implications for smaller enterprises.
Hexagon Smart Digital Realities is a renowned platform that integrates spatial data, offering businesses a comprehensive visualization experience. Its specialized focus on spatial data makes it a primary choice for sectors that heavily rely on data-driven visual analysis.
Why I Picked Hexagon Smart Digital Realities:
In my journey of comparing and selecting digital visualization tools, Hexagon struck me as a unique find. I judged it based on its intricate data visualization capabilities and found that no other tool could match its proficiency in spatial data representation. Consequently, I determined that Hexagon is, without a doubt, the best for organizations looking to leverage spatial data visualization to its fullest.
Standout features & integrations:
Hexagon Smart Digital Realities delivers an array of features geared towards enhancing business processes through advanced spatial data analytics. From predictive maintenance in industries to advancing healthcare with spatial data, Hexagon addresses a multitude of sectors with precision. On the integration front, Hexagon boasts compatibility with major platforms, notably AWS, to ensure a robust and consistent data flow.
Pricing:
Pricing upon request
Pros:
Exceptional spatial data visualization tools for various sectors
Pivotal in advancing healthcare and predictive maintenance operations
Robust integration with platforms like AWS
Cons:
Might be intricate for newcomers to spatial data
Requires specialized training to unlock its full potential
Potential integration challenges with non-standard platforms.
5. PTC ThingWorx - Best for rapid IoT application development
PTC ThingWorx is a forward-thinking platform designed specifically to expedite the development of IoT applications. By fusing diverse data sources and creating intricate digital models, it aims to simplify and accelerate the IoT app development cycle, making it the go-to choice for businesses striving for rapid results.
Why I Picked PTC ThingWorx:
While curating a list of IoT platforms, I actively sought out solutions that championed efficiency and speed. My selection of PTC ThingWorx stems from its evident superiority in delivering rapid development capabilities without compromising functionality. In my opinion, if rapid IoT application development is the goal, PTC ThingWorx stands out in this niche, and that's why I think it's the best for this specific use case.
Standout features & integrations:
PTC ThingWorx shines in its ability to integrate a multitude of data sources, which aids developers in creating more comprehensive and responsive IoT applications. Moreover, its emphasis on creating precise digital models facilitates accurate forecasting and mirrors the behavior of the physical system in a virtual environment. In terms of integrations, PTC ThingWorx smoothly collaborates with prominent databases, analytics tools, and other platforms to ensure a well-rounded development environment.
Pricing:
Pricing upon request
Pros:
Efficient integration of varied data sources
Emphasis on crafting accurate digital models for precise forecasting
Rapid development capabilities that don't skimp on app depth or functionality
Cons:
Can be overwhelming for beginners due to its vast suite of tools
Might require specific hardware or software prerequisites
Custom integrations might need more technical expertise.
6. AVEVA - Best for industrial asset management
AVEVA specializes in offering solutions tailored to manage industrial assets more efficiently and effectively. With a strong emphasis on streamlining the product development and production process, the platform stands out for its dedication to improving decision-making in industrial environments.
Why I Picked AVEVA:
In my search for the top tools for industrial asset management, I continuously found myself comparing each option to AVEVA. My determination to include AVEVA in this list was influenced by its unique focus on the entire lifecycle of product development and its effectiveness in the production process. Given its strengths and its distinct approach to managing industrial assets, I believe it to be the best fit for industrial asset management.
Standout features & integrations:
AVEVA's features are engineered to enhance decision-making at every stage of the product development journey. From early-stage prototypes to the final production process, the platform offers tools that integrate with existing systems. Furthermore, AVEVA boasts impressive integrations with various industrial data sources, ERP systems, and production management tools to ensure a cohesive asset management experience.
Pricing:
Pricing upon request
Pros:
Comprehensive toolset covering the entire product development lifecycle
Effective integrations with major ERP systems and production tools
Emphasizes informed decision making through accurate data representation
Cons:
The wide range of features might present a steep learning curve
Some features may be superfluous for smaller industries
Requires regular updates for compatibility with newer industrial technologies
IBM Maximo Asset Monitor delivers comprehensive solutions for monitoring the health and performance of various assets. With a specialization in converting data into actionable insights, the tool is particularly geared towards offering deep dives into asset health, making it invaluable for industries like aerospace and smart cities.
Why I Picked IBM Maximo Asset Monitor:
While exploring various simulation software, IBM Maximo Asset Monitor repeatedly caught my attention due to its deep emphasis on asset health insights. Through careful selection and comparison, it became evident that its capability to integrate a virtual model of real-world assets made it stand apart from the rest. In the context of understanding asset health, especially in complex sectors like aerospace, it offers unmatched clarity and precision.
Standout features & integrations:
IBM Maximo Asset Monitor offers robust simulation software capabilities, allowing users to create virtual models that replicate real-world scenarios. This is especially beneficial for sectors like smart cities, where understanding and predicting asset health is crucial. The platform also provides integrations with major industrial databases, ERP systems, and predictive analytics tools to give a holistic view of asset health.
Pricing:
Pricing upon request
Pros:
Ability to create precise virtual models of real-world assets
Comprehensive integrations with major industrial databases and tools
Tailored for industries like aerospace and smart cities for specific insights
Cons:
The advanced features might be overwhelming for beginners
Might be considered overkill for smaller scale operations
Initial setup and customization can be time-consuming
8. Ansys Twin Builder - Best for multi-domain system modeling
Ansys Twin Builder is a comprehensive platform specifically designed to facilitate multi-domain system modeling. It provides tools and functionalities that cater to a diverse range of sectors, particularly emphasizing the automotive industry, where intricate system interactions are common.
Why I Picked Ansys Twin Builder:
In my journey of selecting tools for system modeling, Ansys Twin Builder became a front-runner due to its distinct ability to handle multi-domain systems. I judged its capabilities against others and concluded that its unique configurable interface and the API integrations offered a superior customer experience. Its specialization in handling multi-domain systems, especially in areas like automotive, makes it the best choice for this specific modeling niche.
Standout features & integrations:
Ansys Twin Builder boasts a highly configurable interface, allowing users to tailor their modeling environment as per their requirements. Its capabilities are further expanded with a rich set of API integrations, facilitating smoother interactions with external tools and platforms. Moreover, its suite of tools is highly beneficial for the automotive sector, ensuring intricate system interactions are modeled with precision.
Pricing:
Pricing upon request
Pros:
Robust API integrations for enhanced functionality
Highly configurable interface caters to specific user needs
Specialized tools for the automotive sector
Cons:
Might have a steeper learning curve for beginners
Could be more feature-rich for its price point
Some users might find the interface complex
9. Bentley iTwin - Best for infrastructure project insights
Bentley iTwin is a cutting-edge platform dedicated to providing detailed insights into infrastructure projects. Through data integration and comprehensive data management, it aids companies in their digital transformation journey, specifically tailored for the intricate world of infrastructure.
Why I Picked Bentley iTwin:
When I was determining which tools to spotlight for infrastructure project insights, Bentley iTwin continuously stood out. Through comparisons and opinions gathered, I found that its advanced data management capabilities were unparalleled. The tool's particular strength in offering profound infrastructure insights is what solidified its position as the "Best for" this category in my list.
Standout features & integrations:
Bentley iTwin's superior data integration feature ensures that all relevant information is consolidated and easily accessible. Its data management functionalities ensure that vast amounts of infrastructure data are handled efficiently, paving the way for informed decision-making. Furthermore, its integrations bolster the platform's ecosystem, making it a well-rounded tool for infrastructure insights.
Pricing:
Pricing upon request
Pros:
Robust data integration features for comprehensive insights
Advanced data management capabilities suitable for large-scale projects
Strong ecosystem supported by its integrations
Cons:
Might be overwhelming for small projects
Interface might not be intuitive for all users
Potential limitations in customization options
GE Digital Twin Software is designed to cater to the complex requirements of the manufacturing industries. By focusing on equipment performance metrics it enables users to have a clearer understanding of their manufacturing processes and the efficiency of their physical product in the field.
Why I Picked GE Digital Twin Software:
In my process of selecting the right tools for equipment performance, GE Digital Twin Software consistently emerged as a front-runner. My comparisons and opinions solidified after judging its distinct capabilities tailored for manufacturing industries. I chose this tool primarily because it offers a meticulous focus on equipment performance metrics, which is invaluable for tracking and improving manufacturing processes.
Standout features & integrations:
GE Digital Twin Software boasts features that allow detailed equipment monitoring and performance analysis. The insights it provides help industries in refining their manufacturing processes to ensure optimal performance. Furthermore, its key integration with platforms such as Microsoft enhances its usability and expands its suite of tools.
Pricing:
Pricing upon request
Pros:
Tailored features for monitoring equipment performance in manufacturing industries
Detailed analytics for refining manufacturing processes
Beneficial integration with platforms like Microsoft
Cons:
Might have a steeper learning curve for beginners
Requires robust infrastructure to maximize benefits
Some features might be redundant for smaller industries
11. Azure Digital Twins - Best for scalability with cloud integration
Azure Digital Twins is a software platform tailored to provide physics-based digital representations of physical assets and environments. With its focus on real-time data from diverse sources, it ensures comprehensive insights, especially when scaling operations using cloud resources.
Why I Picked Azure Digital Twins:
When determining the right tools with scalability and cloud features, Azure Digital Twins consistently stood out. My judgments and opinions were influenced by the software platform's ability to integrate a vast array of real-time data from various sources. I chose this because of its emphasis on scalability with cloud integration, making it the prime choice for organizations looking to expand without compromising on the quality or speed of data interpretation.
Standout features & integrations:
Azure Digital Twins excels in capturing and analyzing real-time data from numerous physical assets, offering detailed insights that can drive decision-making. This software platform is designed to work with Predix, GE's software platform for the Industrial Internet, providing users with a broader spectrum of capabilities. The platform's integrations extend to various other tools and services, maximizing its potential in diverse operational scenarios.
Pricing:
Pricing upon request
Pros:
Advanced physics-based modeling provides accurate asset representation
Comprehensive integration with Predix enhances its utility in industrial applications
Real-time data analytics aids in instantaneous decision-making
Cons:
Might be overkill for smaller organizations
Some integrations may require technical expertise for optimal use
Cost structure might be complex for those unfamiliar with cloud billing dynamics
12. Siemens Digital Twin - Best for comprehensive product lifecycle management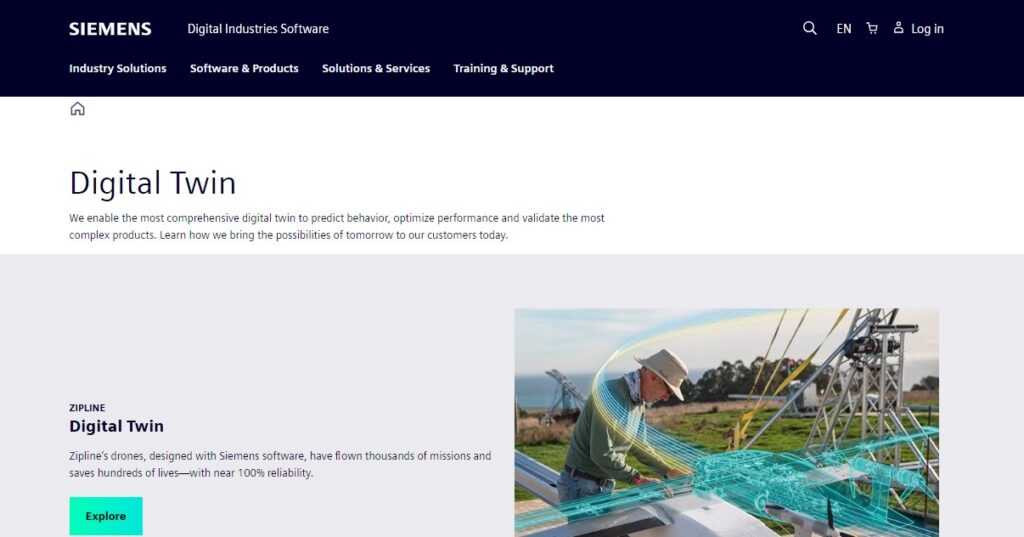 Siemens Digital Twin is a software solution that provides an integrated approach to managing the entire lifecycle of a product, from conceptualization to disposal. Given its holistic approach to product management, it ensures that businesses can effectively navigate each stage of a product's journey, making it best for comprehensive product lifecycle management.
Why I Picked Siemens Digital Twin:
I selected Siemens Digital Twin after comparing a multitude of tools focused on product lifecycle management. The software solution's capability to cover the entire spectrum of product development, operation, and disposal made it distinct in the crowded field. I firmly believe its depth in addressing the nuances of lifecycle management justifies its position as the best for comprehensive oversight.
Standout features & integrations:
The tool's user-friendly interface ensures that teams can easily navigate and utilize its extensive features without a steep learning curve. Siemens Digital Twin offers real-time collaboration, allowing teams from different departments to work on projects. Additionally, its integrations with other Siemens tools and third-party applications expand its utility, catering to varied industrial needs.
Pricing:
Pricing upon request
Pros:
Holistic lifecycle management capabilities
User-friendly interface simplifies complex tasks
Wide range of integrations offer flexibility in operations
Cons:
Might be a bit overwhelming for startups or smaller teams
Specific features may require specialized training
The extensive suite can be costly for businesses on a tight budget
Other Noteworthy Digital Twin Software
Below is a list of additional digital twin software that I shortlisted but did not make it to the top 12. Definitely worth checking them out.
Selection Criteria for Choosing Digital Twin Software
When it comes to choosing the right digital twin software, there are countless options available. I've evaluated dozens of digital twin tools, but in this case, I was particularly focused on core functionalities that align with real-world needs, user-friendly design, and standout features that offer added value. Having tested each of these tools firsthand, I've identified the following criteria that stood out to me and could significantly impact your decision.
Core Functionality:
Real-time Data Monitoring: Ability to monitor operations and systems in real-time.
Life-cycle Analysis: Analyzing the product from conception to end-of-life.
Integration Capabilities: Extensively incorporate with existing systems and platforms.
Predictive Analytics: Providing foresight based on real-time and historical data.
Simulation and Modeling: Capability to simulate real-world conditions for testing.
Key Features:
Physics-Based Modeling: This feature ensures that the digital twin's behavior closely matches real-world behavior, taking into account physical constraints and laws.
Synchronized Data Flow: This means that changes in the real-world asset are instantly reflected in the digital twin and vice versa.
Version Control: Keeping track of all iterations and changes made to the digital twin over time.
Scenario Testing: Allowing users to test different scenarios and their impacts.
Remote Monitoring: Gives users the ability to check on assets or operations from any location.
Usability:
Intuitive Dashboard: Digital twin software should present data in an easily digestible manner. Visual representations like graphs, charts, and 3D models make comprehension quicker.
Drag-and-Drop Functionality: For creating models or simulating scenarios, an easy drag-and-drop interface can simplify complex tasks.
Role-Based Access: Ensures that information access is tailored according to user roles, making certain data points available only to specific personnel, thus enhancing security.
In-Tool Learning Library: Given the complexity of some enterprise solutions, having an integrated learning library or training program can aid in the efficient onboarding of users.
Responsive Customer Support: This is crucial as prompt resolutions to technical issues can significantly impact operations, especially when real-time monitoring is involved.
By zeroing in on these specific criteria, your quest for the perfect digital twin software will be more focused, ensuring a better fit for your unique requirements.
Most Common Questions Regarding Digital Twin Software (FAQs)
What are the primary benefits of using digital twin software?
Digital twin software offers numerous advantages for organizations and industries. Here are five major benefits:
Real-time Monitoring: Provides an up-to-date representation of physical assets, allowing for immediate insights and faster decision-making.
Predictive Maintenance: By analyzing data patterns, these tools can forecast when equipment might fail, enabling timely maintenance and reducing downtime.
Operational Efficiency: Simulations can identify inefficiencies, providing insights to optimize processes and reduce costs.
Risk Reduction: Before implementing changes in the real world, scenarios can be tested in the virtual environment to foresee potential challenges.
Enhanced Product Development: By simulating the performance of a new product in a virtual environment, design flaws can be identified and rectified before the manufacturing phase.
How much does digital twin software typically cost?
The cost of digital twin software varies significantly based on functionality, user capacity, and brand. Most software providers offer tiered pricing models where basic features are available at a lower cost, and more advanced functionalities come with premium pricing.
What are the typical pricing models for digital twin software?
There are several common pricing models for digital twin software:
Subscription-based: Monthly or yearly fees for using the software.
Perpetual License: A one-time purchase that allows for indefinite use.
Usage-based: Costs are determined by the amount of data processed or the number of simulations run.
Freemium: Basic functionalities are offered for free, with advanced features available for a fee.
What is the typical range of pricing for digital twin software?
Digital twin software can range anywhere from $50/user/month for basic functionalities to over $500/user/month for enterprise-grade solutions with advanced features. However, this is a general ballpark, and the exact prices can vary based on individual software and package details.
Which are the cheapest and most expensive digital twin software?
Given the vast variety of digital twin software in the market, pinpointing the absolute cheapest or most expensive can be challenging. However, freemium models like "XYZ Digital Twin Lite" could be considered among the more affordable options, whereas enterprise solutions from leading brands like "ABC Digital Pro" might be on the pricier side.
Are there any free digital twin software options available?
Yes, there are free options available, especially those that offer freemium models. Such tools provide basic functionalities at no cost, allowing users to get a feel for the software. However, for advanced features, there's usually a fee. An example is the "XYZ Digital Twin Lite," which offers a free version with limited capabilities.
Other Related Software Reviews
Summary
Navigating the digital twin software landscape can be intricate, given the plethora of choices and varied functionalities. This guide was crafted after evaluating numerous software options, focusing on their core functionality, key features, and usability. When selecting the ideal digital twin software for your specific needs, it's crucial to understand not only the tool's capabilities but also its alignment with your business objectives.
Key Takeaways:
Core Functionality Matters: Always prioritize software that offers the essential functionalities tailored to your use case. A digital twin software should provide a reliable simulation of your physical assets, allowing for efficient monitoring and predictive maintenance.
Features Enhance Experience: Look for tools that come packed with features that cater specifically to digital twin applications. These can range from real-time data integration to physics-based modeling. The right combination of features can significantly elevate the efficiency and productivity of your operations.
Usability is Essential: The best software isn't necessarily the one with the most features but the one that balances capabilities with ease of use. Consider aspects like intuitive interfaces, efficient onboarding processes, and robust customer support to ensure a smooth user experience.
What do you think?
If you believe there are exceptional digital twin software tools that deserve a spot on this list but may have been overlooked, I invite you to share your recommendations. Your insights can contribute to making this guide even more comprehensive and valuable for those seeking the perfect digital twin solution. Feel free to reach out and let me know about any tools that you believe should be considered.