12 Best Email Encryption Service Shortlist
After extensive evaluation, I've curated the top 12 email encryption services to address your email security challenges.
Navigating the realm of email clients, from Apple Mail to Yahoo, I've realized the significance of cybersecurity in Android, iOS, and Windows devices. It's not just about safeguarding against hackers; it's about ensuring emails—whether for personal use or under HIPAA guidelines—are encrypted using transport layer security (TLS) and solid cryptography.
The ideal secure email service offers cloud storage, an integrated address book, and even custom domains while valuing ease of use. With the increasing emphasis on privacy laws, leveraging private and public keys in tandem with a VPN becomes vital. Amidst this, the allure of a free plan from a secure email provider can't be overlooked. The goal? A tool that blends privacy and functionality, keeping communications shielded and ensuring users remain compliant.
What Is an Email Encryption Service?
Email encryption services are specialized tools designed to protect the content of email messages and attachments from unauthorized access. These services encode the email's content, making it readable only to the intended recipient who has the necessary decryption key.
While anyone with an email account can benefit from these tools, they are particularly favored by businesses, professionals handling sensitive data, and individuals concerned about privacy. The primary purpose is to safeguard information from potential cyber threats, data breaches, or any unintended interceptions, ensuring the confidentiality and integrity of electronic communications.
Overviews of the 12 Best Email Encryption Services
1. Spike - Best for converging email and chat into one
Spike presents an innovative approach to communication, melding the formal structure of email with the immediacy of chat. Its unique layout is designed for those who crave the fluidity of chat but can't detach from the necessity of emails.
Why I Picked Spike:
Having evaluated a plethora of email tools, Spike caught my attention due to its distinct offering. I chose it because, in my assessment, it fills a gap that many didn't even recognize existed. The convergence of chat and email in Spike addresses the constant juggle between two platforms, making it the solution I determined as best for a consolidated communication experience.
Standout Features & Integrations:
At its core, Spike is powered by Conversational Email which reshapes how users perceive and interact with emails, translating them into a chat-like format. The Priority Inbox is another feather in its cap, organizing emails based on relevance to cut through the noise. On the integration front, Spike collaborates with popular services such as Google Drive, Dropbox, and OneDrive, bridging the gap between communication and file sharing.
Pricing:
From $7.99/user/month (billed annually)
Pros:
A unique blend of chat and email on one platform
Priority Inbox effectively categorizes incoming mail
Embedded tools like calendars and tasks for comprehensive management
Cons:
Might feel unconventional to some traditional email users
Premium features are gated behind the subscription model
The absence of a dedicated chat space may not appeal to everyone
2. NeoCertified - Best for integrated secure email APIs
NeoCertified offers an advanced solution for encrypted communication, emphasizing API integration. Built with developers and businesses in mind, it's tailor-made for those who seek to embed secure email functionality within their existing platforms.
Why I Picked NeoCertified:
Through rigorous comparison and judgment, I found NeoCertified to stand out, especially in the realm of API-focused email encryption. It's not just another tool; its emphasis on integration with other platforms sets it apart. Hence, I believe it's the best for those needing comprehensive secure email APIs.
Standout Features & Integrations:
NeoCertified boasts a Secure Email API that lets developers incorporate encrypted email functionality into software and apps. They also provide a Secure Contact Form for websites, ensuring encrypted communications from the get-go. The integrations notably include popular CRM platforms, ensuring businesses don't miss out on essential communications while keeping them secure.
Pricing:
Pricing upon request
Pros:
Secure Email API facilitates developer integration
Compatibility with several CRM platforms
Offers additional tools like Secure Contact Form
Cons:
Pricing transparency is limited
Might be over-comprehensive for individual users
The steeper learning curve for non-tech-savvy individuals
3. Mimecast - Best for large enterprise email security
Mimecast stands tall as a holistic solution for email security, specially tailored for big enterprises. Given its scalability and comprehensive approach, it's an ideal fit for businesses with vast networks needing robust protection.
Why I Picked Mimecast:
Upon evaluating multiple enterprise-grade encryption solutions, Mimecast continually appeared at the top of my list. I chose it due to its sterling reputation and ability to handle the complexities of large-scale operations. Mimecast, in my opinion, is the go-to for enterprises demanding top-tier email security.
Standout Features & Integrations:
Mimecast delivers a multi-layered approach to email security, encompassing protection from malware, phishing, and impersonation attacks. Additionally, it offers continuity solutions to ensure uninterrupted email access. Integration capabilities stretch across various enterprise software suites, enhancing its value in large-scale ecosystems.
Pricing:
From $3/user/month (min 50 seats)
Pros:
Comprehensive enterprise-level protection
A multi-layered approach to threats
A wide array of integrations with enterprise solutions
Cons:
Might be overkill for small businesses
Complexity requires dedicated IT personnel
Some features may not be used by every organization
4. FlowCrypt - Best for PGP encryption in Gmail
FlowCrypt simplifies the concept of PGP encryption for Gmail users. With an emphasis on user-friendliness, it bridges the gap between advanced email security and everyday Gmail communications.
Why I Picked FlowCrypt:
The beauty of FlowCrypt lies in its simplicity, and after comparing various PGP solutions, this one felt the most accessible. I appreciate how it integrates with Gmail, making it the tool I believe is best for individuals wanting to dip their toes into the PGP world without wading into technical complexities.
Standout Features & Integrations:
At its heart, FlowCrypt is about enabling PGP encryption directly within the Gmail interface. Users can encrypt, decrypt, sign, and verify emails with ease. While primarily designed for Gmail, its compatibility extends to Google Workspace, allowing businesses to take advantage of PGP encryption without the usual hassles.
Pricing:
From $5/user/month (billed annually)
Pros:
Intuitive PGP encryption within Gmail
Compatible with Google Workspace
Ensures end-to-end encrypted communications
Cons:
Limited to the Gmail ecosystem
Advanced users might seek more granular controls
Larger teams might require additional setup
5. Tutanota - Best for end-to-end encrypted mailboxes
Tutanota is an innovative email service that offers total encryption for users' mailboxes. Prioritizing security and privacy, it emerges as a top choice for those wanting comprehensive protection of their emails from start to finish.
Why I Picked Tutanota:
In the process of determining which email services offer superior security features, Tutanota consistently drew my attention. What makes it truly distinct is its unwavering commitment to end-to-end encryption. I'm convinced that for those who value encrypted mailboxes above all, Tutanota is the optimal choice.
Standout Features & Integrations:
Tutanota stands out with its automatic end-to-end encryption for emails, even including attachments and calendars. Users don't need to share or exchange any keys, as the platform manages this internally. While primarily a standalone service, it offers integration with several third-party applications to enhance user experience.
Pricing:
From $1.34/user/month (billed annually)
Pros:
Comprehensive end-to-end encryption
Encrypted calendar included
Open-source code ensures transparency
Cons:
Limited integrations compared to competitors
The interface might be plain for some
Migration from other platforms can be tedious
6. Zix Email Encryption - Best for policy-based email encryption
Zix is a powerhouse in the realm of email encryption, specifically focusing on policy-driven solutions. Catering to businesses that require flexibility in setting encryption rules, Zix is the go-to for those who prioritize policy-based controls.
Why I Picked Zix Email Encryption:
After comparing several email encryption platforms, I selected Zix primarily because of its robust policy-based features. Its ability to let businesses set their encryption standards is unparalleled. I'm of the opinion that Zix is the frontrunner for organizations keen on dictating their encryption policies.
Standout Features & Integrations:
Zix boasts a policy-based encryption mechanism that lets businesses decide when and how emails are encrypted. The tool also provides automatic scanning of outbound emails to ensure compliance. Additionally, it integrates with many business software suites, making it a versatile tool in the corporate setting.
Pricing:
Pricing upon request
Pros:
Advanced policy-based encryption controls
Automatic scanning for compliance
Wide-ranging integration capabilities
Cons:
Pricing is not transparent
Might be too complex for small businesses
Initial setup can be time-consuming
7. Barracuda - Best for layered defense against email-borne threats
Barracuda champions a multi-faceted approach to email security. By offering multiple layers of defense against varied email threats, it's the ideal solution for businesses wanting a comprehensive shield against malicious actors.
Why I Picked Barracuda:
My judgment, after a thorough comparison of email security platforms, consistently leaned towards Barracuda due to its comprehensive layered defense. I believe it stands apart in defending against an array of email-borne threats. For organizations that seek a holistic email protection suite, Barracuda is my top recommendation.
Standout Features & Integrations:
Barracuda delivers protection against phishing, malware, and ransomware through its multi-layered approach. Not only does it filter inbound threats, but it also educates users through simulations to recognize potential risks. Its integration capabilities are vast, covering a wide range of enterprise solutions to ensure smooth operations.
Pricing:
From $0.98/user/month (min 10 seats)
Pros:
Comprehensive defense against varied threats
User awareness training through simulations
Extensive integration possibilities
Cons:
Some features may overlap with existing tools
Requires dedicated staff for maximum efficiency
Initial configuration can be intricate
8. StartMail - Best for keeping personal data private
StartMail is a privacy-centric email service designed to protect users' personal data. With a focus on shielding individual information, it offers an environment where email communications remain private and free from prying eyes.
Why I Picked StartMail:
In evaluating email services that prioritize privacy, StartMail became a clear choice. It was its distinct emphasis on ensuring personal data remains private that caught my attention. Based on my analysis, those who prioritize their individual privacy above everything else would find StartMail to be the perfect fit.
Standout Features & Integrations:
Key features of StartMail include its use of state-of-the-art encryption methods and a commitment to not tracking users or their data. While it champions privacy, it doesn't offer as many third-party integrations, focusing instead on maintaining a secure environment.
Pricing:
From $5/user/month (billed annually)
Pros:
Dedicated to user data privacy
Robust encryption methods
No tracking policies
Cons:
Limited third-party integrations
The interface might be basic for some users
No mobile application
9. ProtonMail - Best for Swiss-based secure emailing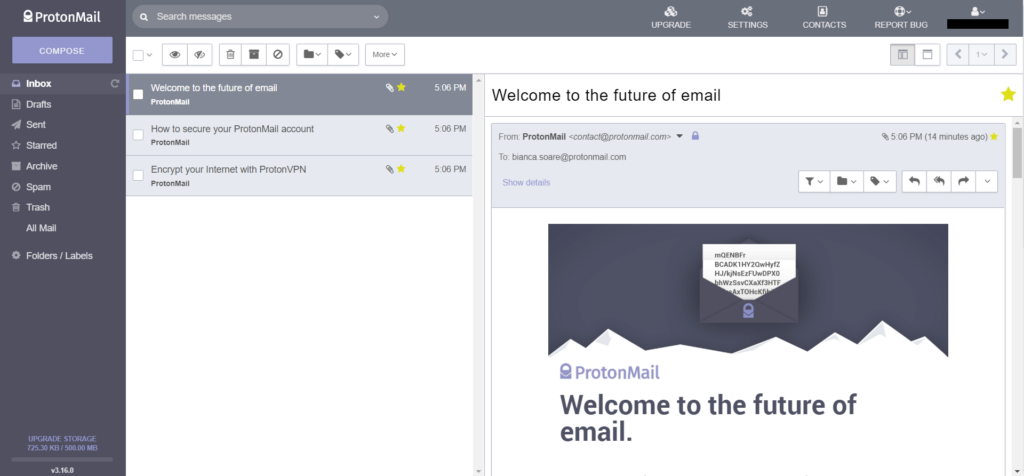 ProtonMail is a security-focused email service based in Switzerland, renowned for its robust data protection laws. Leveraging the strengths of Swiss regulations, it provides a platform for secure emailing without compromising user data.
Why I Picked ProtonMail:
When I was comparing email platforms known for security, ProtonMail consistently surfaced at the top. It's the Swiss foundation that gives it an edge, making it different from its counterparts. In my opinion, those wanting the assurance of Swiss-based email security should look no further than ProtonMail.
Standout Features & Integrations:
ProtonMail offers end-to-end encryption, ensuring emails remain confidential. The self-destructing messages feature enhances privacy further. However, to maintain its security ethos, ProtonMail offers limited third-party integrations.
Pricing:
From $4/user/month (billed annually)
Pros:
End-to-end encryption
Benefits from Swiss data protection laws
Self-destructing email feature
Cons:
Limited integration options
The free version has storage limitations
No support for POP3, only IMAP
10. RMail - Best for legal proof of encrypted email delivery
RMail is designed to offer secure and encrypted email services with an added advantage: legal proof of delivery. This makes it a top choice for professionals requiring evidence that their encrypted emails were not only sent but also delivered and opened.
Why I Picked RMail:
In my process of selecting email platforms for specific use cases, RMail stood out for its unique offering. It wasn't just the encryption that was impressive but the provision of legal proof of delivery. I deem RMail to be the prime option for those in professions where such evidence is crucial.
Standout Features & Integrations:
The centerpiece of RMail is its Registered Email™ technology that provides legal proof of delivery and content. Additionally, RMail offers electronic signatures and large file sharing. It integrates well with popular platforms such as Outlook, making it a suitable choice for many businesses.
Pricing:
Pricing upon request
Pros:
Provides legal proof of encrypted email delivery
Electronic signature feature
Integrates with common email platforms
Cons:
Pricing isn't transparent
Might be overkill for casual users
UI could be more intuitive
Proofpoint Email Protection is a security-focused solution designed to safeguard organizations from email threats. Its robust framework excels in keeping malicious actors at bay, especially in advanced threat scenarios.
Why I Picked Proofpoint Email Protection:
During my exploration of email security solutions, Proofpoint Email Protection consistently stood out due to its comprehensive coverage against advanced threats. What makes this tool different is its intricate and layered approach to detecting and combating sophisticated attacks. In my assessment, for organizations keen on ensuring top-tier defense against advanced email threats, Proofpoint remains unmatched.
Standout Features & Integrations:
Proofpoint boasts dynamic email analysis, granular filtering controls, and threat intelligence. It integrates smoothly with many enterprise systems, ensuring that protection goes hand in hand with day-to-day operations.
Pricing:
Pricing upon request
Pros:
Comprehensive advanced threat protection
Detailed threat intelligence insights
Easily integrates with enterprise systems
Cons:
Pricing can be opaque
Might be complex for smaller organizations
Requires trained personnel for optimal use
12. Virtru - Best for data protection across networks
Virtru emphasizes the secure sharing of sensitive data across various networks without compromising privacy or compliance. This tool has been engineered to ensure that wherever data travels, it remains protected.
Why I Picked Virtru:
In my quest to find solutions that offer impeccable data protection across networks, Virtru emerged as a strong contender. The decision was based on its unique ability to encrypt data in transit, at rest, and even when shared externally. For any organization that frequently shares data across different networks and desires top-notch security, I believe Virtru is the right choice.
Standout Features & Integrations:
Key features of Virtru include persistent data protection, access revocation, and secure forwarding. It integrates efficiently with platforms like Gmail and Microsoft Outlook, making it more adaptable to different business environments.
Pricing:
From $5/user/month (billed annually)
Pros:
Persistent data protection, even for external sharing
User-friendly with easy-to-use encryption
Integrates with major email platforms
Cons:
Limited advanced features for the base price
Onboarding might require a slight learning curve
Mobile experience may not be as refined
Other Notable Email Encryption Services
Below is a list of additional email encryption services that I shortlisted, but did not make it to the top 12. They are definitely worth checking out.
Selection Criteria For Choosing An Email Encryption Service
After diving deep into the world of secure email solutions, I've evaluated more than 20 tools. The variety was extensive, but I was particularly on the lookout for secure email solutions that provided unmatched security without compromising on user experience. Here's what I was really paying attention to:
Core Functionality
For any secure email solution, the core functions should include:
End-to-end encryption: Ensuring that emails are encrypted from the sender to the recipient, without being deciphered in between.
Authentication and verification: The tool should allow users to confirm the identity of the sender and ensure the email hasn't been tampered with.
Secure attachments: Not just the email, but attached files should also be encrypted and secure.
Protection against phishing and malware: An active layer of defense against malicious threats.
Key Features
When comparing secure email tools, these features stood out as particularly critical:
Digital Signatures: This verifies the identity of the sender, adding a layer of trust.
Zero-Access Architecture: Ensuring that even the service provider cannot access the content of your emails.
Self-destructing emails: Emails that get deleted after a set period or after being read, boosting security.
Password-protected messages: An added layer where recipients need a password to access the email content.
Two-factor authentication (2FA): An added security measure where users need to provide two types of identification to access their account.
Usability
For secure email solutions, it's crucial that heightened security doesn't lead to a compromised user experience. Here's what usability meant in this context:
Intuitive Design: For any secure email tool, users shouldn't need to jump through hoops to send an encrypted message. The encryption process should be integrated naturally into the email composition and sending process.
Easy Setup and Onboarding: For those new to encrypted email, the onboarding process should be straightforward, guiding users on setting up encryption keys and understanding essential features.
Accessible Customer Support: Given the technical nature of secure email, users might have queries. The tool should offer prompt and knowledgeable support.
Role-Based Access: Especially for enterprise solutions, the ability to define who has access to what is crucial. Admins should be able to determine roles easily and specify what each role can view or modify.
Most Common Questions Regarding Email Encryption Service
What are the benefits of using email encryption tools?
Using email encryption services provides multiple advantages:
Enhanced Security: They ensure that sensitive information remains confidential, protecting it from unauthorized access.
Guard Against Cyber Threats: They actively defend against malicious threats such as phishing, malware, and man-in-the-middle attacks.
Regulatory Compliance: Many industries have regulations requiring the protection of sensitive data. Using encrypted email helps businesses comply with these mandates.
Trust Building: Encrypted emails, especially those with digital signatures, show recipients that the sender prioritizes security, fostering trust.
Secure Attachments: Along with the email content, any attached files are encrypted, ensuring complete protection.
How much do these email encryption services cost?
The cost of email encryption tools varies widely based on the feature set, the intended user base (individuals vs. enterprises), and other factors.
What are the typical pricing models for these tools?
Most email encryption services operate on a subscription-based model, charging users monthly or annually. Some offer tiered pricing based on features or the number of users, while others have a flat rate. There are also services that charge based on the volume of emails sent or storage used.
What's the typical range of pricing for these tools?
Prices can start as low as $2/user/month and go up to $50/user/month or more for premium enterprise-level services with advanced features.
Which is the cheapest and most expensive software?
While prices change and promotions are frequent in the industry, typically, tools like Posteo are among the more affordable options, whereas solutions like Symantec Email Security might be on the higher end of the spectrum.
Are there any free tool options for email encryption?
Yes, there are free options available. Mailvelope, for instance, offers a free browser extension for end-to-end encryption, though it might lack some of the advanced features found in paid services.
Do all email encryption tools provide the same level of security?
Not necessarily. While most tools offer a robust level of security, the methods and protocols used can differ. Some might employ AES encryption, while others could use RSA. It's essential to choose a service that meets recognized security standards.
Can I use encrypted email with my existing email address?
Some tools require users to create a new email address within their domain. However, many services allow users to use their existing email addresses by integrating the encryption service with popular email providers.
Other Security System Software Reviews
Summary
Navigating the world of email encryption services is essential, especially in today's digital age, where data breaches and cyber threats are prevalent. This guide has equipped you with insights into the myriad of encryption tools available, the distinct features that make each unique, and the considerations to bear in mind when selecting the right one for your specific needs.
Key Takeaways
Purpose-driven election: Before diving into options, clearly define your needs. Whether you're an individual safeguarding personal communications or a business ensuring regulatory compliance, your purpose will drive your choice.
Features vs. usability: While the range of features is crucial, the usability of the tool can't be overlooked. The best encryption tool should not only be robust in functionality but also user-friendly, ensuring adoption.
Price vs. value: Don't merely look at the cost; consider the value you're getting. Sometimes, investing a bit more can offer enhanced security and features that provide greater peace of mind and protection.
What Do You Think?
As comprehensive as this guide aims to be, the ever-evolving world of email encryption might have led to some noteworthy tools slipping through the cracks. I genuinely value community input and collective knowledge. So, if you're using an email encryption service that you believe deserves a spot on this list, please don't hesitate to share it. Your insights and recommendations are always welcome and can help others in their search for the perfect tool. Let's collaborate to keep this guide as updated and helpful as possible.