12 Best Systems Management Software Shortlist
After a thorough evaluation, I've handpicked 12 systems management software tailored to address your specific challenges.
In the intricate realm of managing apps, finding the right management solution can be a game-changer, whether cloud-based or not. With real-time monitoring and customizable features, systems management software not only streamlines your entire IT infrastructure but also alleviates the stress of constant oversight and disjointed processes.
Having navigated these waters myself, I genuinely understand the challenges you're facing. Trust me, with the right tool, you can effortlessly bridge the gap between chaos and order, ensuring you stay ahead of potential pitfalls. I'd encourage you to explore these options – they just might be the solution you've been searching for.
What Is a Systems Management Software?
Systems management software is a specialized tool designed to monitor, control, and manage an organization's IT infrastructure. Typically used by IT professionals and system administrators, it aids in tasks like deploying applications, ensuring security compliance, handling patch management, and optimizing overall system performance. Through these tools, businesses can maintain optimal operations, reduce downtime, and ensure that their technology assets are both efficient and effective.
Overviews of the 12 Best Systems Management Software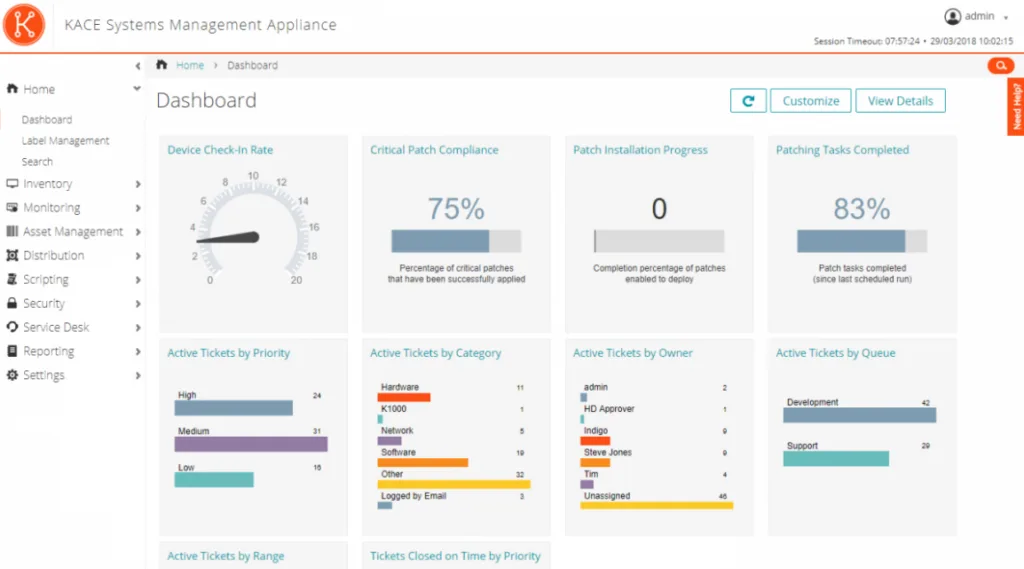 Quest KACE Systems Management is a dedicated tool for overseeing a myriad of devices within an organizational landscape. It excels at providing granular control and oversight of both software and hardware components, making it a trusted choice for IT professionals and system administrators keen on device management.
Why I Picked Quest KACE Systems Management:
I selected Quest KACE after judging it against a plethora of tools available in the market. When comparing features, I determined that its comprehensive ability to manage devices, coupled with its robust metrics and tracking, made it stand out from the rest. Given its capabilities, I firmly believe it's best for those seeking deep insights into device management in their IT infrastructure.
Standout Features & Integrations:
KACE Systems Management provides robust device discovery and inventory capabilities. It excels at software distribution, enabling the deployment of necessary applications across an array of devices. The software is also deeply integrated with Microsoft products, ensuring a harmonious IT environment.
Pricing:
Pricing upon request.
Pros:
Detailed metrics for insightful device management
Strong integration with Microsoft products
Supports both cloud and on-premises deployment
Cons:
Might have a steeper learning curve for newcomers
The interface can be less intuitive compared to competitors
Some advanced features might be overkill for smaller businesses.
2. Red Hat Satellite - Best for Red Hat infrastructure
Red Hat Satellite serves as a life-cycle management platform tailored specifically for Red Hat infrastructure, enabling efficient handling of systems to keep them running securely and efficiently. Its prowess in managing Red Hat infrastructure speaks to its dedication and in-depth understanding of Red Hat's nuances.
Why I Picked Red Hat Satellite:
When it came to choosing a tool tailored to the Red Hat ecosystem, my determination leaned towards Red Hat Satellite. I judged it based on several parameters, including its breadth of features and the opinions of other professionals.
Its specialization in Red Hat infrastructure made it distinct, reaffirming my belief that it's truly best for businesses deeply ingrained in the Red Hat environment.
Standout Features & Integrations:
Red Hat Satellite brings to the table essential features such as provisioning, configuration management, and software management. Notably, its API integrations ensure smoother business processes and a better understanding of system dependencies. Furthermore, while Red Hat stands at its core, integrations extend its reach, allowing for certain interactions with Windows environments.
Pricing:
Pricing upon request.
Pros:
Dedicated platform for Red Hat infrastructure
Robust API integrations enhance business processes
Comprehensive management of system dependencies
Cons:
Might not be as versatile for non-Red Hat systems
The learning curve can be intimidating for those unfamiliar with Red Hat
Overhead can be higher compared to more generalized tools.
Micro Focus Operations Bridge excels at streamlining IT operations through smart automation. Its core purpose revolves around simplifying IT operations, and it shines particularly when automation comes into play, resonating with its accolade as "best for IT operations automation".
Why I Picked Micro Focus Operations Bridge:
I selected Micro Focus Operations Bridge after extensively comparing various tools and gathering opinions from industry experts. The tool's emphasis on IT operations automation truly sets it apart. It was clear to me that if there was a tool best equipped for automated IT operations, it was this one.
Standout Features & Integrations:
Micro Focus Operations Bridge is packed with useful features such as intuitive performance monitoring, customizable templates, and intelligent notifications. It also boasts comprehensive workflows that help streamline complex processes.
As for integrations, it aligns well with various IT operation tools, enhancing its capability and ensuring a unified operational view.
Pricing:
Pricing upon request.
Pros:
Advanced performance monitoring capabilities
Customizable templates for varied use cases
Robust workflows to automate intricate operations
Cons:
Might have a steeper learning curve for beginners
Integration setup can be complex for non-standard tools
The licensing model might not be suited for smaller businesses.
4. BMC Helix ITSM - Best for cloud service management
BMC Helix ITSM offers a powerful suite tailored for IT service management within a cloud environment. The platform's inherent strengths in managing cloud services underscore its position as "best for cloud service management".
Why I Picked BMC Helix ITSM:
In the process of determining the right tools for this list, BMC Helix ITSM continually emerged as a top contender. Judging from its features and the positive opinions surrounding it, its prowess in cloud service management was evident.
I chose it because, when compared to others, its unique approach to cloud-based IT service management stood out.
Standout Features & Integrations:
BMC Helix ITSM offers exceptional application performance monitoring tools, ensuring services run optimally. Its asset management capabilities allow for comprehensive tracking of IT assets. Additionally, its integrations extend to primary IT tools, further amplifying its functional reach.
Pricing:
Pricing upon request.
Pros:
Robust application performance tools
Detailed asset management capabilities
Provides insightful graphs for data visualization
Cons:
Might require training for full feature utilization
Some integrations may need manual setup
The platform's vastness can be overwhelming for new users.
Splunk IT Service Intelligence (ITSI) delivers a powerful monitoring and analytics platform, specializing in providing insights into service operations. Given its prowess in this domain, the tool is undoubtedly best for garnering service insights.
Why I Picked Splunk IT Service Intelligence:
In my journey of selecting tools, Splunk ITSI stood out because of its distinct focus on service intelligence. After comparing and judging multiple platforms, I formed the opinion that its capabilities are unmatched in providing a depth of insights. I chose it primarily because it has an edge in making service-related data more comprehensible and actionable.
Standout Features & Integrations:
Splunk ITSI boasts a comprehensive help desk feature, ensuring that issues are promptly addressed. The platform's compatibility with macOS stands out, catering to a wider range of users. Furthermore, its integrations with major IT tools enhance its utility, especially for managed service providers.
Pricing:
Pricing upon request.
Pros:
Comprehensive help desk functionality
Compatibility with macOS extends its reach
Tailored for managed service providers, ensuring specialized service insights
Cons:
Might have a steeper learning curve for beginners
Some features can be overwhelming without proper training
The lack of a day free trial might deter potential users from trying.
6. Ansible - Best for open-source automation
Ansible is a powerful open-source tool designed to facilitate automation across an organization, covering everything from application deployment to intra-service orchestration. Owing to its open-source nature, Ansible is uniquely positioned to provide the best solution for businesses seeking transparency and flexibility in their automation endeavors.
Why I Picked Ansible:
Among the myriad of tools available, I chose Ansible primarily because of its commitment to open-source principles, offering a level of transparency that's hard to find elsewhere. After making comparisons and judgments, it's clear that its open-source nature gives it an edge, allowing customization and adaptability like no other.
This makes it a prime choice for those looking for a tool that's best suited for open-source automation.
Standout Features & Integrations:
Ansible boasts robust network monitoring capabilities, ensuring all elements within a system are functioning optimally. Additionally, it provides extensive permissions settings, ensuring that MSPs and IT teams can control who accesses what.
Its integrations span a wide range of operating systems, ensuring versatility across different infrastructure setups.
Pricing:
Pricing upon request.
Pros:
Extensive network monitoring capabilities
Advanced permissions settings ideal for MSPS
Supports a wide variety of operating systems, enhancing adaptability
Cons:
Might be challenging for beginners without a background in automation
Extensive features could lead to a steep learning curve
Relies on the community for updates and can be less predictable in release cycles.
7. Pulseway - Best for remote monitoring
Pulseway delivers a comprehensive web-based platform primarily tailored to manage, monitor, and control IT workloads remotely. Catering to the increasing need for remote capabilities, Pulseway positions itself as an optimal solution for businesses and individuals who prioritize remote monitoring.
Why I Picked Pulseway:
In the sea of tools I explored, I selected Pulseway because of its dedicated focus on remote monitoring and management (RMM). After comparing and judging various options, it was evident that Pulseway's web-based infrastructure was a distinguishing feature, allowing access from virtually anywhere. I am of the opinion that for anyone in need of robust remote monitoring, Pulseway emerges as the best choice.
Standout Features & Integrations:
Pulseway is renowned for its RMM capabilities, providing real-time insights into workloads from a distance. As a SaaS solution, it negates the need for heavy installations, ensuring lightweight, yet potent monitoring. The platform also offers various add-ons to enhance functionality, and its integrations encompass numerous essential IT tools and platforms.
Pricing:
From $10/user/month (billed annually).
Pros:
Comprehensive RMM capabilities for diverse workloads
Web-based SaaS structure ensures easy access without cumbersome installations
A variety of add-ons available to augment platform capabilities
Cons:
Annual billing might not be suitable for all businesses
Some features might require additional investments in add-ons
Initial setup and configuration can be intricate for newcomers.
8. Kaseya VSA - Best for unified IT management
Kaseya VSA is an integrated platform aimed at managing IT infrastructure and processes across varied environments. With its emphasis on delivering a unified IT management experience, Kaseya VSA aptly addresses the complexities of merging different IT facets under one umbrella.
Why I Picked Kaseya VSA:
In my exploration, Kaseya VSA caught my attention due to its comprehensive and unified approach towards IT management. While selecting and comparing multiple tools, Kaseya VSA stood apart with its distinctive self-service features and integrated application monitor capabilities.
Based on my judgment, for those seeking an all-encompassing IT management tool, Kaseya VSA offers a promising solution for unified IT management.
Standout Features & Integrations:
Kaseya VSA offers robust application monitor tools that constantly oversee the performance and health of critical business applications. The platform also boasts an applications manager that integrates multiple software solutions, ensuring streamlined operations. Furthermore, its autodiscovery feature aids in promptly identifying devices and applications within an IT environment.
Pricing:
Pricing upon request.
Pros:
Comprehensive application monitoring and management features
Autodiscovery aids in the swift identification of devices and software
Efficient self-service tools, reducing dependency on IT support
Cons:
The pricing structure might not be transparent or readily available
Can have a steep learning curve for new users
Might be perceived as overwhelming for smaller businesses due to its broad feature set.
9. Lakeside - Best for workspace analytics
Lakeside Software offers a robust solution for organizations to obtain actionable insights regarding their workspace. These insights, drawn from meticulous analytics, are instrumental in making informed decisions to improve the efficiency and experience of end-users.
Why I Picked Lakeside:
Lakeside grabbed my attention due to its specialized focus on workspace analytics. After carefully comparing various tools, Lakeside stood out because of its customizable dashboards and the ability to capture intricate data points relevant to a workspace.
I determined that for those aiming to deeply understand their workspace dynamics, Lakeside's analytics-driven approach makes it best for this purpose.
Standout Features & Integrations:
Lakeside boasts of customizable dashboards that present information tailored to an organization's needs. The software adeptly manages bandwidth, ensuring that data transfer is smooth and efficient. As for integrations, Lakeside efficiently collaborates with various data center infrastructures, allowing for comprehensive analysis.
Pricing:
"Pricing upon request."
Pros:
In-depth workspace analytics catering to the needs of end-users
Customizable dashboards offer tailored insights
Efficient bandwidth management ensures smooth data transfer
Cons:
The absence of clear pricing can make budgeting challenging
Might have a learning curve for those unfamiliar with analytics tools
Integration with non-data center tools might require additional configurations.
10. SolarWinds - Best for system management
SolarWinds provides IT departments with a comprehensive suite of tools to manage, monitor, and optimize IT systems efficiently. By offering an integrated solution, SolarWinds aids in ensuring the optimal performance of network devices and systems, aligning well with its reputation for system management.
Why I Picked SolarWinds:
I chose SolarWinds for this list after extensively comparing it with similar tools available in the market. In terms of IT system management, SolarWinds offers a distinctive blend of features and functionalities that set it apart. Its proficiency in monitoring solutions and management ensures it's the best choice for those prioritizing effective system management.
Standout Features & Integrations:
SolarWinds excels with its detailed monitoring solution that gives IT departments clear visibility into the performance of their network devices. Additionally, the software offers an extensive knowledge base, making troubleshooting and system optimization a more informed process.
As for integrations, SolarWinds works with a broad array of IT systems and platforms, enhancing its versatility.
Pricing:
"Pricing upon request."
Pros:
Comprehensive IT systems monitoring and management capabilities
An extensive knowledge base aids in informed decision-making
Versatile integrations with various IT platforms and systems
Cons:
Lack of transparent pricing can be a barrier for some organizations
Initial setup might require a learning curve for some users
Some features might be redundant for smaller IT departments.
ManageEngine Endpoint Central is a robust tool geared towards providing businesses with comprehensive endpoint management solutions. By concentrating on streamlined onboarding and facilitating remote access to devices, it's positioned itself as a frontrunner in endpoint management.
Why I Picked ManageEngine Endpoint Central:
I selected ManageEngine Endpoint Central after judging and comparing its offerings with other tools. Its unique focus on facilitating efficient onboarding and providing in-depth root cause analyses makes it distinct in the realm of endpoint management. From my perspective, it's best for endpoint management primarily due to its capabilities to manage remote access and pinpoint the root causes of issues swiftly.
Standout Features & Integrations:
ManageEngine Endpoint Central stands out with its dedicated remote access features, ensuring IT teams can address issues from anywhere. Additionally, the tool's root cause analysis helps in quickly determining the origins of problems, reducing downtime. Integration-wise, it meshes well with service desk solutions and supports various plugins, enhancing its overall functionality.
Pricing:
Pricing upon request.
Pros:
Effective onboarding features simplify device additions
In-depth root cause analysis expedites problem resolution
Integration with service desk solutions and support for various plugins
Cons:
A lack of transparent pricing details might deter potential users
The interface might be overwhelming for those unfamiliar with endpoint management tools
Requires regular updates to stay current with the latest security protocols.
ServiceNow ITSM is a comprehensive platform tailored to streamline IT service management processes, ensuring optimal uptime and a better user experience. With its focus on virtualization and addressing vulnerabilities in real time, it stands as an unparalleled tool in the IT service management landscape.
Why I Picked ServiceNow IT Service Management (ITSM):
I determined that ServiceNow ITSM was a top contender after closely comparing it to other tools in the market. What differentiates it is its continuous dedication to ensuring maximum uptime and a keen eye on addressing vulnerabilities.
Given its prowess in enhancing the user experience and its adeptness in virtualization, it's clear why I think it's best for IT service management.
Standout Features & Integrations:
ServiceNow ITSM shines with widgets that provide users with easily accessible data and information. Its focus on virtualization ensures streamlined operations, while the platform's features designed to pinpoint and handle vulnerabilities make it an essential tool for modern IT departments. Integration-wise, ServiceNow ITSM harmonizes well with various enterprise tools, amplifying its utility.
Pricing:
Pricing upon request.
Pros:
A strong emphasis on uptime ensures smooth operations.
Advanced virtualization capabilities.
Widgets offer quick insights and aid in faster decision-making.
Cons:
The learning curve can be steep for newcomers.
Some customizations might require technical expertise.
Occasional updates may disrupt existing configurations.
Other Noteworthy Systems Management Software
Below is a list of additional systems management software that I shortlisted, but did not make it to the top 12. These are definitely worth checking out.
Selection Criteria for Choosing Systems Management Software
When diving into the world of IT management and monitoring tools, there's a plethora of options available. I've evaluated dozens of these tools, always keeping a close eye on the balance between functionality and user experience. In this vast sea of software, I was particularly on the lookout for tools that offered specific functions to cater to both novice and seasoned IT professionals.
Let me break down the criteria that stood out to me and influenced my choices:
Core Functionality
Real-time Monitoring: The ability to constantly monitor networks, servers, and systems for any potential issues or breaches.
Remote Access: Offering IT professionals the capability to remotely access and manage systems, especially in crisis situations.
Incident Reporting: Automatically detecting and reporting any system or network anomalies or failures.
Configuration Management: A centralized hub to manage and automate configurations across all IT systems.
Key Features
Automated Alerts: Not just informing about anomalies but also categorizing them based on urgency and type.
Integration Capabilities: The capacity to easily integrate with other IT systems, software, or platforms, ensuring smooth interoperability.
Role-Based Access Control: This ensures that access to the system and its data is based on roles within the organization, safeguarding sensitive information.
Predictive Analysis: Using AI or machine learning to predict potential system failures or issues before they arise.
Security Protocols: Ensuring the tool has strong encryption and other security measures in place, given the sensitive nature of IT systems.
Usability
Interactive Dashboard: Given the complex data that IT management tools handle, an intuitive dashboard with clear visualizations is essential. For instance, network monitoring tools should visualize network pathways and bottlenecks.
Drag-and-Drop Functionality: For tasks like prioritizing alerts or incidents, drag-and-drop functionalities make the tool much more user-friendly.
Customizable Alerts: Allowing users to set and customize their alerts based on specific needs and thresholds.
Learning Library or Onboarding Program: Given the complexity of some of these tools, having a comprehensive knowledge base or training resources ensures that users can utilize the tool to its maximum potential.
Responsive Customer Support: In times of crisis or when dealing with unfamiliar issues, having a supportive and knowledgeable customer support team is invaluable.
Most Common Questions Regarding Systems Management Software
What are the benefits of using systems management software?
Systems management software provides a myriad of advantages for businesses and IT professionals. Here are the top five benefits:
Centralized Control: It offers a unified platform from which IT professionals can monitor, manage, and maintain various systems, reducing complexities.
Proactive Problem Detection: With real-time monitoring, these tools can identify potential issues before they escalate, ensuring minimum system downtime.
Enhanced Security: Many of these tools come with built-in security protocols, helping safeguard your IT systems from vulnerabilities and breaches.
Efficient Resource Allocation: They can track the usage of resources, ensuring optimal utilization and helping in cost savings.
Automated Updates and Patches: These tools can automatically update systems or deploy patches, ensuring the IT environment is always up-to-date.
How much do these systems management tools typically cost?
The pricing of systems management software varies widely based on its capabilities, the size of the organization, and the specific requirements. Some basic tools start as low as $10/user/month, while comprehensive enterprise solutions might cost thousands of dollars monthly.
What are the common pricing models for these tools?
There are several pricing models that vendors employ:
Per User/Per Month: A pricing model based on the number of users accessing the software.
Per Device: Especially for network or device monitoring tools, the cost is based on the number of devices being monitored.
Tiered Pricing: Different tiers offer varying features, with prices increasing for higher tiers.
Freemium: Some tools offer basic functionalities for free and charge for advanced features or more extensive monitoring.
What's the typical range of pricing for these tools?
Prices can range anywhere from $10/user/month for basic tools to upwards of $1,000/month for enterprise-grade solutions. The exact price depends on the functionalities provided and the scale of the software's usage.
Which are the cheapest and most expensive software in the systems management category?
The cheapest software usually includes tools that offer limited functionalities or are designed for smaller businesses. An example might be Atera. On the other hand, comprehensive solutions tailored for large enterprises, such as ServiceNow ITSM, tend to be on the pricier side.
Are there any free tool options available?
Yes, there are free tools available, especially those that follow the freemium model. Tools like Nagios offer a basic free version, with the option to upgrade for more extensive features or capabilities.
Other Systems Management Software Reviews
Summary
Choosing the best systems management software is crucial for the efficient and secure operation of IT environments. Throughout this guide, I delved into the significance of such software, the criteria that matter when making a selection, and the nuances of each tool's functionality and pricing.
Key Takeaways
Understand your core needs: Before diving into the myriad of available options, it's paramount to define what you want the software to achieve. Whether it's for monitoring, patch management, or IT infrastructure, aligning the software's core functionality with your organization's requirements will lead to a more informed decision.
Prioritize usability: A tool is only as good as its usability. Efficient systems management software should not only offer robust features but also present them in an intuitive manner. Consider the learning curve, interface design, and the availability of support resources when evaluating your options.
Consider the total cost: Pricing for systems management software can vary widely. It's not just about the sticker price, but also the cost of training, integrations, and potential future scale. Factor in all these elements, and remember that the most expensive option isn't always the best fit, nor is the cheapest one always the most cost-effective in the long run.
What Do You Think?
I've endeavored to bring you a comprehensive list of the best systems management software available. However, the tech landscape is vast and ever-evolving. If you think there's a tool that deserves to be on this list or have personal experiences with any standout software I may have missed, please reach out.
Your insights will not only benefit us but also my readers who are always on the lookout for top-tier recommendations. I value your input and look forward to learning from your expertise!